EFFECTIVENNES OF SKIN EXTRACT OF POMEGRANATE (PUNICA GRANATUM L) AND OLIVE OIL AS LIP MOISTURIZING (LIP BALM)
Jhoti Sumitra

Institut Kesehatan Medistra Lubuk Pakam
Keywords:
Lip balm, Pomegranate (punica granatum L) Olive oil softener, skin analyzer
Abstract
Lip balm preparatios can contain active ingredients that aim to protect the lips from extreme weather and hot sun. The active ingredient added to lip balm preparations can use natural ingredients from nature or pure chemical compounds. Natural ingredients have the advantage of having minimal side effects for long-term use. So that natural ingredients are currently the prima donna in the formulation of cosmetic preparations, including lip balm preparations. The properties of pomegranate skin protect and repair lips in lip balm preparations. pomegranate peel (Punica granatum L.) as a natural colorant and utilizes olive oil (Olive oil) as an emollient or moisturizer formulated in lip balm preparations. The results showed that all homogeneous lip balm preparations had a pH of 5.6-6.1 and were stable for 12 weeks of storage. Lip balm preparations with 10% concentration of pomegranate peel extract can provide the best lip moisturizing effect to restore lip skin once a week after application for 4 weeks. All preparations of pomegranate peel extract lip balm do not irritate the skin.
Downloads
Download data is not yet available.
References
Agustin, D. dan Ismiyati, (2015), Pengaruh Konsentrasi Pelarut Pada Proses Ekstraksi Antosianin dari Bunga Kembang Sepatu, Konversi, 4 (2), 9 – 16
BPOM RI. (2018). Peraturan Badan Pengawas Obat dan Makanan Nomor 23 Tahun 2018 Tentang Pedoman Pengawasan Pangan Industri Rumah Tangga. Jakarta: Badan POM RI
Depkes RI. (2016). Parameter Standar Umum Ekstrak Tumbuhan Obat. Jakarta: Depkes RI. Hal. 10-11.
Ditjen POM. (2015). Farmakope Indonesia Edisi Ketiga. Jakarta: Departemen Kesehatan RI. Hal 896,898.
Draelos, Z.D. (2018). Cosmeceuticals Undefined, Unclassified,and Unregulated. Clin. Dermatol Halaman 431-434.
Faskalia dan Wibowo, A. M. (2014). Skrining Fitokimia, Uji Aktivitas, Antioksidan dan Uji Sitotoksik Ekstrak Metanol pada Akar dan Kulit Batang Soma (Ploiarium alternifolium). Program Studi Kimia, Fakultas MIPA, Universitas Tanjungpura. Jkk, Tahun 2014, Volum 3(3), Halaman 1–6 ISSN 23031077. Pontianak.
Fernandes, A.R, Michelli, F.D, Claudinela, A.S.O.P., Telma, M.K., Andre, R.B., Maria, VR.V. (2018). Stability Evaluation Of Organic Lip Balm. Briazilian Journal: Of Pharmaceutical Sciences Halaman 294, 296
Fery, I.A, Wa Ode, S.M, Ulfa, Wilda. (2019). Formulasi dan Uji Stabilitas Lotion Antioksidan dari Ekstrak Etanol Rambut Jagung (Zea mays L.) sebagai Antioksidan dan Tabir Surya. Kediri: Fakultas Farmasi Universitas Halu Oleo, Kampus Hijau Bumi Tridharma Anduonohu
Harbone, J. B. (2017). Metode Fitokimia. Penuntun cara modern menganalis tumbuhan. Penerjemah: Kosasih Padmawinata dan Iwang Soediro. Bandung: ITB Press. Hal. 76 dan 80
Hermawati Y, Rafieq, Wahyono P. (2015). Pengaruh Konsentrasi Asam Sitrat Terhadap Karakteristik Ekstrak Antosianin Daun Jati Serta Uji Stabilitasnya dalam Es krim. FKIP Universitas Muhammadiyah Malang. Hlm 30-38
Hutami, R.A.P., Joshita, D., Abdul, M. (2016). Pemanfaatan Ekstrak Kelopak Bunga Rosella (Hibiscus Sabdariffa L.) Sebagai Pewarna Alami Dalam Formulasi Lipstik dan Sediaan Oles Bibir. Universitas Indonesia
Jacobsen, P.L. (2018). The Little Lip Book. USA: Carma Laboratories Incor Porated. Halaman 14-16.
Kadu, M. (2016). Review On Natural Lip Balm. International Journal Of Research In Cosmetic Science Halaman 1-2.
Khoo, H.E., A. Azlan, S.T. Tang, and S.M. Lim. (2017). Anthicyanidins and Anthocyanins: Colored Pigments as Food, Pharmaceutical Ingredients, and The Potential Health Benefits, Food and Nutrition Research, 61: 1-21
Kwunsiriwong. (2016). (The Study On The Development and Processing Transfer Of Lip Balm Products From Virgin Coconut Oil. Thailand: The International Academic Forum. Halaman 1-2.
Linda. (2012). Formulasi Sediaan Lipstik Menggunakan Bunga Angkak (Monascus purpureus) Sebagai Pewarna. Medan: Fakultas Farmasi Universitas Sumatra Utara. Halaman 24
Madans, A., Katie, P., Christine, P., Shailly, P. (2017). Ithaca Got Your Lips Chapped: A Performance Analysis Of Lip Balm. BEE 4530. Halaman 4-5.
Mulyawan, Dewi, Neti Suriana.(2018). A-Z Tentang Kosmetik.Jakarta.PT Elex media komputindo.
Nazhifah, H. (2018). Formulasi dan Evaluasi Sediaan Lip Balm Dari Minyak Biji Anggur (Grapeseed Oil) Sebagai Pelembab Bibir. Medan: Universitas Sumatera Utara.
Nugrahani, R. (2015). Analisis Potensi Serbuk Ekstrak Jati (Tectona Grandis L.) sebagai Antioksidan. Nusa Tenggara Barat: Tesis S2, Universitas Mataram.
Oci Y.M,Kurnia Kumala Dewi,(2014).Khasiat ajaib Delima,JL.Pandan alas No.48 cijantung-Jakarta Timur,padi
Ratih, H., Titta, H., Ratna, C.P. (2016). Formulasi Lip Balm Minyak Bunga Kenanga (Cananga oil) Sebagai Emolien. Prosiding Simposium Penelitian. Yogyakarta. Halaman 2-4.
Rawlins, E.A. (2018). Bentleys Book Of Pharmaceutics. 18th Edition. London: Bailierre Tiridal. Halaman 22,355.
Sari, L. D. A., Kurniawati, E., Ningrum, R. S., & Ramadani, A. H. (2021). Kadar Vitamin C Buah Tomat (Lycopersicum esculentum Mill) Tiap Fase Kematangan Berdasar Hari Setelah Tanam. JURNAL FARMASI DAN ILMU KEFARMASIAN INDONESIA, 8(1), 74-82.
Sulastomo, E. (2013). Kulit Cantik dan Sehat. Mengenal dan Merawat Kulit.. Jakarta: Kompas. Halaman 134,290.
Sukmawati. (2017). Penetapan Aktivitas Antioksidan Yang Optimal Pada Teh HitamKombucha Lokal Di Bali Dengan Variasi Waktu Fermentasi. Bali : Universitas Udayana
Tranggono, R.I.S., dan Latifah, F. (2017). Buku Pegangan Ilmu Pengetahuan Kosmetik. Jakarta: Gramedia Pustaka Utama. Halaman 7-8.
Wahyuni, M. (2018). Formulasi Sediaan Lipbalm Ekstrak Kulit Buah Delima (Punica Granatum L). Medan: Universitas Sumatera Utara.
Daulay, A.D. ( 2019). Formulasi Sediaan Lip Balm Yang Mengandung Minyak Biji Wortel (Carrot Seed Oil) Sebagai Pelembab Bibir. Medan: Universtas Sumatera Utara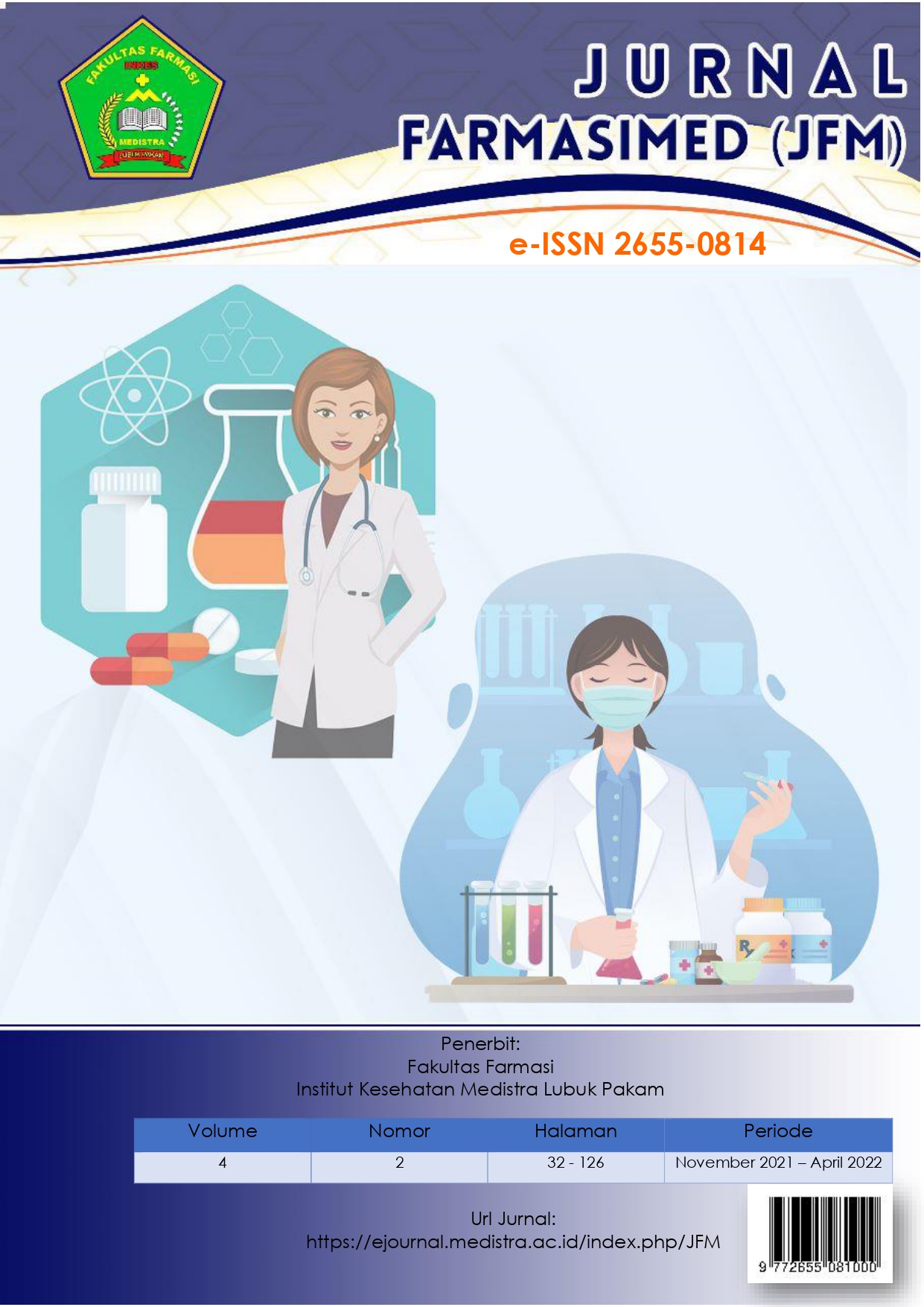 How to Cite
Sumitra, J. (2022). EFFECTIVENNES OF SKIN EXTRACT OF POMEGRANATE (PUNICA GRANATUM L) AND OLIVE OIL AS LIP MOISTURIZING (LIP BALM). JURNAL FARMASIMED (JFM), 4(2), 32-37. https://doi.org/10.35451/jfm.v4i2.1006
Copyright (c) 2022 Jhoti Sumitra
This work is licensed under a Creative Commons Attribution-NonCommercial-ShareAlike 4.0 International License.
Copyright in each article is the property of the Author.