ANTI-BACTERIAL ACTIVITY TEST OF SURGERY RHIZOME (CURCUMA DOMESTICA VAL) AGAINST BACTERIA STREPTOCOCCUS MUTANS
Asti Pratiwi

Institut Kesehatan Medistra Lubuk Pakam

Zulfan Hardiansyah Ritonga

Institut Kesehatan Medistra Lubuk Pakam
Keywords:
Turmeric Extract, Streptococcus mutans, Paper disc test
Abstract
Abstract
Turmeric (Curcuma domestica Val) contains various compounds such as alkaloids, flavonoids, curcumin, essential oils, saponins, tannins and terpenoids. The curcuminoids in turmeric rhizome are a group of phenolic compounds. Curcumin damages the cytoplasmic membrane and denatures cell proteins which causes the leakage of nutrients from the cells thereby inhibiting the growth of bacteria. The purpose of this study was to test the antibacterial activity of turmeric (Curcuma domestica Val) rhizome against Streptococcus mutans bacteria. In this study, its activity against Streptococcus mutans was seen through laboratory examination using the paper disc method. From the results of the four turmeric rhizome extracts, the average inhibition zone obtained a concentration of 10% produced an average of 14.48 mm. Concentration of 20% produces an average of 16.35 mm. concentration of 30% produces an average of 17.26 mm. Concentration of 40% produces an average of 19.47 mm. In this case, turmeric rhizome extract has strong activity against Streptococcus mutans bacteria. Turmeric rhizome contains secondary metabolites of flavonoids, alkaloids, and tannins. Which works as an antibacterial are flavonoids. Because flavonoids can inhibit nucleic acid synthesis, inhibit cell membrane function and inhibit energy metabolism.
Downloads
Download data is not yet available.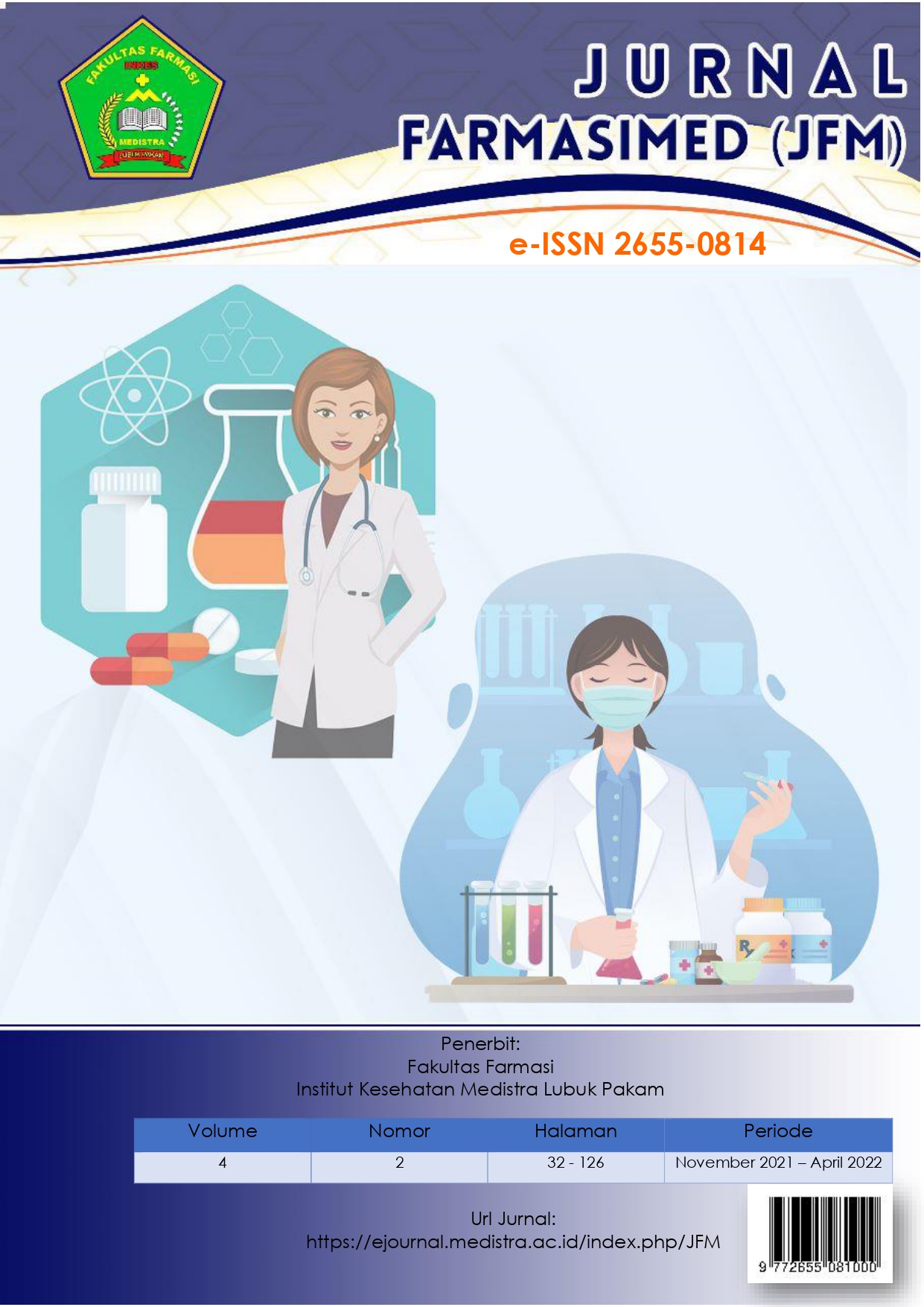 How to Cite
Pratiwi, A., & Ritonga, Z. (2022). ANTI-BACTERIAL ACTIVITY TEST OF SURGERY RHIZOME (CURCUMA DOMESTICA VAL) AGAINST BACTERIA STREPTOCOCCUS MUTANS. JURNAL FARMASIMED (JFM), 4(2), 38-43. https://doi.org/10.35451/jfm.v4i2.1008
Copyright (c) 2022 asti pratiwi, Zulfan Hardiansyah Ritonga
This work is licensed under a Creative Commons Attribution-NonCommercial-ShareAlike 4.0 International License.
Copyright in each article is the property of the Author.