EVALUATION OF TITER RESULTS ON WIDAL EXAMINATION BASED ON THE DURATION OF FEVER IN HOSPITAL GRANDMED LUBUK PAKAM
Asvia Rahayu

Institut Kesehatan Medistra Lubuk Pakam

Visensius Krisdianilo

Institut Kesehatan Medistra Lubuk Pakam

Sintya Hutabarat

Institut Kesehatan Medistra Lubuk Pakam

S'aadah Siregar

Institut Kesehatan Medistra Lubuk Pakam

Vincentia Ade Rizky

Institut Kesehatan Medistra Lubuk Pakam
Keywords:
Demam Tipoid, Tes widal, Salmonella typhi
Abstract
Kultur merupakan salah satu metode yang digunakan untuk diagnosis demam tifoid, namun di beberapa daerah seringkali tidak ada fasilitas untuk kultur, maka cara lain untuk membantu menegakkan diagnosis yang praktis dan tersedia di rumah sakit adalah dengan tes Widal. Tujuan penelitian ini adalah untuk mengetahui evaluasi hasil titer pada pemeriksaan Widal berdasarkan lama demam di RS GrandMed Lubuk Pakam. Penelitian ini dilakukan di Laboratorium Patologi Klinik RS GrandMed Lubuk Pakam. Jenis penelitian ini adalah deskriptif yang dilaksanakan mulai bulan Mei 2021 sampai dengan Juni 2021. Jumlah sampel yang diperoleh sebanyak 25 orang. Dari 25 sampel tersebut, hasil uji Widal dengan titer antibodi terhadap antigen O 1:80 adalah 2 orang, 1:160 orang, 1:320 orang, 2 orang. Titer antibodi terhadap antigen H 1:80 sebanyak 2 orang, 1:160 sebanyak 4 orang, 1:320 sebanyak 2 orang, dan titer antibodi terhadap antigen AH 1:80 sebanyak 6 orang, 1:160 sebanyak 5 orang dan 1:320 sebanyak 1 orang. Kesimpulan dari penelitian ini adalah 1:160 merupakan titer paling banyak ditemukan dengan titer antibodi tertinggi terhadap antigen H yaitu 1:320 lebih sering ditemukan pada durasi demam dengan kisaran 6-9 hari sedangkan titer antibodi tertinggi terhadap antigen AH adalah 1:320 ditemukan selama penelitian. demam dengan kisaran 6-9 hari.
Downloads
Download data is not yet available.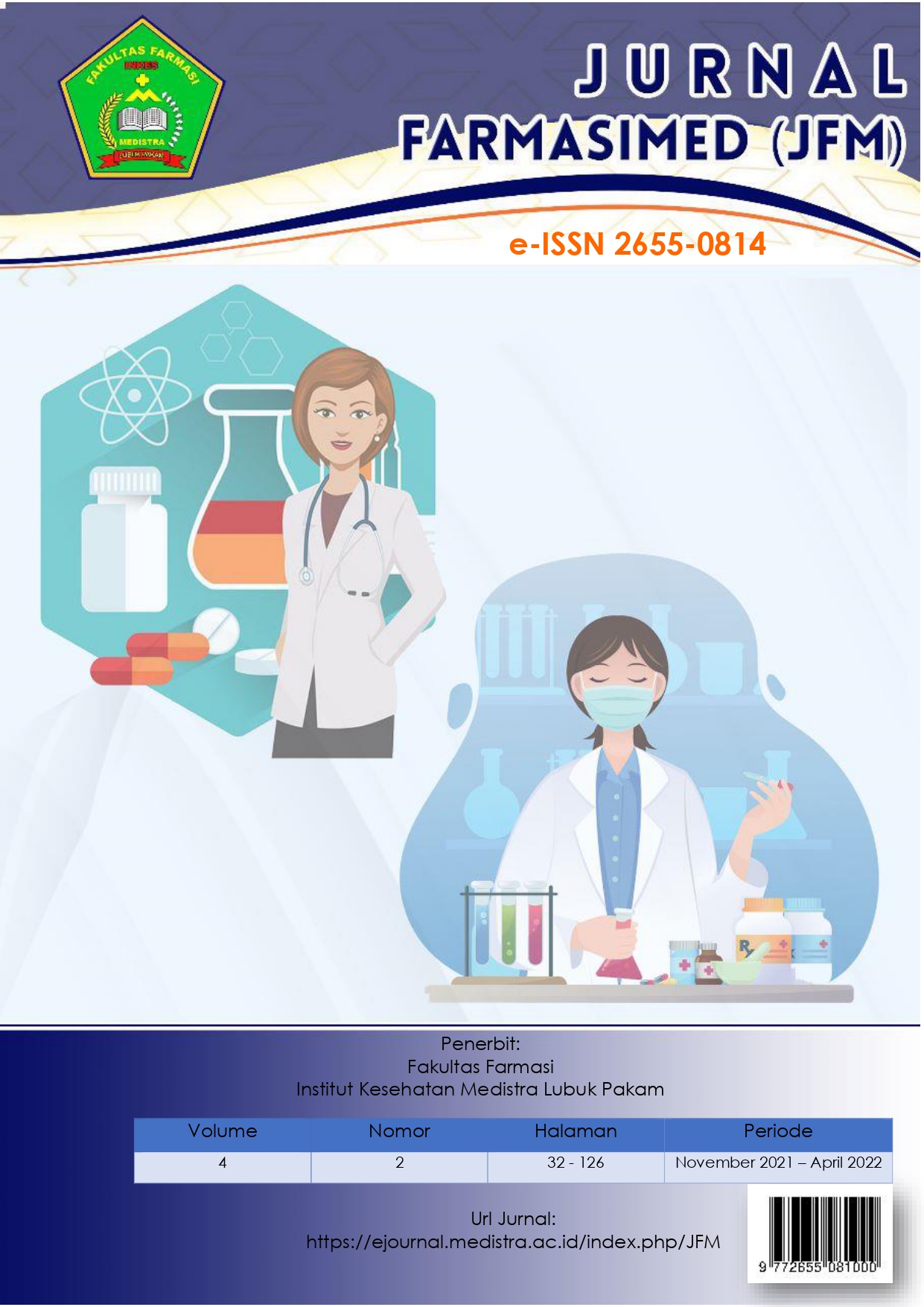 How to Cite
Rahayu, A., Krisdianilo, V., Hutabarat, S., Siregar, S., & Rizky, V. (2022). EVALUATION OF TITER RESULTS ON WIDAL EXAMINATION BASED ON THE DURATION OF FEVER IN HOSPITAL GRANDMED LUBUK PAKAM. JURNAL FARMASIMED (JFM), 4(2), 51-58. https://doi.org/10.35451/jfm.v4i2.1010
Copyright (c) 2022 Asvia Rahayu, Visensius Krisdianilo, Sintya Hutabarat
This work is licensed under a Creative Commons Attribution-NonCommercial-ShareAlike 4.0 International License.
Copyright in each article is the property of the Author.