ANTI-BACTERIAL ACTIVITY TESTING OF ETHANOL EXTRACT 96% PAINAGE SKIN (ANANAS COMOSUS (L.) MERR) AGAINST ESCHERICHIA COLI BACTERIA)
Aminah . S

Institut Kesehatan Medistra Lubuk Pakam

Dewi Abdilantri

Institut Kesehatan Medistra Lubuk Pakam
Keywords:
Antibacteria, Pineapple peelextract, Escherichia coli
Abstract
Pineapple peel (Ananas comosus (L.) Merr) is waste form the pineapple fruit. The purpose of this study was to determine the content of pineapple peel extract and to antibacterial activity in various concentrations effective in inhibiting the growth of Escherichia coli. Escherichia coli is a bacterium that generally lives in the large intestine of humans can become a pathogen when it reaches tissues outside the digestive tract which can cause diarrheal disease. The pineapple peel extract is made by using the ectraction method in the form of meceration. The method used in the inhibitory test using the two replication sampels in each treatment groups. The samples consisted of 6 treatment groups is pineapple peel extract concentration 25mg/ml, 50mg/ml, 75mg/ml, and 100mg/ml, as well as positive and negative control. The results obtained from pineapple screening contain alkaloi, flavonoid, tanin, and saponin compounds. The data analysis showsthat pineanepple peel extract concentrations of 25mg/ml, 50mg/ml, 75mg/ml, and 100mg/ml had inhibitory sones with the medium-strong category while ciproloxacin as the control has a strong inhibition zone. The conclusion that while the extract concentration increases, the diameter of the inhibition zone increases.
Downloads
Download data is not yet available.
References
Depkes RI. (2009). Pedoman Instalasi Pusat Sterilisasi (Central Sterile Supply Departement/CSSD) Di Rumah Sakit. Depkes RI: Jakarta.
Dwisatyadini, M. (2017). Pemanfaatan tanaman obat untuk pencegahan dan pengobatan penyakit degeneratif. In : Optimalisasi Peran Sains dan Teknologi untuk Mewujudkan Smart City. Tanggerang Selatan: Universitas Terbuka. ISBN 978-602-392-158-4(e).
Erviani EA. (2018). Analisis Multidrug Resisten Antibiotik Pada Salmonella typhi Dengan Teknik Multiplex PCR. J. Ilmiah Biologi. Vol 1, 1, pp 51-60.
Fahrurroji, A., & Riza, H. (2020). Karakterisasi Ekstrak Etanol Buah Citrus amblycarpa (L), Citrus aurantifolia (S.), dan Citrus sinensis (O.). JURNAL FARMASI DAN ILMU KEFARMASIAN INDONESIA, 7(2), 100-113.
Lay, B.W. (1994). Analisa Mikroba di Laboratorium. Edisi 1. Raja Grafindo Persada: Jakarta.
Nova, Suryati. (2017). Uji Efektivitas Antibakteri Ekstrak Aloe vera Terhadap Pertumbuhan Escherichia coli secara In Vitro. Jurnal Kesehatan Andalas : 6 (3).
Nuria, MC, Faizatun, A., Sumantri. (2009). Uji Aktivitas Antibakteri Ekstrak Etanol Daun Jarak Pagar (Jatropha curcas L.) terhadap Bakteri Staphylococcus aureus ATCC 25923, Escherichia coli ATCC 25922, dan Salmonella thypi ATCC 1408. MEDIARGO : Jurnal Ilmu-Ilmu Pertanian. 5 (2): 26-37.
Osonga, FJ, Akgul, A., Miller, RM, Eshun, GB, Yazgan, I., Akgul, A., Sadik, OA. (2019). Aktivitas antimikroba kelas baru flavonoid fosforilisasi dan modofikasi. ACS Omega. 4(7): 12865-12871.
Saridewi, N.M., Meiskha, B., Anisa. (2017). Uji Efektivitas Antibakteri Perasan Jus Buah Nanas (Ananas comosus)Terhadap Pertumbuhan Isolat Bakteri Plak Gigi di Puskesmas Kecamatan Tanah Abang. J. Biogenesis ; vol.6(2): pp 104-110.
Sari, N. P. D. P., Cahyo, B. D., Sugijanto, N. E. N., & Suciati, S. (2021). Aktivitas Antibakteri dari Jamur Endofit Penicillium oxalicum Hasil Isolasi dari Spons Homaxinella tanitai. JURNAL FARMASI DAN ILMU KEFARMASIAN INDONESIA, 8(1), 10-15.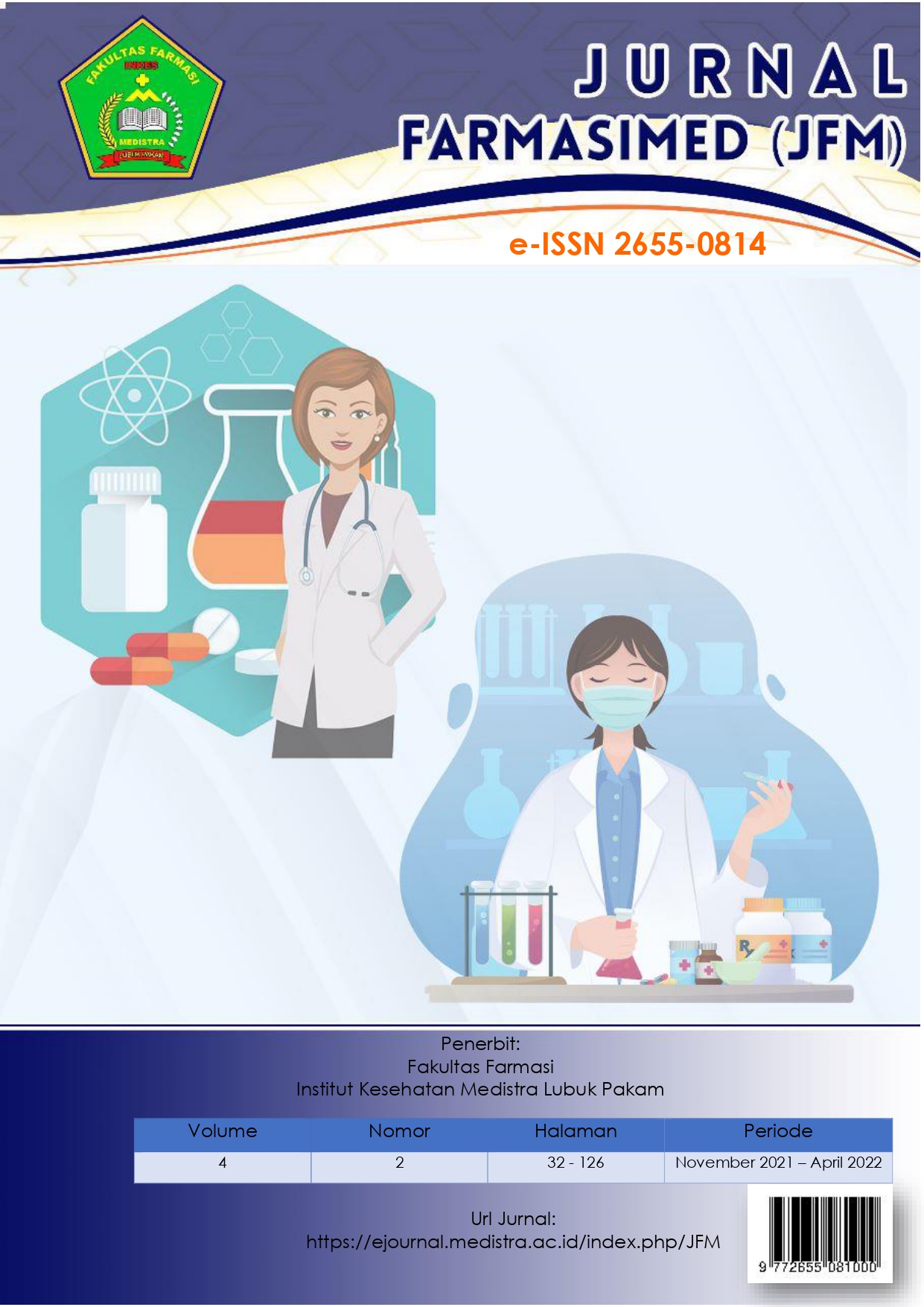 How to Cite
. S, A., & Abdilantri, D. (2022). ANTI-BACTERIAL ACTIVITY TESTING OF ETHANOL EXTRACT 96% PAINAGE SKIN (ANANAS COMOSUS (L.) MERR) AGAINST ESCHERICHIA COLI BACTERIA). JURNAL FARMASIMED (JFM), 4(2), 64-71. https://doi.org/10.35451/jfm.v4i2.1016
Copyright (c) 2022 Aminah . S, Dewi Abdilantri
This work is licensed under a Creative Commons Attribution-NonCommercial-ShareAlike 4.0 International License.
Copyright in each article is the property of the Author.