FORMULATION OF SOLID BATH SOAP PREPARATIONS OF PURPLE SWEET POTATO ETHANOL EXTRACT (IPOMEA BATATAS L) AS A SKIN MOISTURIZER
Suci Wulandari

Institut Kesehatan Medistra Lubuk Pakam

Ayu Renta Niasari Silaen

Institut Kesehatan Medistra Lubuk Pakam

Siti Wahyuni

Institut Kesehatan Medistra Lubuk Pakam
Keywords:
Purple sweet potato (Ipomoea batatas L), solid soap, moisturize
Abstract
Soap is a surfatctant used to clean or wash something that is available in solid and liquid form. Soap can be useful as a cleaning tool, this is because soap molecules contain polar (bonded with water) and non-polar (bonded with oil) groups so that they can clean grease or dirt that is not lifted by water. Soap is made by applying a saphonification reaction using olive oil, NaOH, and purple sweet potato extract as the basic ingredients. The addition of NaOH concentration an affect the weight of the soap produced. Purple sweet potato is a sweet potato that has natural dyes a anthocyanins that function as antioxidant. The purpose of this study was to obtain a solid bath soap formulation with purple sweet potato extract. Furthermore, purple sweet potato extract was formulated based on formula with concentration difference of 3,5%, 4,5%, 5,5%. Furthermore, preparations have been made with organoleptic tests, pH tests, and foam stability tests. It can be concluded that purple sweet potato extract can be used as a solid soap preparation and there is a concentration effect on the organoleptic test soap quality, pH, foam stability and moisture content. The preparation of solid bath soap from purple sweet potato ethanol extract has the ability to moisturize the skin, and the highest concentration obtained at a concentration of 5,5% with 57,83% moisture can moisturize the skin and at concentration of 4,5% with 48,3% humidity as well. Can moisturize the skin but with a moderate level of humidity, and at a concentration of 3,3% with 43,00% humidity with a lower humidity level.
Downloads
Download data is not yet available.
References
Badan Standarisasi Nasional. 2016. Sabun Mandi Padat. SNI 35-32-2016. Dewan-dewan Standarisasi. Jakarta.
Baki, Gabriella. 2020. Formulasi dan Teknologi Kosmetik. Jakarta: EGC.
Bondan. 2015. Alat Ukur Kelembaban Kadar Air dan Minyak Pada Kulit FCM2 24 Mei 2017 (06:37).
Kartika. 2015. Analisis Ekuitas Merek Sabun Mandi Kesehatan Lifebouy. Bogor.
Pertiwi, R., Manaf, S., Supriati, R., Saputra, H. M., & Ramadhanti, F. 2020. Pengaruh Pemberian Salep Kombinasi Ekstrak Daun Morinda citrifolia dan Batang Euphorbia tirucalli terhadap Penyembuhan Luka. JURNAL FARMASI DAN ILMU KEFARMASIAN INDONESIA, 7(1), 42-50.
Ratih, A. 2015.Formulasi dan Uji Stabilitas Krim Kombinasi Alfa Tokofenol Asetat dan Etil Vitamin C Sebagai Pelembab Kulit. Jurnal Kesehatan, Vol.14 No 1. Hal 38-39.
Supadmi, S. 2009. Studi Variasi Ubi jalar ( Ipomoea batatas L.) Berdasarkan Morfologi, Kandungan Gula Reduksi dan Pola Pita Isozim. Surakarta: UNS.
Tranggono IR. 2020. Buku Pengangan Ilmu Pengetahuan Kosmetik.Cetakan Keempat, Jakarta.
Tranggon, R.I.S. 2017. Buku Pengangan Ilmu Pengetahuan Kosmetik.PT. Gramedia Indonesia, Jakarta.
Wasitaatmaja, S. 2020. Penuntun Ilmu Kosmetik Medik. Cetakan Kelima : Jakarta, UI PRESS.
Widjarnarko, S. 2008. Efek Pengolahan Terhadap Komposisi Kimia & Fisik Ubi Jalar Ungu dan Kuning.
Yunuartono. 2017. Saponin: Dampak terhadap Ternak, Jurnal Peternakan Sriwijaya, 6(2), hlm.79-90.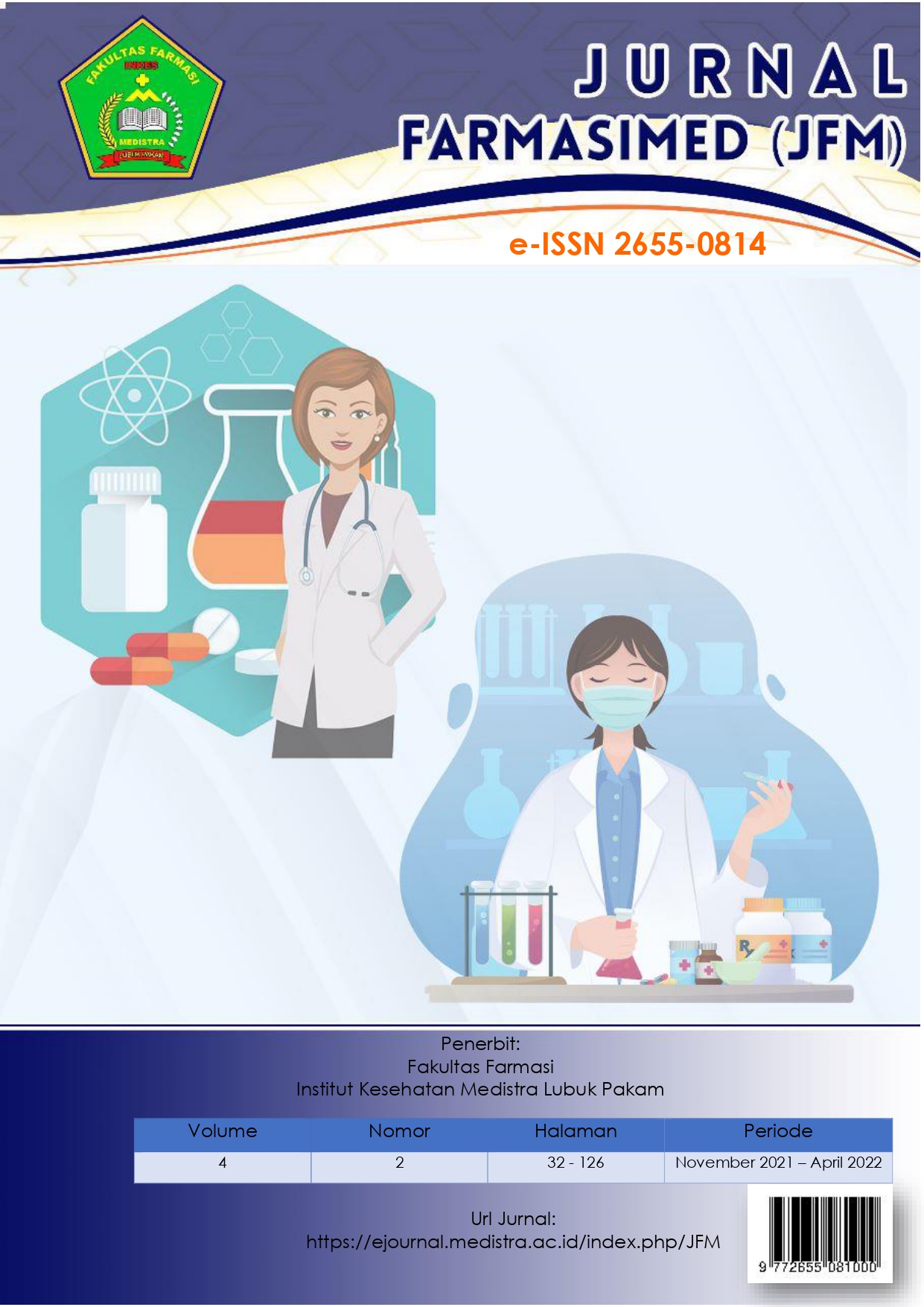 How to Cite
Wulandari, S., Niasari Silaen, A., & Wahyuni, S. (2022). FORMULATION OF SOLID BATH SOAP PREPARATIONS OF PURPLE SWEET POTATO ETHANOL EXTRACT (IPOMEA BATATAS L) AS A SKIN MOISTURIZER. JURNAL FARMASIMED (JFM), 4(2), 80-84. https://doi.org/10.35451/jfm.v4i2.1018
Copyright (c) 2022 Suci Wulandari, Ayu Renta Niasari Silaen, Siti Wahyuni
This work is licensed under a Creative Commons Attribution-NonCommercial-ShareAlike 4.0 International License.
Copyright in each article is the property of the Author.