ANTIFUNGAL EFFECTIVENESS OF LEAF ETHANOL EXTRACT WAKE UP (COLEUS AMBOINICUS)AGAINST THE FUNGI CANDIDA ALBICANS
Novidawati Boru Situmorang

Institut Kesehatan Medistra Lubuk Pakam
Keywords:
Bangun-bangun, Antijamur, Candida albicanss
Abstract
Daun bangun-bangun (Coleus amboinicus), merupakan Salah satu tumbuhan yang berpotensi sebagai obat dan telah sering digunakan oleh masyarakat. Kandungan senyawa Flavonoid dalam daun Bangun-bangun diyakini memiliki manfaat dan berpotensi sebagai antijamur terhadap Candida albicans. Selain itu adanya resistensi akan obat kimiawi sehingga pengobatan yang bersumber dari alam mulai dikembangkan. Tujuan dari penelitian ini yaitu untuk mengetahui aktivitas antijamur ekstrak etanol daun Bangun-bangun (Coleus amboinicus) terhadap bakteri Candida albicanss. Penelitian diawali dengan melakukan pemeriksaan metabolit alkaloid, saponin, flavanoid, tanin dan kemudian pengujian aktivitas antijamur terhadap Candida albicans dengan beberapa konsentrasi yaitu 5, 10, dan 15%, metode difusi agar kertas cakram. Hasil skrining fitokimia daun Bangun-bangun menunjukkan adanya alkaloid, tanin, flavonoid, dan saponin. Hasil pemeriksaan karakteristik serbuk simplisia daun bangun-bangun didapat kadar air 9,27%, kadar sari larut air 14,5%, kadar sari larut etanol 9,76%, sesuai dengan materia medika indonesia. Hasil skrining fitokimia yang didapat yaitu fenolik, flavonoid, saponin, steroid/triterpenoid. Pengujian aktivitas antijamur ekstrak etanol daun bangun-bangun menunjukkan diameter zona hambat pada konsentrasi 5%, 10%, 15%, adalah 14,47 mm, 15,46 mm, 16,34 mm. Maka dapat disimpulkan bahwa semakin tmeningkat konstrasi ekstrak,makasemakin besar diameter zonahambatnya.
Downloads
Download data is not yet available.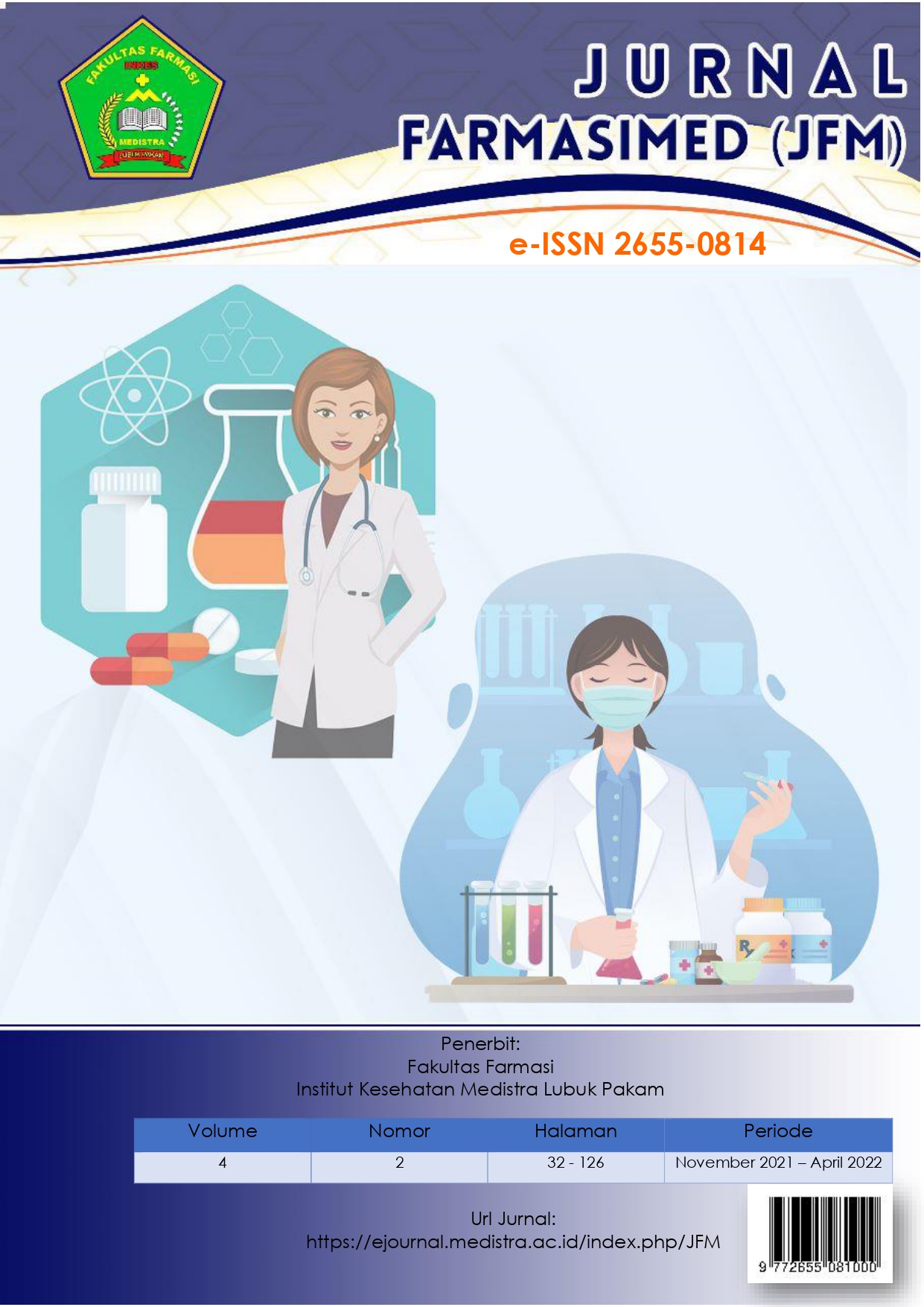 How to Cite
Situmorang, N. (2022). ANTIFUNGAL EFFECTIVENESS OF LEAF ETHANOL EXTRACT WAKE UP (COLEUS AMBOINICUS)AGAINST THE FUNGI CANDIDA ALBICANS. JURNAL FARMASIMED (JFM), 4(2), 98-102. https://doi.org/10.35451/jfm.v4i2.1061
Copyright (c) 2022 Novidawati Boru Situmorang
This work is licensed under a Creative Commons Attribution-NonCommercial-ShareAlike 4.0 International License.
Copyright in each article is the property of the Author.