Formulasi Pembuatan Sediaan Eyeshadow dari Ekstrak Bunga Kecombrang (Etlingera elatior Jack)
Bunga Rimta Barus

Institut Kesehatan Deli Husada

Vera Estefania Kaban

Institut Kesehatan Deli Husada Delitua
Keywords:
bunga kecombrang, pembuatan eyeshadow.
Abstract
One type of cosmetic or decorative cosmetic preparation is eyeshadow which contains a color pigment applied to the eyelid. The purpose of this study was to find out that kecombrang flower extract can be used as eyelid coloring. From the study to make eyeshadow preparations using dyes extracted from kecombrang flowers, to determine the stability of the eyeshadow by using kecombrang flower extract in storage at room temperature, and to find out whether eyeshadow preparations using extracts from kecombrang flowers cause irritation when used. Eyeshadow preparations from kecombrang flower extract (Etlingera elatior Jack) were made in various concentrations of 15%, 17.5%, 20%, 22.5%, 25% and blank preparations (without using kecombrang flower extract). Physical quality inspection of the preparation includes: color dispersion test (homogeneity), cracking test, and stock stability test. And for other tests carried out polishing tests (homogeneity) and irritation tests. Eyeshadow from kecombrang flower extract also does not cause irritation and is stable in room temperature storage for 30 days. Preparation of kecombrang flower extract with several good concentrations was used as eyeshadow preparations, stable eyeshadow preparations in storage at room temperature within 30 days, and the formulation of eyeshadow preparations using kecombrang flower extract as eyelid coloring did not cause irritation.
Downloads
Download data is not yet available.
References
Amalullia Diana. (2016). Analisis Kadar Timbal (Pb) Pada Eyeshadow Dengan Variasi Zat Pengoksidasi Dan Metode Dekstruksi Basah Menggunakan Spektroskopis Serapan Atom (SSA). Skripsi.Malang: Unnivesitas Negeri Maulana Malik Ibrahim.

Adliani Nur, Nazliniwaty, Djendakita. (2012). Foemulasi Lipstik Menggunakan Zat Warna Dari Ekstrak Bunga Kecombrang (Etlingera elatior (Jack) R.M.Sm). Journal of Pharmaceutics and Pharmacology. Vol. 1 (2) 87-94.

Nurhayati Ifa. (2016). Pembuatan Blush On Dari Buah Naga. Skripsi. Semarang: Pendidikan Kesejahteraan Keluarga Fakultas Teknik Negeri Universitas Semarang.

Ditjen POM RI. (1979). Farmakope Indonesia. Edisi III. Jakarta. Departemen Kesehatan Republik Indonesia. Halaman 407.

Ditjen POM RI. (1995). Farmakope Indonesia. Edisi IV. Jakarta. Departemen Kesehatan Republik Indonesia. Halaman 1157.

Fatimah S, dkk. (2015). Penetapan Kadar Sakarin Minuman Ringan Gelas Plastic Yang Dijual di Pasar Beringharjo Yogyakarta. Jurnal. Sekolah Tinggi Ilmu Kesehatan Guna Bangsa: Yogyakarta.

Hamdani Syarif, dkk. (2012). Panduan Praktikum Kimia Analisis. Modul Praktikum Kimia Analisis. Sekolah 10 Tinggi Farmasi Indonesia. Bandung. Halaman 21.

Wulandary Dewi Fransiska, Augustina Dwi, Yulia 2017. Formulasi Pembuatan Eyeshadow Compac Powder Menggunakan Ekstrak Buah Bit. Skripsi. Surabaya: Fakultas Farmasi Universitas Katolik Widya Mandala (UWM) Surabaya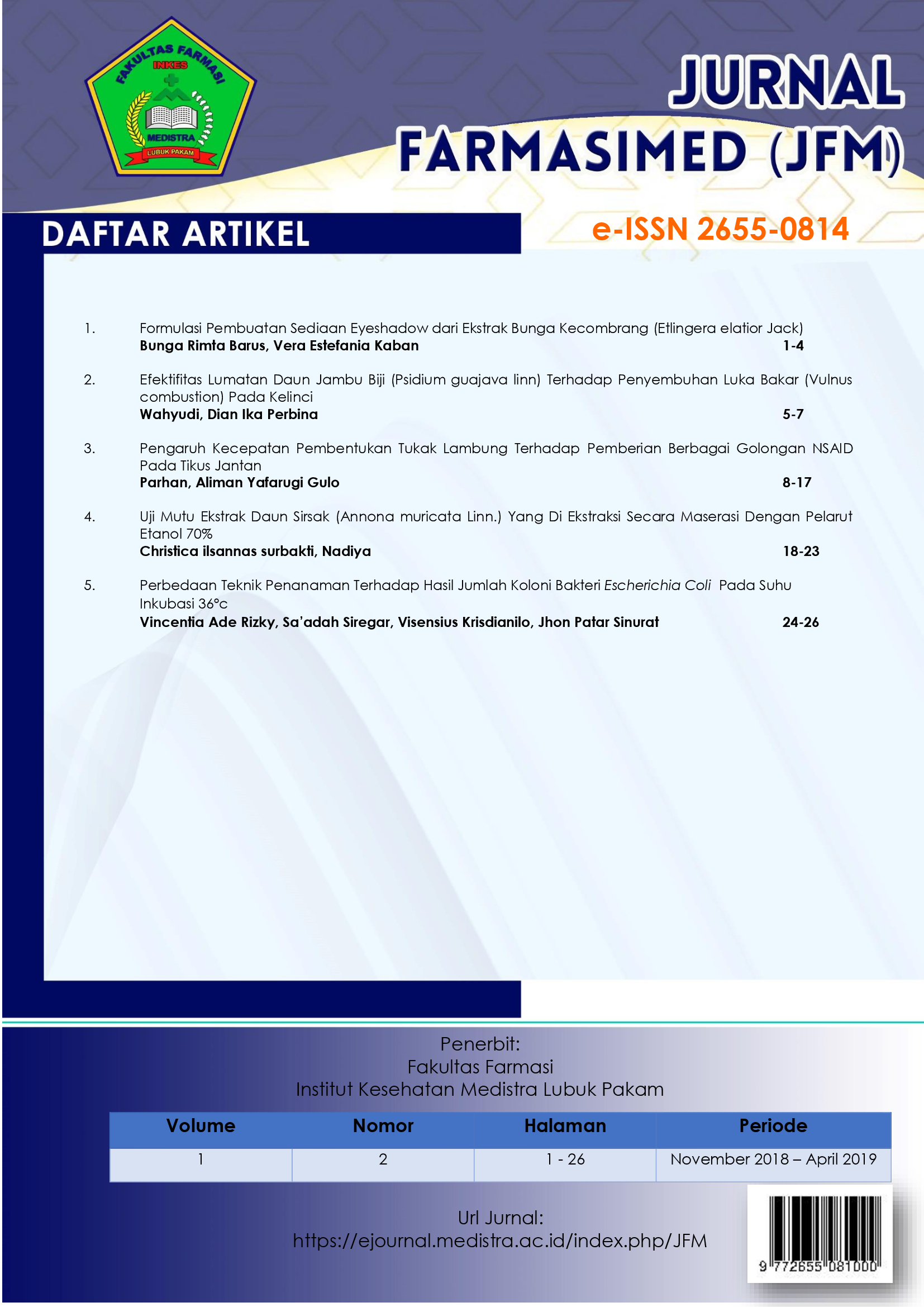 How to Cite
Barus, B., & Kaban, V. (2019). Formulasi Pembuatan Sediaan Eyeshadow dari Ekstrak Bunga Kecombrang (Etlingera elatior Jack). JURNAL FARMASIMED (JFM), 1(2), 1-4. https://doi.org/10.35451/jfm.v1i2.145
Copyright in each article is the property of the Author.