EFEKTIFITAS PENGGUNAAN PEWARNA ALTERNATIF PREPARAT PERMANEN TELUR NEMATODA USUS MENGGUNAKAN PEWARNA RHODAMIN B
Saadah Siregar

InKes Medistra Lubuk Pakam

Visensius Krisdianilo

Institut Kesehatan Medistra Lubuk Pakam

Vincentia Ade Rizky

Institut Kesehatan Medistra Lubuk Pakam
Keywords:
Intestinal Nematode Eggs ,Hematoxylin - Eosin , Rhodamine B
Abstract
Staining is one of support microscopic examination in the identification of worm eggs. Staining techniques are needed to clarify the various elements and the description of the microscopic worm eggs and distinguish it from the surrounding dirt. Hematoxylin and Eosin staining  method that is widely used in the staining of histological tissue. Dyes commonly used in the examination of intestinal nematode eggs on is dye eosin. To added reference dye Rhodamine B dye used as an alternative to dye eosin. The method used is experiment by conducting concentration ratio of  Rhodamine B 1%, 1.5%, 2% and 2.5% to 2% eosin control. The results based on Kruskal-Wallis Test showed the normality test is 0.357, p-value sig (0.357) > 0.05, so that the data group to be tested otherwise normal. Then performed statistical tests Kruskal WallisTtest to determine the accuracy of the file thus obtained p-value (0.407) > 0.05, meaning there is no significant difference in the concentration of the dye Rhodamine B of the entire treatment. Morphology of worm eggs clearly visible from the outside layer to the inside layer, the visual field Rhodamine B dye is clearly visible, color contrast eggs are also clearly visible. From the research conducted, it can be concluded that the dye Rhodamine B dye can be used as an alternative to dye eosin.
Downloads
Download data is not yet available.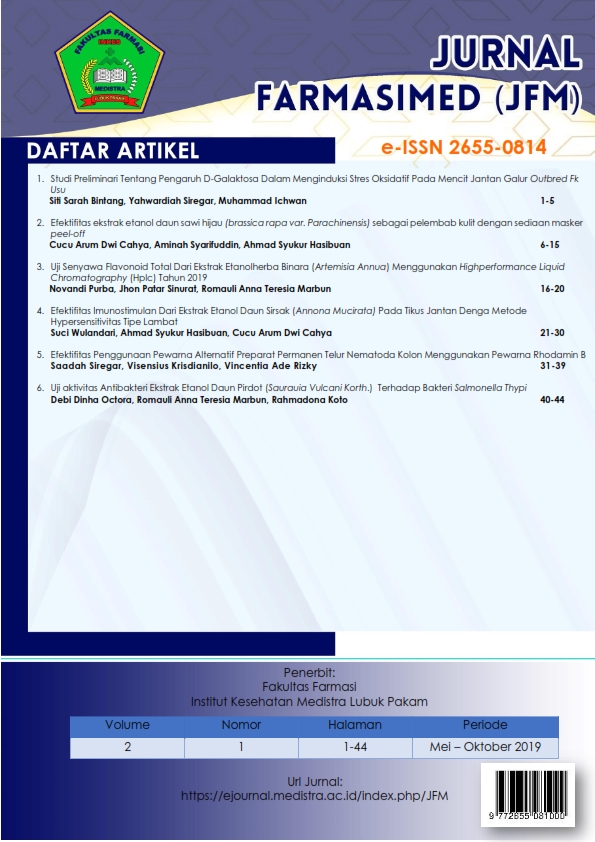 How to Cite
Siregar, S., Krisdianilo, V., & Rizky, V. (2019). EFEKTIFITAS PENGGUNAAN PEWARNA ALTERNATIF PREPARAT PERMANEN TELUR NEMATODA USUS MENGGUNAKAN PEWARNA RHODAMIN B. JURNAL FARMASIMED (JFM), 2(1), 31-39. https://doi.org/10.35451/jfm.v2i1.194
Copyright in each article is the property of the Author.