UJI AKTIVITAS ANTIBAKTERI EKSTRAK ETANOL DAUN PIRDOT (SAURAUIA VULCANI KORTH.) TERHADAP BAKTERI SALMONELLA THYPI
Debi Dinha Octora

Institut Kesehatan Medistra Lubuk Pakam

Romauli Anna Teresia Marbun

Institut Kesehatan Medistra Lubuk Pakam

Rahmadona Koto

Institut Kesehatan Medistra Lubuk Pakam
Keywords:
Keywords: Ethanol Extract Pirdot Leaves (Saurauia vulcani Korth), Salmonella thypi, Antibacteria,
Abstract
Indonesia is known for the many plants that are used as traditional medicine for disease prevention, including the leaves of the pirdot (Saurauia vulcani Korth) family Actinidiaceae. This study aims to determine the antibacterial activity of ethanol extract of pirdot leaves (Saurauia vulcani Korth). The results of the characterization of pirdot leaf simplicia powder were obtained 3.99% water content, water soluble extract 12.15%, ethanol soluble extract 8.89%, total ash content 9.97%, insoluble ash content in acids 3.17%. The results of phytochemical screening tests contained the chemical compounds of steroids / triterpenoids, flavonoids, glycosides, tannins and saponins. Ethanol extract of pirdot leaf has antibacterial activity against Salmonella typhi bacteria. The treatment consisted of 4 concentrations, pirdot leaf extract with 3 repetitions, each blank (DMSO), 50 mg / ml, 100 mg / ml, 150mg / ml, 200 mg / ml. After that, it was incubated for 24 hours at 37oC. Inhibition zone diameter observations were made using calipers. The results obtained showed that administration of pirdot leaf extract at concentrations of 50 mg / ml, 100 mg / ml, 150 mg / ml and 200 mg / ml can inhibit the growth of Salmonella typhi bacteria. The results of the antibacterial activity test of pirdot leaf ethanol extract against Salmonella typhi bacteria obtained the highest inhibitory concentration of 200 mg / ml with a diameter of 20.48 mm.
Downloads
Download data is not yet available.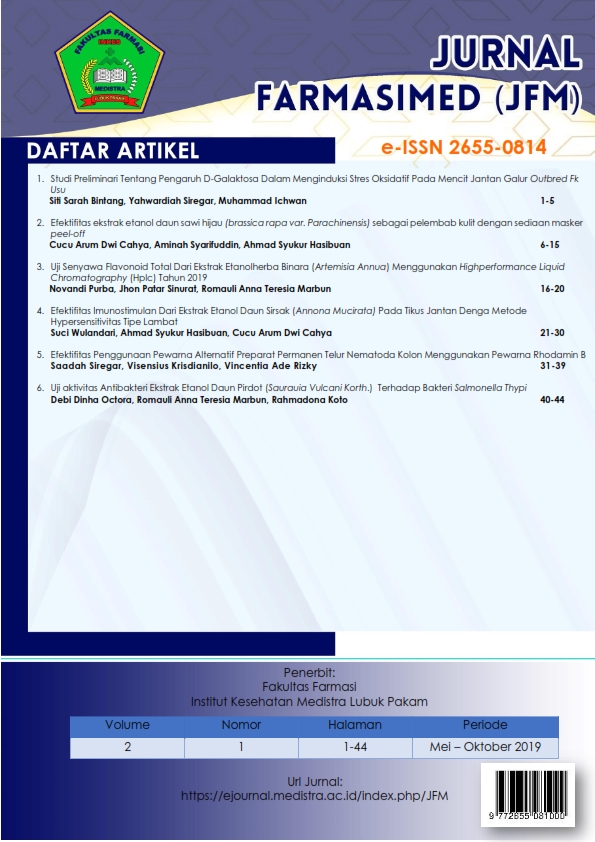 How to Cite
Octora, D., Teresia Marbun, R., & Koto, R. (2019). UJI AKTIVITAS ANTIBAKTERI EKSTRAK ETANOL DAUN PIRDOT (SAURAUIA VULCANI KORTH.) TERHADAP BAKTERI SALMONELLA THYPI. JURNAL FARMASIMED (JFM), 2(1), 40-44. https://doi.org/10.35451/jfm.v2i1.286
Copyright in each article is the property of the Author.