PENETAPAN KADAR VITAMIN C PADA KULIT PISANG (Musa paradisiaca) DENGAN METODE SPEKTROFOTOMETRI UV-VISIBLE TAHUN 2018
Asti Pratiwi

Institut Kesehatan Medistra Lubuk Pakam

Ardita Febrianty Manurung

Institut Kesehatan Medistra Lubuk Pakam

Jhoti sumitra

Institut Kesehatan Medistra Lubuk Pakam
Keywords:
Vitamin C, Skin Banana, spectrofotometry UV-Visible
Abstract
Background: Vitamin C is a vitamin that is water soluble qnd one vitamin that are needed by the body. To meet the intake of vitamin C needed source of vitamin a derived from fruits, one of which is banana. Part of the banana , which is still rarely used is its skin. Banana peel is very beneficial for health however the situation is only considered as waste that has not been utilized well. This study aims to determine the levels of vitamin C on the skin of the banana (Musa paradisiaca) by the method of spectrofotometry uv-visible wavelength 224,5 nm. Method: This research use experimental with purely research stage comprise sample preparation, qualitative test, making the solution of the parent raw, quantitative test, determination of wavelength of maximum vitamin and creation of calibration surve. Result: Based on the research that has been done obtained the result of the qualitative test to prove the presence of high content of vitamin C contained in banana peels, with the highest level obtained in the skin of the plantain by 0,0253 mg/ml and the levels of the lowest on a banana peel the wax by 0,0172 ng/ml. Discussion: Levels of vitamin C on the skin of the banana  barangan of 0, 0219 mg/ml, sample a banana skin banten by 0, 0173 mg/ml, sample a banana peel wax by 0, 0172 mg/ml and sample the skin of plantain by 0, 0253 mg/ml.
Downloads
Download data is not yet available.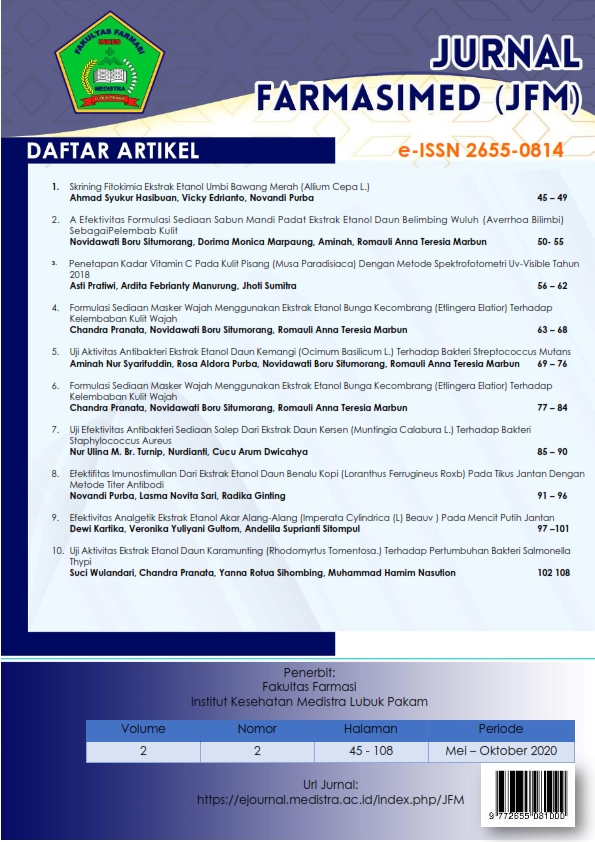 How to Cite
Pratiwi, A., Manurung, A., & sumitra, J. (2020). PENETAPAN KADAR VITAMIN C PADA KULIT PISANG (Musa paradisiaca) DENGAN METODE SPEKTROFOTOMETRI UV-VISIBLE TAHUN 2018. JURNAL FARMASIMED (JFM), 2(2), 56-62. https://doi.org/10.35451/jfm.v2i2.363
Copyright in each article is the property of the Author.