FORMULASI SEDIAAN MASKER WAJAH MENGGUNAKAN EKSTRAK ETANOL BUNGA KECOMBRANG (ETLINGERA ELATIOR) TERHADAP KELEMBABAN KULIT WAJAH
Chandra Pranata

Institut Kesehatan Medistra Lubuk Pakam

Novidawati Boru Situmorang

Institut Kesehatan Medistra Lubuk Pakam

Romauli Anna Teresia Marbun

Institut Kesehatan Medistra Lubuk Pakam
Keywords:
Torch, Ginger, Flower, Extract, Facial, Mask, Clay, Facial Mask, Facial Skin, Moisture
Abstract
ABSTRACT
Skin is an essential and vital organ and a reflection of health. Natural antioxidants such as flavonoids, polyphenols and Sapponin are believed to increase moisture on the skin. This ability is the main reason for using Torch Ginger flower extract which is formulated into a form of facial mask in the form of clay facial mask. Objective: To formulate facial moisturizing mask preparations using the extract of Torch Ginger(Etlingera elatior). This study used the Torch Ginger Flower extract facial moisturizing mask formulation method with a concentration of 0 (Blank), 5% and 10%. Evaluation of mask preparations included homogeneity, stability of dosage at temperatures of 80C and 250C, Organoleptic test and pH of preparations. Measurements of skin moisture activity were measured using alar Skin Analyzer which was tested on the face surface 3cm wide. The results showed that the preparation was stable in terms of odor, color and was at a pH of 4.2-6.3 using observations of litmus discoloration. Effectiveness of facial skin moisture with 10% Torch Ginger extract concentration is more effective to produce results at a concentration of 5% and blank. Conclusion: Torch Ginger flower extract can be formulated into preparations of face masks with various concentrations and has the effect of moisturizing the skin and brightening the complexion.
Keywords: Torch Ginger Flower Extract, Facial Mask, Clay Facial Mask, Facial Skin Moisture
Downloads
Download data is not yet available.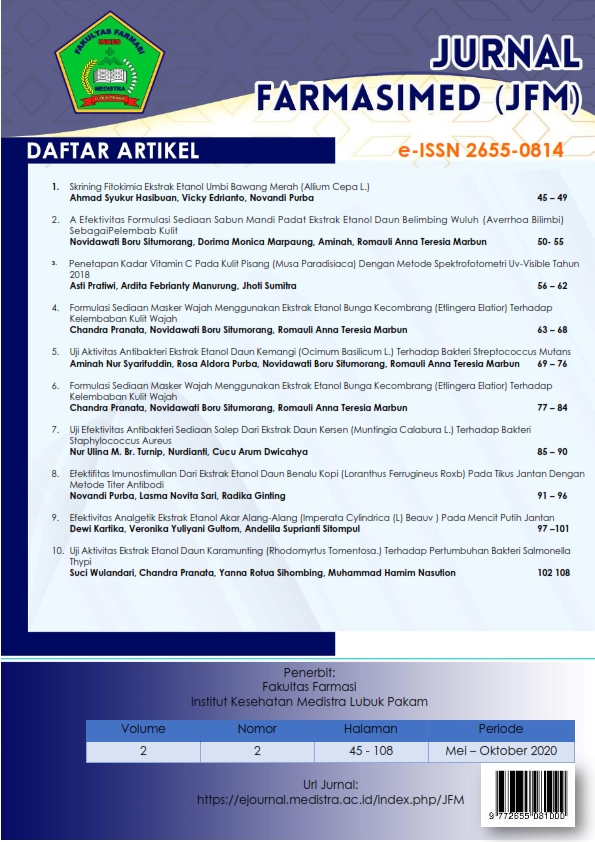 How to Cite
Pranata, C., Boru Situmorang, N., & Marbun, R. (2020). FORMULASI SEDIAAN MASKER WAJAH MENGGUNAKAN EKSTRAK ETANOL BUNGA KECOMBRANG (ETLINGERA ELATIOR) TERHADAP KELEMBABAN KULIT WAJAH. JURNAL FARMASIMED (JFM), 2(2), 63-68. https://doi.org/10.35451/jfm.v2i2.364
Copyright in each article is the property of the Author.