UJI AKTIVITAS EKSTRAK ETANOL DAUN KARAMUNTING (Rhodomyrtus tomentosa.) TERHADAP PERTUMBUHAN BAKTERI Salmonella thypi
Suci Wulandari

Institut Kesehatan Medistra Lubuk Pakam

Chandra Pranata

Institut Kesehatan Medistra Lubuk Pakam

Yanna Rotua Sihombing

Institut Kesehatan Medistra Lubuk Pakam

Muhammad Hamim Nasution

Institut Kesehatan Medistra Lubuk Pakam
Keywords:
karamunting leaf extract (Rhodomyrtus tomentosa.), Salmonella thypi, inhibitory power.
Abstract
Salmonella thypiis a bacterium that causes typhoid fever. Typhoid fever is an infectious disease that is still a health problem, especially in Indonesia. There are several studies on the types of plants that can control bacterial growth. Indonesian plants are often used as medicine, one of which is the karamunting (Rhodomyrtus tomentosa.). Traditionally a number of parasitic species have been used to prevent and treat various diseases such as cough, anticancer, diuretic, anti-inflammatory, antibacterial, wound or infection karamunting (Rhodomyrtus tomentosa.) Has active compounds such as flavonoids, alkaloids, tannins , saponins, and glycosides which have antibacterial abilities. The purpose of this study is to determine the inhibition of extract of karamunting (Rhodomyrtus tomentosa.) at concentrations of 5%, 10%, and 15%. Test samples using Salmonella thypi. This research is an experimental study with a design (posttest). The research methods included the collection of plant material, determination of plant material, making simplicia, phytochemical screening, making ethanol extract from simplicia by maceration, testing chemical compound groups, and antibacterial testing with paper disk diffusion methods. Karamunting is extracted by maceration process, using 70% ethanol solvent. The results of this study indicate that the benalu coffee leaf extract (Rhodomyrtus tomentosa.) has inhibitory capacity as an antibacterial in Salmonella thypi with a mean inhibition of 16.87 mm at a concentration of 5%, 17.24 mm at a concentration of 10%, and 18.21 mm at a concentration of 15%. The greatest inhibition is produced at a concentration of 15%, because the higher the concentration of the extract, the higher the diameter of the inhibition produced, because the more active substances contained in the extract.
Downloads
Download data is not yet available.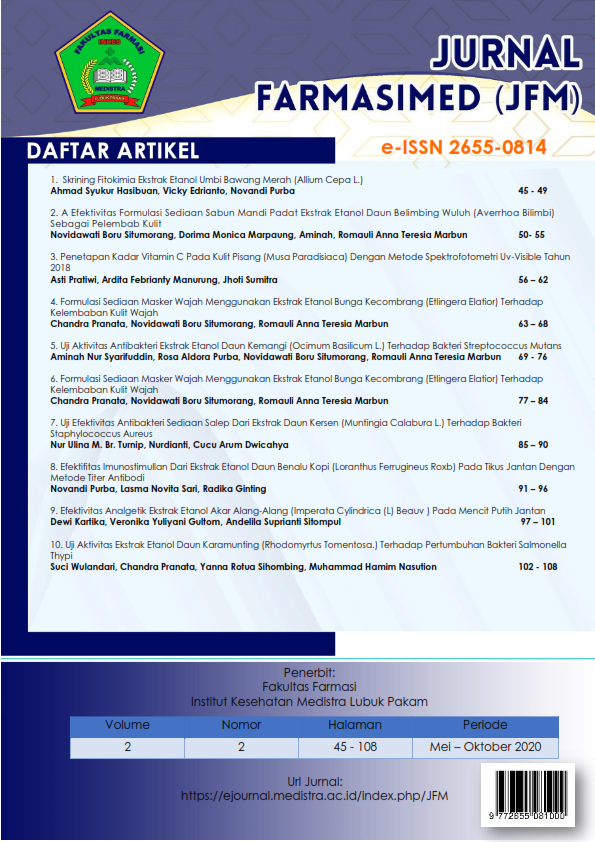 How to Cite
Wulandari, S., Pranata, C., Sihombing, Y., & Nasution, M. (2020). UJI AKTIVITAS EKSTRAK ETANOL DAUN KARAMUNTING (Rhodomyrtus tomentosa.) TERHADAP PERTUMBUHAN BAKTERI Salmonella thypi. JURNAL FARMASIMED (JFM), 2(2), 102-108. https://doi.org/10.35451/jfm.v2i2.382
Copyright in each article is the property of the Author.