PERBANDINGAN FORMULASI EKSTRAK E PERBANDINGAN FORMULASI EKSTRAK ETANOL BUAH TERONG BELANDA SEBAGAI PEWARNA PADA BLUSH ON DALAM BENTUK SEDIAAN COMPACT
Bunga Rimta Barus

Institut Kesehatan Deli Husada

Vera Estevania Kaban

Institut Kesehatan Deli Husada Deli Tua

Jessi Octavia Aitonang

Institut Kesehatan Deli Husada Deli Tua

Syukur Berkat Waruwu

Institut Kesehatan Deli Husada Deli Tua
Keywords:
Blush on, Compact powder, Tree Tomato fruit
Abstract
Blush on is a cosmetic preparation for coloring the cheeks with an artistic touch so that it can increase the attractive impression in makeup (Nurhayati, 2016). Many blush-on preparations come from chemicals, which can cause spotty, black spots and can trigger skin cancer. One alternative that can be used is by making a blush on natural ingredients, namely Tree Tomato. The purpose of this study was to find out the Ethanol Extract of the Tree Tomato Fruit was made as a blush on coloring in compact preparations.The sample used in this study was Tree Tomato, red and had a soft texture taken from the cultivation of Tree tomato in the village of Brastagi, Karo District, North Sumatra Province. Making extracts is done by maceration and the process of making blush. After that evaluation of blush on preparation is carried out. Evaluation test results of blush on ethanol extract of tree tomato fruit include. The results of homogeneity tests are declared homogeneous, pH test averages 6.4, irritation test results stated not to irritate, the test results of the three formulations can be concluded that the three most preferred form of blush on panelists are formulations with a concentration of 15%, because they have a comfortable level of application, clear colors and very soft.Ethanol extract of Tree Tomato fruit can be made as a dye in compact preparations.
Downloads
Download data is not yet available.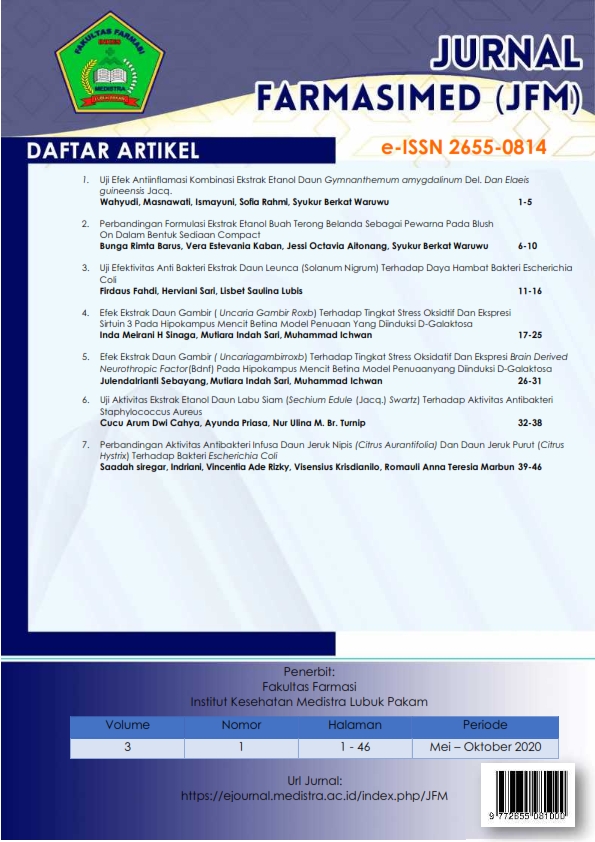 How to Cite
Barus, B., Estevania Kaban, V., Octavia Aitonang, J., & Berkat Waruwu, S. (2020). PERBANDINGAN FORMULASI EKSTRAK E PERBANDINGAN FORMULASI EKSTRAK ETANOL BUAH TERONG BELANDA SEBAGAI PEWARNA PADA BLUSH ON DALAM BENTUK SEDIAAN COMPACT. JURNAL FARMASIMED (JFM), 3(1), 6-10. https://doi.org/10.35451/jfm.v3i1.450
Copyright (c) 2020 Bunga Rimta Barus
This work is licensed under a Creative Commons Attribution-NonCommercial-ShareAlike 4.0 International License.
Copyright in each article is the property of the Author.