EFEK EKSTRAK DAUN GAMBIR ( UNCARIA GAMBIR ROXB) TERHADAP TINGKAT STRESS OKSIDATIF DAN EKSPRESI SIRTUIN 3 PADA HIPOKAMPUS MENCIT BETINA MODEL PENUAAN YANG DIINDUKSI D-GALAKTOSA
Inda MH Sinaga

Magister Biomedik FK USU

Mutiara Indah Sari

Magister Biomedik FK USU

Muhammad MH Ichwan

Universitas sumatera utara
Keywords:
D-Galactose,, Malondealdehid, Sirtuin 3, Cathechin
Abstract
The aging process must be experienced by all living things, there will be a decrease in the tissue ability to maintain its function so that pathological conditions occur. Some things can cause aging, Free radical factors are external and internal factors that can trigger aging. Induce of d-galactose continuously one of the factors that can increase oxidative stress. This study was design to evaluate the effect of gambir leaf extract on oxidative stress and expression of the sirtuin 3 gene in the hippocampus of female mice induced intraperitoneally by d-galactose 150 mg/kgbb. Researchers conducted a post test only control group study with a sample of 24 female mice aged 10 - 12 weeks with the inclusion criteria an average body weight of 25-35 grams, obtained from the same breeding place, maintained at the same place and time and never as research material. Mice were divided into 4 groups with 6 mice each , group (C) female mice induced only d-galactose 150 mg / kg and in sonde aquabidest  0,1%/body weight, mice induced by d-galactose and sonde gambir leaf extract at a dose of 100 mg / kg bw group (C1), group (C2) 200 mg/kgbw, and 400 mg/kgbw group (C3). Blood samples were collected to determine the increase in oxidative stress levels of malondealdehyde (MDA) through spectrophotometry, and hippocampal tissue collected for PCR method so that the expression of the sirtuin 3 gene can be seen. Increased levels of MDA are associated with increased oxidative stress. This study reported the results of MDA levels were not significant ( p value <0.05). The results of the PCR reported an increase in expression 2 times higher than the control at a dose of gambier leaf extract 200 mg / kgbw
Keywords:D-Galactose, Malondealdehid,Sirtuin 3,Cathechin.
Downloads
Download data is not yet available.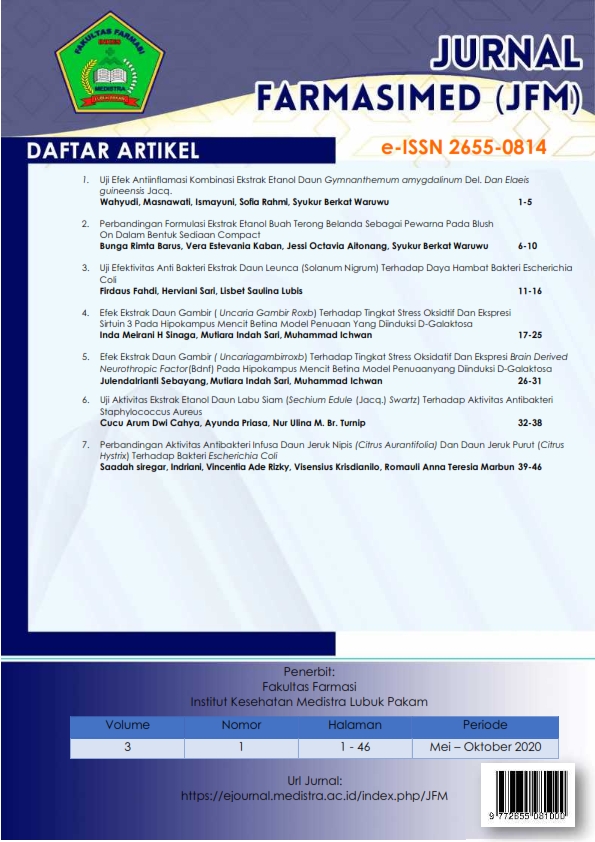 How to Cite
Sinaga, I., Sari, M., & Ichwan, M. (2020). EFEK EKSTRAK DAUN GAMBIR ( UNCARIA GAMBIR ROXB) TERHADAP TINGKAT STRESS OKSIDATIF DAN EKSPRESI SIRTUIN 3 PADA HIPOKAMPUS MENCIT BETINA MODEL PENUAAN YANG DIINDUKSI D-GALAKTOSA. JURNAL FARMASIMED (JFM), 3(1), 17-25. https://doi.org/10.35451/jfm.v3i1.473
Copyright (c) 2020 Inda MH Sinaga, Mutiara Indah Sari, Muhammad MH Ichwan
This work is licensed under a Creative Commons Attribution-NonCommercial-ShareAlike 4.0 International License.
Copyright in each article is the property of the Author.