EFEK EKSTRAK DAUN GAMBIR ( UNCARIAGAMBIRROXB) TERHADAP TINGKAT STRESS OKSIDATIF DAN EKSPRESI BRAIN DERIVED NEUROTHROPIC FACTOR(BDNF) PADA HIPOKAMPUS MENCIT BETINA MODEL PENUAANYANG DIINDUKSI D-GALAKTOSA
Julenda Irianti Sebayang

Magister Biomedik FK USU

Mutiara Indah Sari

Universitas Sumatera Utara

Muhammad Indah Ichwan

Universitas Sumatera Utara
Keywords:
Cathechins, Stress oksidatif, BDNF, D-Galactose
Abstract
Prevalence of premature aging that causes in decreased memory throughout the world of individuals aged 60 years and over is estimated at 5-7%. According to WHO this is caused by progressive dysfunction and neuronal cell death and is related to free radical formation. This study was design to evaluate the effect of gambir leaf extract ( uncariaGambirRocb ) on MDA and expression BDNF in the hippocampus of aging female mice that are induced in D-Galactose. In this study that method is used a post test only control group, the researcher design with 4 groups being treated ( group1 : inject D-Galactose 150 mg/kgbb/ip and sondeaquabidest 0,1%, group 2 : sondecathechins 100 mg and inject D-Galactose 150mg/kgbb, group 3 ; sondecathechins 200 mg and inject D-Galactose 150 mg/kgbb, group 4 : sondecathechine 400 mg and inject D-Galactose150 mg/kgbb) with the inclusion criteria : all female mice (MusMusculus L) were 10-12 weeks old and had not been studied.
MDA is examined through blood serum with spektrofotometer.
Isolation RNA with Kit Tiangen Kat DP419 and BDNF expression from the hippocampus by RT PCR
Increased level of MDA showed increased stress oksidatif. This study the result of MDA levels were not significant ( p value <0.05 ). There was an increase in BDNF expression in the K2 group compared to the other group in the Control, but it was not significant.
The dose of 200 mg/kgbb is determine as the most effective dose of gambier beverage to improve the memory of female mice.
Downloads
Download data is not yet available.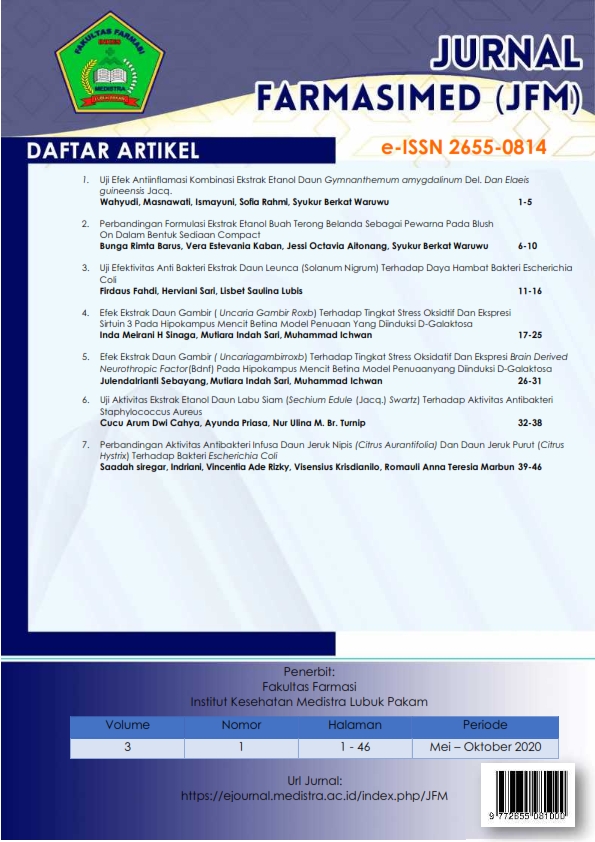 How to Cite
Sebayang, J., Sari, M., & Ichwan, M. (2020). EFEK EKSTRAK DAUN GAMBIR ( UNCARIAGAMBIRROXB) TERHADAP TINGKAT STRESS OKSIDATIF DAN EKSPRESI BRAIN DERIVED NEUROTHROPIC FACTOR(BDNF) PADA HIPOKAMPUS MENCIT BETINA MODEL PENUAANYANG DIINDUKSI D-GALAKTOSA. JURNAL FARMASIMED (JFM), 3(1), 26-31. https://doi.org/10.35451/jfm.v3i1.475
Copyright (c) 2020 julenda Irianti Sebayang, Mutiara Indah Sari, Muhammad Indah Ichwan
This work is licensed under a Creative Commons Attribution-NonCommercial-ShareAlike 4.0 International License.
Copyright in each article is the property of the Author.