PERBANDINGAN AKTIVITAS ANTIBAKTERI INFUSA DAUN JERUK NIPIS (CITRUS AURANTIFOLIA) DAN DAUN JERUK PURUT (CITRUS HYSTRIX) TERHADAP BAKTERI ESCHERICHIA COLI
Saadah Siregar

InKes Medistra Lubuk Pakam

Indriani Indriani

Institut Kesehatan Medistra Lubuk Pakam

Vincentia Vincentia Ade Rizky

Institut Kesehatan Medistra Lubuk Pakam

Visensius Visensius Krisdianilo

Institut Kesehatan Medistra Lubuk Pakam

Romauli Anna Teresia Marbun

Institut Kesehatan Medistra Lubuk Pakam
Keywords:
Antibacterial, Leaf Lime, Kaffir Lime Leaves, Escherichia coli
Abstract
Plant Lime (Citrus aurantifolia) and Plant Kaffir Lime (Citrus hystrix) including Rutacea family. Part of the plant lemon and lime are used as a drug other than fruit and leaves that can be used as medicine. This study aims to determine the antibacterial activity infuse lime leaves and lime leaves. Examination of the characteristics simplicia macroscopic examination. Phytochemical screening of compounds includes examining alkaloids, flavonoids, tannins and infuse saponin. Ekstrak conducted using distilled water solvent. Test of antibacterial activity against Escherichia coli bacteria carried by the agar diffusion method using a paper disc. Results obtained from macroscopic examination for lime leaves are fresh leaves leaf-shaped single smooth surface and the lower surface of the leaves are light green, the dark green upper surface. If torn, lime leaves produce coarse fibers. The leaves are small with a width of 3-5 cm. For lime leaves are fresh leaves, leaf litter pinnate compound leaves one. Child leaf blade oval to oblong, base rounded or blunt, the blunt end up pointed, 8-15 cm long, 2-6 cm wide, the upper surface colour some what shiny dark green, light green below the surface. Results of phytochemical screening simplicia powder lime leaves and lime leaves that contain a class of alkaloids, flavonoids and tannins. Antibacterial activity test results showed that there were differences between the antibacterial infusion lime leaves and lime leaves kaffir lime leaves which are more effective against the bacteria Escherichia coli compared kaffir lime leaves.
Downloads
Download data is not yet available.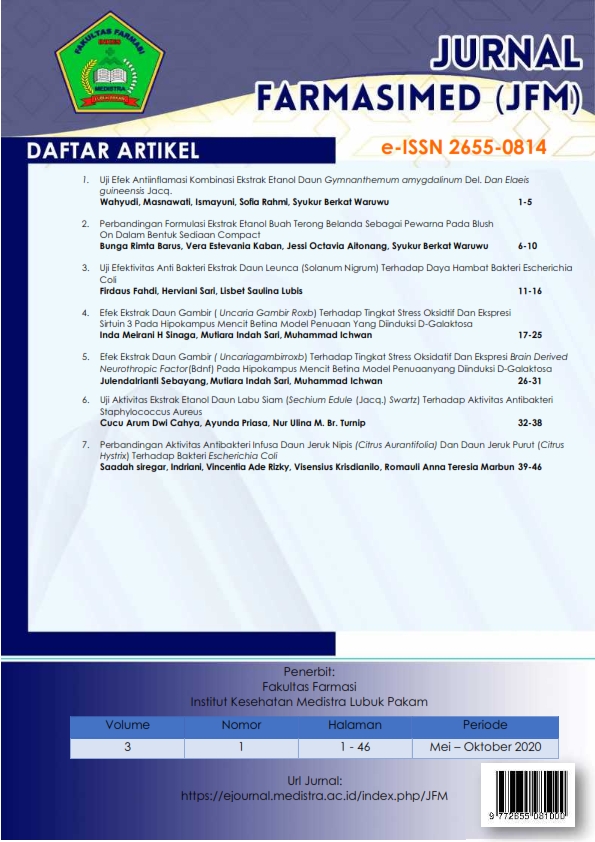 How to Cite
Siregar, S., Indriani, I., Vincentia Ade Rizky, V., Visensius Krisdianilo, V., & Anna Teresia Marbun, R. (2020). PERBANDINGAN AKTIVITAS ANTIBAKTERI INFUSA DAUN JERUK NIPIS (CITRUS AURANTIFOLIA) DAN DAUN JERUK PURUT (CITRUS HYSTRIX) TERHADAP BAKTERI ESCHERICHIA COLI. JURNAL FARMASIMED (JFM), 3(1), 39-46. https://doi.org/10.35451/jfm.v3i1.524
Copyright (c) 2020 Saadah Siregar
This work is licensed under a Creative Commons Attribution-NonCommercial-ShareAlike 4.0 International License.
Copyright in each article is the property of the Author.