DRP EVALUASI DRUNG RELATED PROBLEMS (DRPs) ANTIBIOTIK PADA PASIEN PNEUMONIA RAWAT INAP ANAK RUMAH SAKIT UMUM DAERAH DELI SERDANG
Cindy Monica

Dosen

Aminah. S

Institut Kesehatan Medistra Lubuk pakam

Siti Dalilla

Institut Kesehatan Medistra Lubuk pakam
Keywords:
Drung Related Problems (DRPs), Antibiotics, Pneumonia
Abstract
Background: Infection is one of the top ten diseases in Indonesia, so that antibiotic therapy is quite high. The increasing use of antibiotics may lead to an increase in the use of irrational antibiotics. Drug Related Problems (DRPs) are events that are not expected from the patient's experience or are suspected to be due to drug therapy so that they have the potential to interfere with the desired healing success.
Objective: This study aims to determine the number of occurrences of DRPs which include dosage inaccuracy, namely under and over dose, indication without drug, drug without indication, potential interactions and inaccuracy of drug selection in inpatient pneumonia treatment for children at the Deli Serdang Regional public hospital. In 2019
Method: This study is retrospective in which data is obtained through secondary data in the form of patient medical records for the period January-December 2019 with a cross-sectional study design. The data collection technique was in the form of total sampling, obtained 50 samples that fit the inclusion criteria.
Results: Drung Related Problems (DRPs) research that occurred in the under-dose category of drugs (4.0%), and excessive drug doses (2.0%) and no DRPs (94.0%). This shows that the role of pharmacists is important in monitoring patient drug therapy to minimize the occurrence of DRPs.
Downloads
Download data is not yet available.
References
Arikunto, Suharsimi. 2010. Prosedur Penelitian. Yogyakarta: Rineka Cipta.
Ashraf mozayani dan lionel p. Raymon., 2014. Buku interaksi obat peomanklinis dan forensik. Jakarta : EGC
Djuanda, A. Dermatosis eritroskuamosa dalam buku ilmu penyakit kulit dan kelamin. Edisi Ketiga. Jakarta; Fakultas Kedokteran Universitas Indonesia; 1999.
DR.Maksum Radji, M., 2013. Mikrobiologi Panduan Mahasiswa Farmasi dan Kedokteran. Jakarta: EGC.
DR. Indan Entjang. 2001. Mikrobiologi dan Parasitologi Untuk AkademiKeperawtan Dan sekolah tinggi Kesehatan yang sederajat. Bandung: PT. Citra aditya bakti
Kementerian Kesehatan Republik Indonesia., 2011. Pedoman Penggunaan Antibiotik. Jakarta: Kemenkes RI.
Maryunani, Anik., 2018. Ilmu Kesehatan Anak Dalam Kebidanan. Jakarta: TIM.
Nursalam, dkk., 2018. Asuhan Keperawatan Bayi dan Anak. Jakarta: Salemba Medika.
Strand, L.M., Helper, D.D., 1990. Opportunitie and Responsibilities in Strand, L.M., and American : Journal of Hospital Pharmacy.
Volk, W.A dan Wheeler, M.F., 1993. Mikrobiologi dasar. Jilid I. Alih Bahasa : Markam jakarta : Erlangga.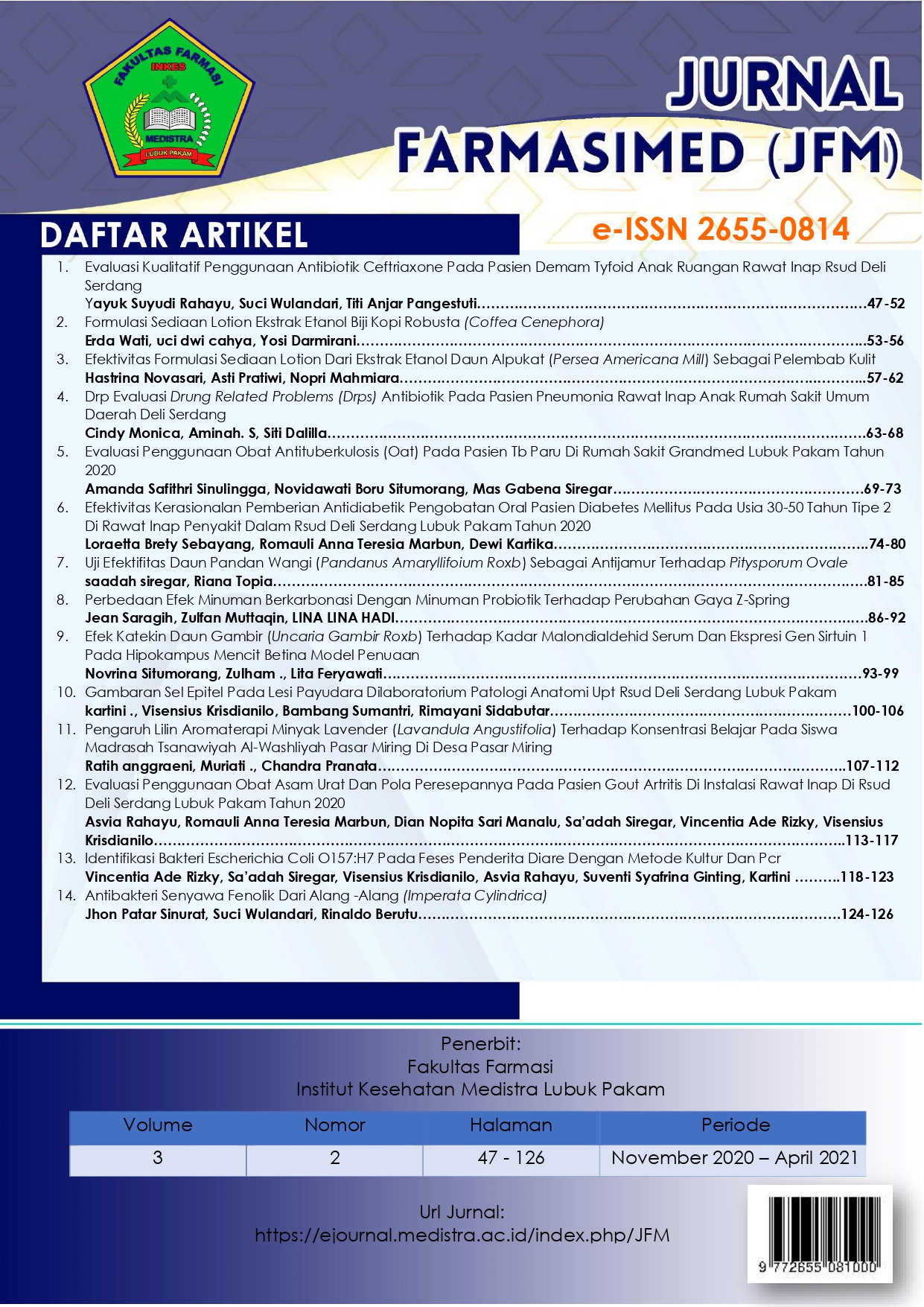 How to Cite
Monica, C., S, A., & Dalilla, S. (2021). DRP EVALUASI DRUNG RELATED PROBLEMS (DRPs) ANTIBIOTIK PADA PASIEN PNEUMONIA RAWAT INAP ANAK RUMAH SAKIT UMUM DAERAH DELI SERDANG. JURNAL FARMASIMED (JFM), 3(2), 63-68. https://doi.org/10.35451/jfm.v3i2.574
Copyright (c) 2021 Cindy Monica, Aminah. S, Siti Dalilla
This work is licensed under a Creative Commons Attribution-NonCommercial-ShareAlike 4.0 International License.
Copyright in each article is the property of the Author.