EVALUASI PENGGUNAAN OBAT ANTITUBERKULOSIS (OAT) PADA PASIEN TB PARU DI RUMAH SAKIT GRANDMED LUBUK PAKAM TAHUN 2020
Amanda Safithri Sinulingga

Institut Kesehatan Medistra Lubuk Pakam

Novidawati Boru Situmorang

Institut Kesehatan Medistra Lubuk pakam

Mas Gabena Siregar

Institut Kesehatan Medistra Lubuk pakam
Keywords:
Oat Drugs, Rs Granmed Lubuk Pakam.
Abstract
Tuberculosis is a disease caused by the bacterium Mycobacterium tuberculosis, a first- line anti-tuberculosis drug, namely Isoniazid (H) and Rifampicin (R). The increase in the number of Tb Lung patients from 2019 to 2020 at the RS Grandmed Lubuk Pakam encouraged researchers to conduct this study. The purpose of this study was to determine the description of the use of antituberculosis drugs and the rationality of the use of anti-tuberculosis drugs in pulmonary TB patients in RS Grandmed Lubuk Pakam in 2019. This study was a descriptive (non-experimental) study with retrospective data collection taken from patient medical records. Pulmonary tuberculosis at RS Grandmed Lubuk Pakam. Data was collected using purposive sampling technique in accordance with the inclusion criteria and exclusion criteria using the Data Collection Sheet. The number of samples used in the study is 76 medical records of patients diagnosed with pulmonary TB. Data analysis was performed using the Univariate with the help of SPSS. Results of the distribution of treatment duration data that most patients underwent treatment for <6 months, as many as 31 people (19.9%). Followed by patients with exactly 6 months length of 30 people (0.39%). Whereas patients from 6 months 16 people (21.1%). And the number of Chronic Disease that suffered by Diabetes Mellitus patients was 24 patients (14.5%). All three have a significant relationship to the patient's treatment outcomes. Whereas at the age range 18-24 years, 44 people (57.9%) were affected by pulmonary TB. and The results of the evaluation of the rationality of pulmonary TB treatment are the exact indications of (97.4%), (74 patients), the right patients by 100% (76 patients), the right drugs by (97.4%) (74 patients), and the correct dosage of 100% ( 76).
Downloads
Download data is not yet available.
References
Aditama, T, Y. Tuberkulosis Paru (2013). Masalah dan penanggulangan. Penerbit Universitas Indonesia (UI- press) : Jakarta.
Brooks,GFButel J, More AS. (2011). Medical hospital Microbiology. International Edition 22 ed McGraw-Hill. New York.
Hasan H.(2002). Buku Ajar Ilmu Penyakit Paru: Departemen Ilmu Penyakit Paru FK Unair. Surabaya.
Kemenkes RI. (2010). Tuberkulosis Temukan Obat Sampai Sembuh. Pusat Data Dan Informasi Kesehatan RI.Jakarta.
Kementrian Kesehatan Republik Indonesia. (2014). Pedoman Nasional Pengendalian Tuberkulosis. Jakarta.
Misnadiarly, (2011). Penyakit Infeksi TB Paru dan Ekstra Paru,Pada Kehamilan. Edisi penerbit pustaka popular, Bogor.
Megawati, dkk. (2010).Buku Ajar Ilmu Penyakit Paru. PenerbitFK NAIR,Surabaya.
Rubenstein, dkk.(2013) Lecture Notes Kedokteran Klinis. Erlangga Medical Series, Jakarta.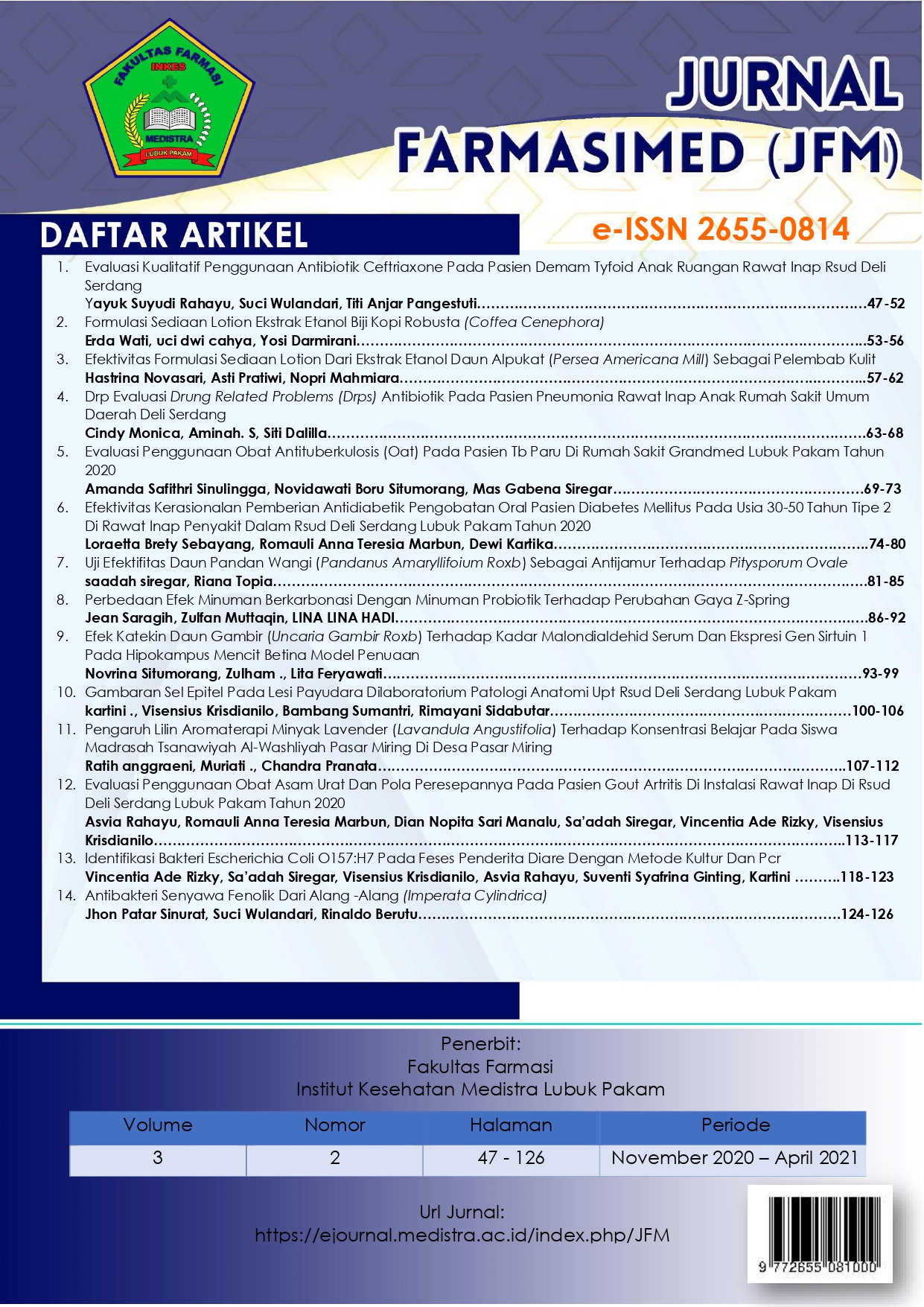 How to Cite
Sinulingga, A., Boru Situmorang, N., & Gabena Siregar, M. (2021). EVALUASI PENGGUNAAN OBAT ANTITUBERKULOSIS (OAT) PADA PASIEN TB PARU DI RUMAH SAKIT GRANDMED LUBUK PAKAM TAHUN 2020. JURNAL FARMASIMED (JFM), 3(2), 69-73. https://doi.org/10.35451/jfm.v3i2.576
Copyright (c) 2021 Amanda Safithri Sinulingga, Novidawati Boru Situmorang, Mas Gabena Siregar
This work is licensed under a Creative Commons Attribution-NonCommercial-ShareAlike 4.0 International License.
Copyright in each article is the property of the Author.