PERBEDAAN EFEK MINUMAN BERKARBONASI DENGAN MINUMAN PROBIOTIK TERHADAP PERUBAHAN GAYA Z-SPRING
jean saragih

FKG UNPRI MEDAN

Zulfan Muttaqin

Universitas Prima Indonesia

LINA LINA HADI

Universitas Prima Indonesia
Keywords:
Probiotic, carbonation drink, orthodontic z- spring, resilience
Abstract
The effect of the drink can cause changes in the resilience of the wire which is usually due to carbonated drinks or probiotics Carbonated beverage is a daily drinks with carbonic acid and has pH of 2.32. Carbonated beverage with lower pH may cause the releasing of nickel (Ni) and chromium (Cr) ions on stainless steel orthodontic wire in oral cavity and result in alteration of resilience. Purpose: The aim of this research is to know the change of resilience of stainless steel removable orthodontic wire before and after immersion with ,probiotic,carbonated beverages and saline solution. Material and methods: This study is true experimental study using pre and post test with control group design, consist of 9  treatment groups and  control groups were obtained from preliminary test, each group using stainless steel ortodontic wire with the diameter is 0.6 mm and given a scratch along the wire then perform the resilience before and after the immersion using a UTM. Each sample was immersed and put in an incubator at 37oC for the first 4 days then measured with a UTM device then soaked again for the next 4 days and measured again. Research result: The results showed that there were differences in the resilience of the wires on day 0 and day 4 when immersed in carbonated drinks (p = 0.047) compared to soaking saliva and probiotics. Then z-spring stainless steel orthodontic wire soaked in probiotic obtained p value = 0.038. This shows that there is a difference in the resilience of the 8th day compared to the 0th day.Conclusion: Results Soaking stainless steel orthodontic wire changes its resilience. There was a significant difference between day 4 and day 8 for the wire soaked in carbonated drinks (p = 0.001). there is no significant difference in the wire soaked with probiotic drinks.
Downloads
Download data is not yet available.
References
Aryani I. 2012. Perbandingan Tingkat Ketahanan Korosi Beberapa Bracket Stainless Steel Ditinjau dari Lepasan ION Cr dan Ni. Tesis. Jakarta: Universitas Indonesia. hal: 6.
Bassioni, G. et.al. Stainless steel as souceof potential hazard due to metal leaching into beverages. International Journal Electrochem. 2015. 10(1): 3792-3793.
Bishara SE. 2001. Textbook of Orthodontics. United States of America : W.B Saunders Company.
Cobourne MT and DiBiase AT. 2010. Hand Book of Orthodontics. America: Mosby Elsevier. 2010.
Dwyer J, Richard LN, Gail TR, Patricia MB, Paul MJ, Christopher TS. 2007. Prevalance and predictors of children's dietary supplements use. 97(6): 1331-1337.
Fakultas Kedokteran Universitas Brawijaya. 2014. Buku Panduan Program Profesi Dokter Gigi Ortodonsia. Malang
Gunaatmaja dan Anggi. 2011. Pengaruh Waktu Perendaman Terhadap Laju Korosi pada Baja Karbo Rendah dengan Pednambahan Ekstrak Ubi Ungu Sebagai Inhibitor Organik di Lingkungan NaCl 3,5 %. Universitas Indonesia: Fakultas Teknik. hal: 1
Hedstrom P. 2007. Deformation and Martensitic Phase Transformation in Stainless Steels. Sweden: Doctoral Thesis, 2007. p. 18–20.
Iflah DM. 2014. Perbandingan daya lenting pegas jari dengan diameter kawat 0,5 mm dan 0,6 mm pada alat ortodonti lepasan. Fakultas Kedokteran Gigi Universitas Lambung Mangkurat. Hal. 17.
Isaacson KG, Muir jd, Reed TR. 2002. Removable Orthodontics Appliances. New Delhi: Wright; 2002.p.1-39
Khimkmah N. 2015. Uji Antibakteri Susu Fermentasi Komersial Pada Bakteri Patogen. Jurnal Penelitian Saintek. 20(10): 45-51.
Kristianingsih R, Rudy J, Depi P. 2014. Analisis pezlepasan ion Ni dan Cr kawat ortodontik stainless steel yang direndam dalam minuman berkarbonasi. Artikel Ilmiah Hasil Penelitian Mahasiswa. Fakultas Kedokteran Gigi Universitas Jember (UNEJ). Hal. 3.
O'Brien J. 2002. William. Dental Materials and Their Selection ed.3rd. Quintessence Publishing, 2002. p. 275-277.
Peniasi, Wibowo D, Kurniawan FKD. 2018. Efek Perendaman Minuman Probiotik Terhadap Daya Lenting Kawat Ortodontik Lepasan Stainless Steel. Dentin. Jurnal Kedokteran Gigi. Vol II. No 1. April 2018.
Pluhari BS. 2011. Orthodontic Principles and Practice. New Delhi: Jaypee Brothers Medical Publisher(P) Ltd.
Rusprina dan Devi. 2008. Kosumsi dan persepsi manfaat minuman probiotik pada remaja putri (Studi Kasus di SMAN 1, SMAN 2, dan SMAN 3 Kota Bogor). Program Studi Gizi Masyarakat Dan Sumber daya Keluarga. Fakultas Pertanian Institut Pertanian Bogor. Hal. 2-4.
Siagian PE, Wibowo D, Kurniawan FKD. 2018. Efek Perendaman Minuman Berkarbonasi Terhadap Daya Lenting Kawat Ortodontik Lepasan Stainless Steel.Dentin. Jurnal Kedokteran Gigi. Vol II. No 1. April 2018.
Singh G. 2007. Textbook of orthodontics 2nd ed. New Delhi: Jaypee Brothers Medical Publishers, 2007. p. 326-328.
Singht G. 2008. Textbook of Orthodontic. Malaysia: Unipress Publishing.
Situmeang, M.A. Perbedaan pelepasan ion nikeldan kromium pada beberapa merek kawatstainless steel yang direndam dalam asam cuka.Jurnal Ilmiah Farmasi. UNSRAT. 2016. 5(4):253.
Wasono N. 2016. Pelepasan Ion Nikel dan Cromium Breket Stainless Steel yang Direndam Dalam Minuman Isotonik. Unsrat; 5(1) : 158 – 163.
Wirasetyawan, Iwan, Wayan Ardhana, Dyah Karunia. 2015. Pengaruh Penggunaan Air Polisher dan Jenis Kawat Terhadap Daya Lenting Kawat Busur Ortodontik Setelah Direndam Dalam Saliva Buatan. J. Ked Gi. Oktober 2015; 6(4): 347 – 353.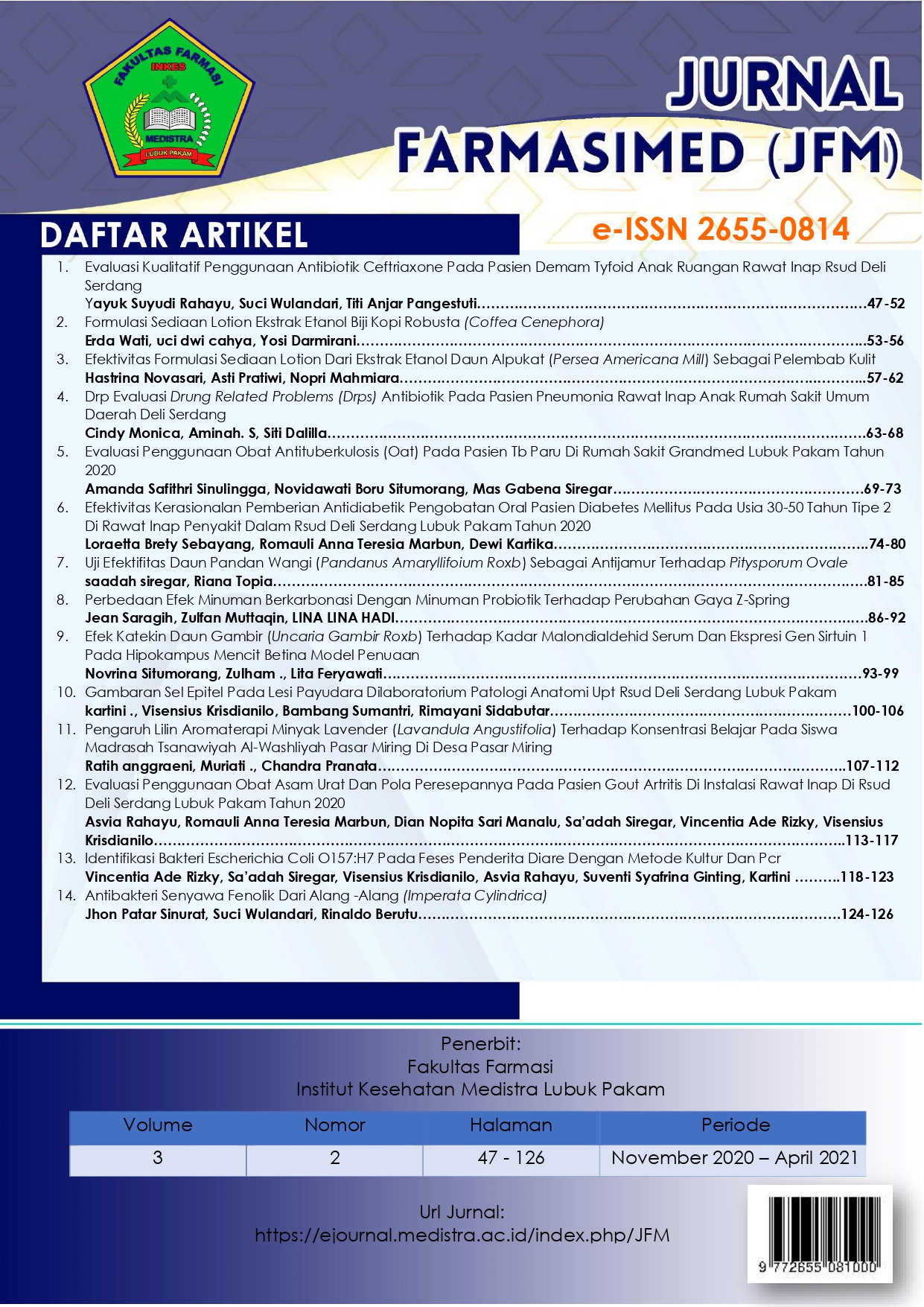 How to Cite
saragih, jean, Muttaqin, Z., & LINA HADI, L. (2021). PERBEDAAN EFEK MINUMAN BERKARBONASI DENGAN MINUMAN PROBIOTIK TERHADAP PERUBAHAN GAYA Z-SPRING. JURNAL FARMASIMED (JFM), 3(2), 86-92. https://doi.org/10.35451/jfm.v3i2.596
Copyright (c) 2021 jean saragih, Zulfan Muttaqin
This work is licensed under a Creative Commons Attribution-NonCommercial-ShareAlike 4.0 International License.
Copyright in each article is the property of the Author.