EFEK KATEKIN DAUN GAMBIR (UNCARIA GAMBIR ROXB) TERHADAP KADAR MALONDIALDEHID SERUM DAN EKSPRESI GEN SIRTUIN 1 PADA HIPOKAMPUS MENCIT BETINA MODEL PENUAAN
Novrina Situmorang

Universitas Sumatera Utara

Zulham .

Universitas Sumatera Utara

Lita Feryawati

Universitas Sumatera Utara
Keywords:
Aging, Malondialdehyde, Sirtuin 1, Catechin
Abstract
Aging is a physiological process characterized by progressive loss of physiological integrity that leads to impaired function and increased susceptibility to death. Oxidative stress is one of the factors that cause aging due to an imbalance between the amount of oxidants and antioxidants. In oxidative stress condition, malondialdehyde levels increase. D-galactose can induce aging in various organ systems. D-galactose induces oxidative stress in various organs through increased production of reactive oxygen species (ROS) and advanced glycation endproducts. In oxidative stress condition, sirtuin1 (Sirt1) produces ribose O-acetyl-ADP which, later, is reduced into ribose ADP. Both of them have a protective effect against oxidative stress. Consumption of antioxidants may prevent aging. Gambir contains health-promoting ingredients such as catechins. This study aims to determine the effect of gambier leaves catechin extract on serum malondialdehyde levels and the expression of sirtuin 1 gene in female mice aging model induced by d-galactose. This is an in vivo experiment with post test-only control group study. The samples were 28 female mice which were divided into 4 groups namely P0, P1, P2, and P3. Each group was injected 150 mg/kgBW d-galactose intraperitoneally. P1, P2, and P3 were treated orally with 100, 200, and 400 mg/kgBW gambir leaves catechin extract, respectively. Statistical test use descriftive analisys. There were significant differences in serum MDA levels in all groups (p=0.002) and there were significant differences between the P0 and P2 groups (p=0.010) and between the P0 and P3 groups (p=0.010). Sirtuin1 gene relative expressions decresead in P1 (0,49), P2 (0,74), and  P3 (0,43) as compared to P0 (1.00). Conclusion. Gambir leaves catechin extract reduces serum malondialdehyde levels in aging mouse models induced by d-galactose with an optimal dose of 200mg/kgBW.  and cannot reduce the relative expression of Sirt1
Downloads
Download data is not yet available.
References
Ahangarpour, A. et al. (2014) 'Effect of Boswellia serrata supplementation on blood lipid , hepatic enzymes and fructosamine levels in type2 diabetic patients', journal of diabetes and metabolic disorder, 8, pp. 1–5.
Ahmad, D. (2017) 'Penuaan Kulit: Patofisiologi dan Manifestasi Klinis', jurnal berkala ilmu kesehatan kulit dan kelamin, 30, pp. 208–215.
Bernatoniene, J. and Kopustinskiene, D. M. (2018) 'The Role of Catechins in Cellular Responses to Oxidative Stress', Molecules, 23(4), pp. 1–11.
Budiarto (2001) Biostatistika untuk kedokteran dan kesehatan masyarakat. EGC.
Chung, S. et al. (2011) 'Regulation of SIRT1 in cellular functions: role of polyphenols', Arch Biochem Biophys, 501(1), pp. 79–90.
Donovan, J. L. et al. (2001) 'Catechin Is Metabolized by Both the Small Intestine and Liver of Rats', American society for nutritional sciences, (January), pp. 1753–1757.
Fadlurrahman, A. R. (2018) 'Penentuan Kadar Malondialdehid (MDA) pada Saliva Wanita Perokok Usia 26 – 35', Majalah Kesehatan PharmaMedika, pp. 78–84.
Guarente, L. (2013) 'Calorie restriction and sirtuins revisited', Genes and Development, 27(19), pp. 2072–2085.
Ji, M. et al. (2017) 'Comparison of naturally aging and D-galactose induced aging model in beagle dogs', Experimental and Therapeutic Medicine, 14(6), pp. 5881–5888.
Juniaty, T. (2013) 'Kandungan Senyawa Kimia pada Daun Teh (Camellia sinensis)', Warta Penelitian dan Pengembangan Tanaman Industri, pp. 12–16.
Kaira, K. (2010) 'Menangkal Radikal Bebas dengan Antioksidan', Saintek, 2, pp. 183–187.
Kristina, N., Lestari, J. and Fauza, M. (2019) 'Keragaman morfologi dan kadar katekin tanaman gambir berdaun merah yang tersebar pada berbagai ketinggian tempat di Sumatera Barat', in Seminar Nasional Masyarakat Biodiversitas Indonesia, pp. 43–48.
López-otín, C. et al. (2013) 'The Hallmarks of Aging', Cell, 153(6), pp. 1194–1217.
Mohammadi, E. et al. (2018) 'Protective effect of crocin against d-galactose-induced aging in mice', 8(1), pp. 14–23.
Mueller, L. and Boehm, V. (2011) 'Antioxidant Activity of β-Carotene Compounds in Different in Vitro Assays', molecules, 16, pp. 1055–1069.
Nagao, T. et al. (2005) 'Ingestion of a tea rich in catechins leads to a reduction in body fat', (1), pp. 122–129.
Nam, S. M. et al. (2019) 'Ascorbic Acid Mitigates D-galactose-Induced Brain', nutrient, 11, pp. 1–17.
Pervin, M. et al. (2019) 'Function of Green Tea Catechins in the Brain : Epigallocatechin Gallate and its Metabolites', International journal of Molecular Sciences, (Figure 1), pp. 1–12.
Putu Moda Arsana, Laksmi Sasiarini, B. E. N. (2019) 'Pengaruh Suplementasi Ekstrak Teh Hijau terhadap Kadar Malondialdehid Plasma pada Individu dengan Controlled Trials', Jurnal Penyakit Dalam Indonesia, 6(1), pp. 23–30.
Rita R. Kalyani, Golden, S. H. and Cefalu, W. T. (2017) 'Diabetes and Aging: Unique Considerations and Goals of Care', Diabetes Care, 40(4), pp. 440–443.
Rizvi, S. et al. (2014) 'The Role of Vitamin E in Human Health and Some Diseases', Sultan qaboos university med jounal, 14(May), pp. 157–165.
Salminen, A., Kaarniranta, K. and Kauppinen, A. (2013) 'Crosstalk between Oxidative Stress and SIRT1 : Impact on the Aging Process', pp. 3834–3859.
Shoba, B. et al. (2009) 'Function of sirtuins in biological tissues', Anatomical Record, 292(4), pp. 536–543.
Shwe, T. et al. (2018) 'Role of D-galactose-induced brain aging and its potential used for therapeutic interventions', Experimental Gerontology, 101, pp. 13–36.
Sidorova-darmos, E., Sommer, R. and Eubanks, J. H. (2018) 'The Role of SIRT3 in the Brain Under Physiological and Pathological Conditions', 12(July), pp. 1–16.
Singh, C. K. et al. (2017) 'The Role of Sirtuins in Antioxidant and Redox Signaling', pp. 1–54.
Singh, C. K. et al. (2018) 'The Role of Sirtuins in Antioxidant and Redox Signaling', Therapeutic, 28(8), pp. 643–661.
Siswonoto, S. (2008) Hubungan Kadar Malondialdehid Plasma Dengan Keluaran Klinis Stroke Iskemik Akut. Universitas Diponegoro.
Sulistyoningrum, E. and Article, R. (2016) 'Jurnal Kedokteran dan Kesehatan Indonesia D-galactose-induced animal model of male reproductive aging', pp. 19–28.
Wahdaningsih, S., Setyowati, E. P. and Subagus, W. (2011) 'Aktivitas Penangkap Radikal Bebas Dari Batang Pakis ( Alsophila glauca J . Sm )', Majalah Obat Tradisonal, 16(3), pp. 156–160.
Ye, Y. et al. (2014) 'In vivo antioxidant and anti-skin-aging activities of ethyl acetate extraction from idesia polycarpa defatted fruit residue in aging mice induced by D-galactose', Evidence-based Complementary and Alternative Medicine, 185716, pp. 1–12.
Zhao, H. et al. (2018) 'Antioxidant effects of compound walnut oil capsule in mice aging model induced by D-galactose', 1, pp. 1–10.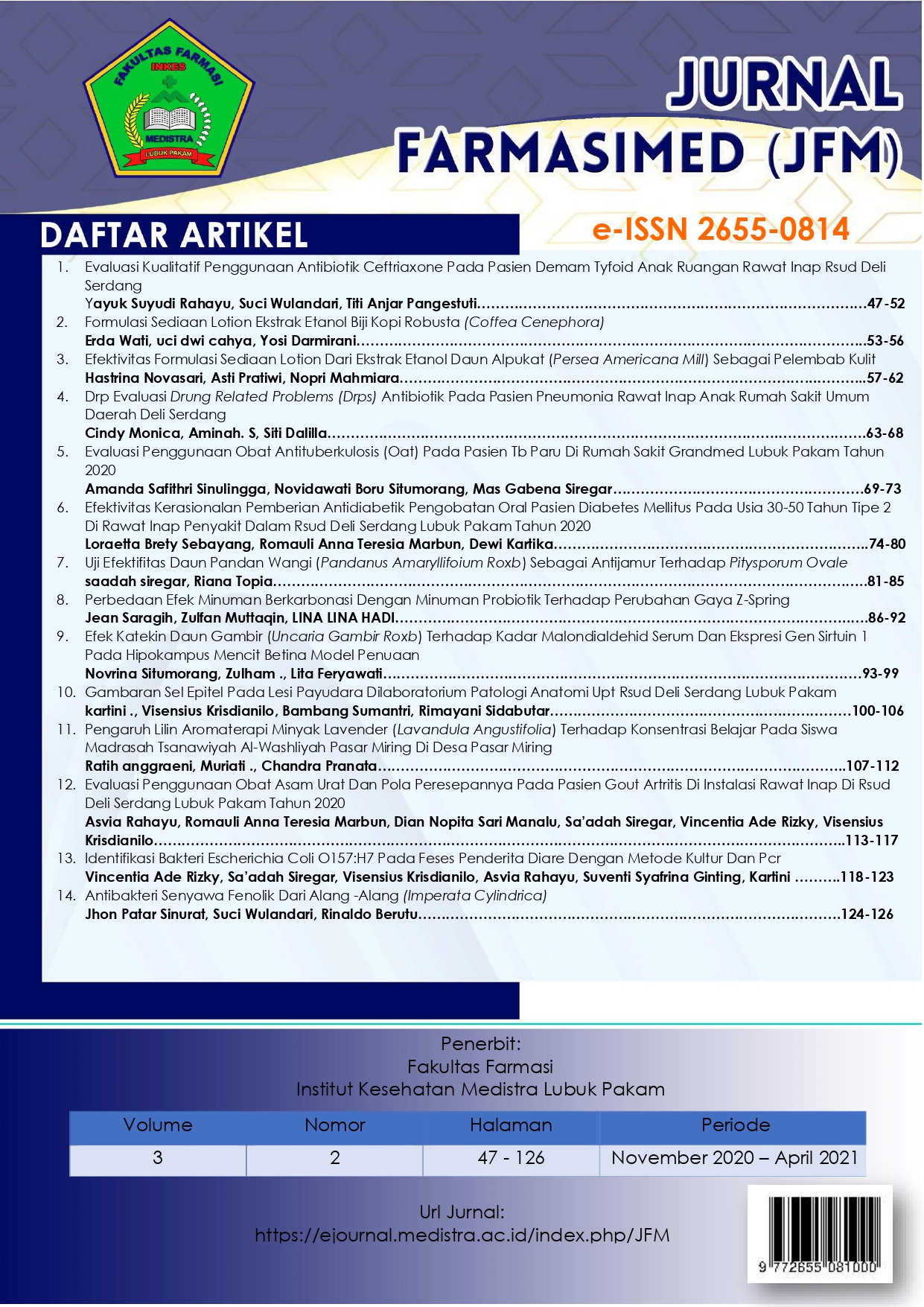 How to Cite
Situmorang, N., ., Z., & Feryawati, L. (2021). EFEK KATEKIN DAUN GAMBIR (UNCARIA GAMBIR ROXB) TERHADAP KADAR MALONDIALDEHID SERUM DAN EKSPRESI GEN SIRTUIN 1 PADA HIPOKAMPUS MENCIT BETINA MODEL PENUAAN. JURNAL FARMASIMED (JFM), 3(2), 93-99. https://doi.org/10.35451/jfm.v3i2.597
Copyright (c) 2021 Novrina Situmorang, Zulham ., Lita Feryawati
This work is licensed under a Creative Commons Attribution-NonCommercial-ShareAlike 4.0 International License.
Copyright in each article is the property of the Author.