IDENTIFIKASI BAKTERI ESCHERICHIA COLI O157:H7 PADA FESES PENDERITA DIARE DENGAN METODE KULTUR DAN PCR
Vincentia Ade Rizky

INKES MEDISTRA LUBUK PAKAM

Sa'adah Siregar

Institut Kesehatan Medistra Lubuk Pakam

Visensius Krisdianilo

Institut Kesehatan Medistra Lubuk Pakam

Asvia Rahayu

Institut Kesehatan Medistra Lubuk Pakam

Suventi Syafrina Ginting

Institut Kesehatan Medistra Lubuk Pakam

Kartini .

Institut Kesehatan Medistra Lubuk Pakam
Keywords:
Escherichia coli O157:H7, PCR, Culture method
Abstract
Escherichia coli O157: H7 is the main cause of foodborne disease in several countries, one of which is diarrhea. Diarrheal disease is still a major problem in Indonesia that needs treatment and study from various aspects. The conventional method of laboratory examination such as culture is a method that is often carried out, but in making the diagnosis requires a long time, the number of samples is large, and the results are less accurate because contamination can occur. Another more accurate technique for detecting Escherichia coli O157: H7 is the PCR technique. This study aims to identify the Escherichia coli O157: H7 bacteria by culture method and PCR. The results showed that the culture method and PCR of 8 isolated samples 4 showed positive results for the bacterium Escherichia coli O157: H7. However, the PCR method is more selective and faster than the culture method.
Downloads
Download data is not yet available.
References
Bakri Z, Hatta M & Nasrum M. (2010). DETEKSI KEBERADAAN BAKTERI ESCHERICHIA COLI O157:H7 PADA FESES PENDERITA DIARE DENGAN METODE KULTUR DAN PCR. JST Kesehatan; (5), 2:184-192
Brooks GF, Butel JS, Morse SA (2005). Mikrobiologi Kedokteran Jawetz, Melnick, dan Adelberg. Edi Nugroho (alih bahasa). Jakarta : Salemba Medika
Dutta T.K., Roychoudhury S.P., Bandyopadhyay Wani S.A., and I. Hussain. (2011). DETECTION AND CHARACTERIZATION OF SHIGA TOXIN PRODUCING ESCHERICHIA COLI (STEC) & ENTEROPATHOGENIC ESCHERICHIA COLI (EPEC) IN POULTRY BIRDS WITH DIARRHOEA. Indian J. Med. Res; 133: 541-545.
Elliott T, Worthington T, Osman H, Gill M (2013). Mikrobiologi Kedokteran & Infeksi Edisi 4. Jakarta : EGC
Hermayudi dan Ayu, P.A. (2017). Penyakit daerah tropis. Yogyakarta: 2017.
Hidayatu W., Temaja I.G.R.M., dan Fatmawati N.N.D. (2018). KARAKTERISTIK FENOTIP ISOLAT KLINIK ESCHERICHIA COLI O157:H7 PADA MEDIA SORBITOL MAC CONKEY AGAR (SMAC). J. Agric.Sci. and Biotechnol, 7 (1).
Jaipah N, Saraswati I, Hapsari R (2017). UJI EFEKTIFITAS ANTIMIKROBA EKSTRAK BIJI PEPAYA (CARICA PAPAYA L.) TERHADAP PERTUMBUHAN ESCHERICHIA COLI SECARA IN VITRO. Jurnal Kedokteran Diponegoro, ISSN : 2540 − 8844, 6 (2)
Jawetz, M. A. (2010). Mikrobiologi Kedokteran. (25 ed). (G. F. Brooks, K. C. Carroll, J. S. Butel, S. A. Morse, T. A. Mietzner, Penyunt, A. W. Nugroho, D. Ramadhani, H. Santasa, N. Yasdelita, & K. W. Nimala, penerj). New York: Mc Graw Hill.
Jayanti, D. D. (2018). DETEKSI ESCHERICHIA COLI O157 PADA BERBAGAI AIR MINUM DI KELURAHAN SEKARAN GUNUNG PATI SEMARANG. Universitas Negeri Semarang
Morin NJ, Gong Z & Li XF. 2004. REVERSE TRANSCRIPTION-MULTIPLEX PCR ASSAY FOR SIMULTANEOUS DETECTION OF ESCHERICHIA COLI O157: H7, VIBRIO CHOLERAE OI, AND SALMONELLA TYPHI. Clinical Chemistry. 50(11): 2037-2044.
Peter C.H., Councell F.T., Keys C., and Monday S.R. (2011). VIRULENCE CHARACTERIZATION OF SHIGA-TOXIGENIC ESCHERICHIA COLI ISOLATES FROM WHOLESALE PRODUCE. Appl. Environ. Microbiol. 77 (1): 343-345.
ESCHERICHIA COLI PADA PENANAMAN MENGGUNAKAN TEKNIK SENGKELIT (CALIBRATED LOOP) DAN MIKROPIPET (PIPET DILUTION METHOD) METODE SPREAD PLATE. UKMC Palembang
Sartika, Indrawani, dan Sudiarti. (2005). ANALISIS MIKROBIOLOGI ESCHERICHIA COLI O157:H7 PADA HASIL OLAHAN HEWAN SAPI DALAM PROSES PRODUKSINYA. Jurnal Makara Kesehatan, 9 (1): 23-28.
Vos, P. et al. (2009). BERGEY'S MANUAL OF SYSTEMATIC BACTERIOLOGY. 2nd edn, Springer-Verlag New York. 2nd edn. Springer-Verlag New York. doi: 10.1007/978-0-387-68489-5.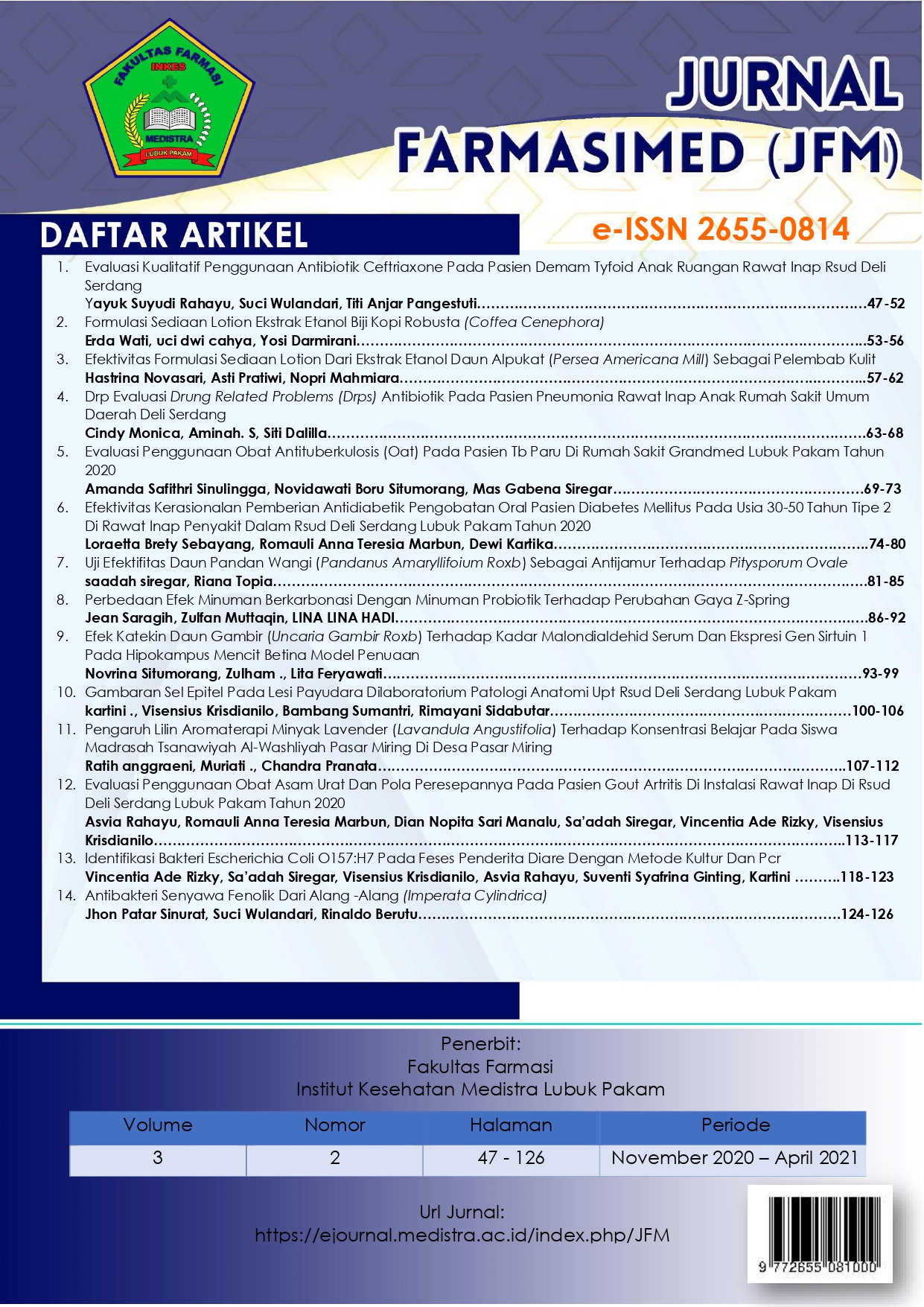 How to Cite
Rizky, V., Siregar, S., Krisdianilo, V., Rahayu, A., Syafrina Ginting, S., & ., K. (2021). IDENTIFIKASI BAKTERI ESCHERICHIA COLI O157:H7 PADA FESES PENDERITA DIARE DENGAN METODE KULTUR DAN PCR. JURNAL FARMASIMED (JFM), 3(2), 118-123. https://doi.org/10.35451/jfm.v3i2.615
Copyright (c) 2021 VINCENTIA ADE RIZKY
This work is licensed under a Creative Commons Attribution-NonCommercial-ShareAlike 4.0 International License.
Copyright in each article is the property of the Author.