EVALUASI PENGGUNAAN OBAT ASAM URAT DAN POLA PERESEPANNYA PADA PASIEN GOUT ARTRITIS DI INSTALASI RAWAT INAP DI RSUD DELI SERDANG LUBUK PAKAM TAHUN 2020
Asvia Rahayu

Institut Kesehatan Medistra Lubuk Pakam

Romauli Anna Teresia Marbun

Institut Kesehatan Medistra Lubuk pakam

Dian Nopita Sari Manalu

Institut Kesehatan Medistra Lubuk pakam

Sa'adah Siregar

Institut Kesehatan Medistra Lubuk pakam

Vincentia Ade Rizky

Institut Kesehatan Medistra Lubuk pakam

Visensius Krisdianilo

Institut Kesehatan Medistra Lubuk pakam
Keywords:
Gout Artritis, Obat Asam Urat, Peresepan Obat, Sendi, Inflamasi
Abstract
Uric acid is a disease that arises due to excess purine in the body caused by uric crystals in the joint tissue that attacks the fingers, elbows, knees, toes, toes and heels. Gouty arthritis is a progressive disease caused by deposition of monosodium urate crystals (MSU) found in the joints, kidneys, and other connective tissue due to chronic hyperuricemia. The incidence of gouty arthritis is common in men as many as 25 patients (65.8%) and women as many as 13 patients (34.2%). The incidence of gouty arthritis continues to increase with age, at the age of 21-35 years (7.9%), ages 36-55 years (36.7%), age 56-65 years (28.9%), and at the age of 66 -75 years (26.3%). The purpose of this study was to examine the use of uric acid and its prescription patterns in arthritis patients in Deli Serdang Lubuk Pakam Hospital in 2020 in terms of the right parameters according to the indications, the right patients, the right drugs, and the right dosages. This research is a non-experimental study, data retrospective retrieval was done by looking at the medical record data of arthritis gout patients and analyzed descriptively. Sampling as many as 38 patients with puposive sampling method. Inclusion criteria in this study were patients who were diagnosed with gout and given arthritis medication with complete medical record data. The results of the study evaluated the use of gout and its prescribing patterns in 38 patients at Deli Serdang Lubuk Pakam Regional Hospital in 2020, which were 100% correct, 100% right, 100% right, and 96% right.
Downloads
Download data is not yet available.
References
Departemen Kesehatan RI, (2011). Modul Penggunaan Obat Rasional, Ditjen Bina Kefarmasian dan Alat Kesehatan Departemen Kesehatan, Jakarta
Diantari, E., & Kusumastuti, A. C. (2013). Pengaruh Asupan Purin Dan Cairan Terhadap Kadar Asam Urat Wanita Usia 50-60 Tahun di Kecamatan Gajah Mungkur, Semarang. Journal Of Nutrition College, Vol 2 (1). Halaman 44-49. Retrievedfrom: https://ejournal3.undip.ac.id/index.php/jnc/article/view/2095
Perhimpunan Reumatologi Indonesia, (2018). Pedoman Diagnosis Dan Pengelolaan Gout, Perhimpunan Reumatologi Indonesia, Jakarta.
Sugiyono, (2014). Metode Penelitian Pendidikan Pendekatan Kuantitatif, Kualitatif Dan R & D. Bandung : Alfabert.
Sharif, (2012). Asuhan keperawatan gerontik. Yogjakarta : Nuha Medika
Siswanto, dkk. (2013). Metodologi Penelitian Kesehatan Dan Kedokteran, Pustaka Ilmu, Jakarta.
Smith C., Diaz F., Pere L.M, (2010). Epidemiologi Of Gout : An update, Best Practice & Research Clinical Rheumatologi. Vol 24 (6). Hal 811-827.Retrieved From:https://pubmed.ncbi.nlm.nih.gov/21665128/
Yekti, (2016). Cara Jitu Mengatasi Asam Urat. Yogyakarta : Rapha Publising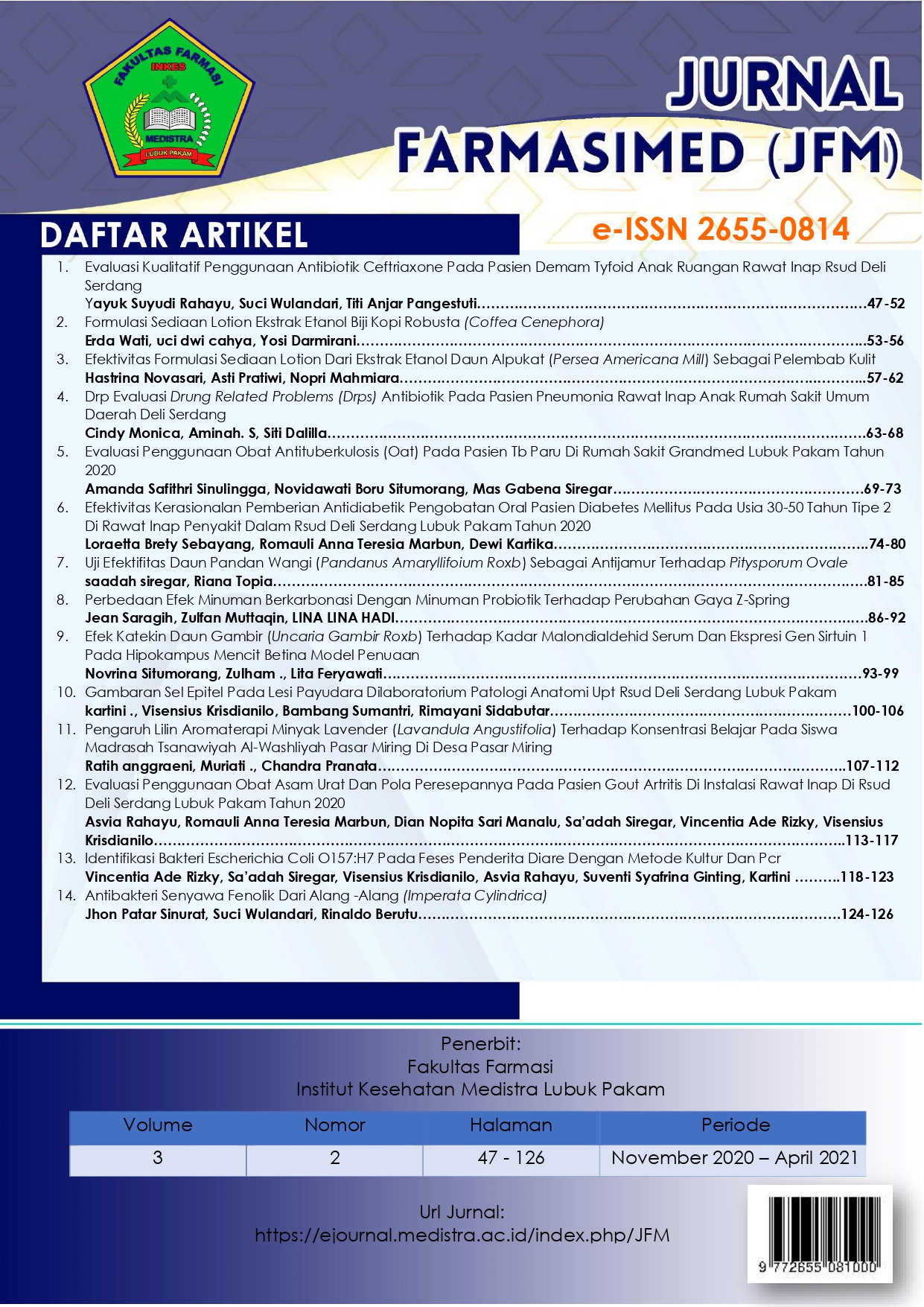 How to Cite
Rahayu, A., Anna Teresia Marbun, R., Nopita Sari Manalu, D., Siregar, S., Ade Rizky, V., & Krisdianilo, V. (2021). EVALUASI PENGGUNAAN OBAT ASAM URAT DAN POLA PERESEPANNYA PADA PASIEN GOUT ARTRITIS DI INSTALASI RAWAT INAP DI RSUD DELI SERDANG LUBUK PAKAM TAHUN 2020. JURNAL FARMASIMED (JFM), 3(2), 113-117. https://doi.org/10.35451/jfm.v3i2.681
Copyright (c) 2021 Asvia Rahayu, Romauli Anna Teresia Marbun, Dian Nopita Sari Manalu, Sa'adah Siregar, Vincentia Ade Rizky, Visensius Krisdianilo
This work is licensed under a Creative Commons Attribution-NonCommercial-ShareAlike 4.0 International License.
Copyright in each article is the property of the Author.