HUBUNGAN ANTARA KONSUMSI MINUMAN BERKAFEIN DENGAN POLA TIDUR PADA MAHASISWA TEKNIK
Selly Oktaria

Universitas Islam Sumatera Utara
Keywords:
caffeine, caffeine consumption, Sleep Patterns
Abstract
Caffeine in low doses is able to provide positive and negative effects on a person's body. The main pharmacological effects of caffeine is adenosine receptor antagonist that may affect the functioning of the central nervous system and can interfere with sleep quality and will affect sleep patterns, sleep should be important to maintain physical health, mental and emotional. This study aims to determine the relationship between the consumption of caffeine on sleep patterns. This research use analytical method with cross sectional approach. The population are all students of Faculty of Civil Engineering ITM of 2014. With total sampling technique, amounting to 142 students. Methods of data collection using primary data and interviews. This study showed that 34 students who did not consume caffeine, there were 12 (35,3%) students had bad sleep pattern, while 22 (64,7%) students had good sleep pattern. Based on the results of chi-square test, it is concluded that there is a significant relationship between caffeine consumption to sleep patterns.
Downloads
Download data is not yet available.
References
Bawazeer, Naif A & Alsobahi, Najmah A. 2013. Prevalance and Side Effect of Energy Drink Consumption Among Medical Student at Umm Al-Qura University, Saudi Arabia. International Journal of Medical Students, Vol 1 (3)
Ennis, Danielle. 2014. The Effects of Caffeine on Health: The Benefits Outweigh the Risks. Spring: University Of New Hamispher.
Glade, Michael J. 2010. Caffeine-Not Just a Stimulant. Nutrition, Vol 26 (10).
Notoadmodjo, S. 2012. Metodologi Penelitian Kesehatan. Jakarta: Rineka Cipta
Potter, Patricia A. Perry, A.G. 2009. Fundamental Keperawatan edisi 7. Jakarta: Salemba Medika.
Thayeb, R.R.T.A. Kembuan, M.A.H.N. Khosama, H. 2015. Gambaran Kualitas Tidur pada Perawat Dinas Malam RSUP Prof. Dr. R.D Kandou Manado. Jurnal E-Clinic, Vol. 3 (3).
Turnbull, D et al. 2017. Caffeine and Cardioaskular health. Regulatory Toxicology and Pharmacology, Vol 89.
Zahra, P.N. 2016. Hubungan Konsumsi Kopi Terhadap Kualitas Tidur. Mahasiswa Program Studi Program Dokter angkatan 2012. Skripsi (tidak diterbitkan). NAD: Universitas Syiah Kuala.
Guyton, A. C., Hall, J. E., 2014. Buku Ajar Fisiologi Kedokteran. Edisi 12. Jakarta : EGC, 1022
National Sleep Foundation. 2014. 2014 Sleep in the Modern Family. Diakses pada https://www.sleepfoundation.org/professionals/sleep-america-polls/2014-sleep-modern-family.
Binti T. Daswin, N. 2013. Pengaruh Kafein Terhadap Kualitas Tidur Mahasiswa Fakultas Kedokteran Universitas Sumatera Utara. Ejurnal Fakultas Kedokteran USU, Vol. 1 (1).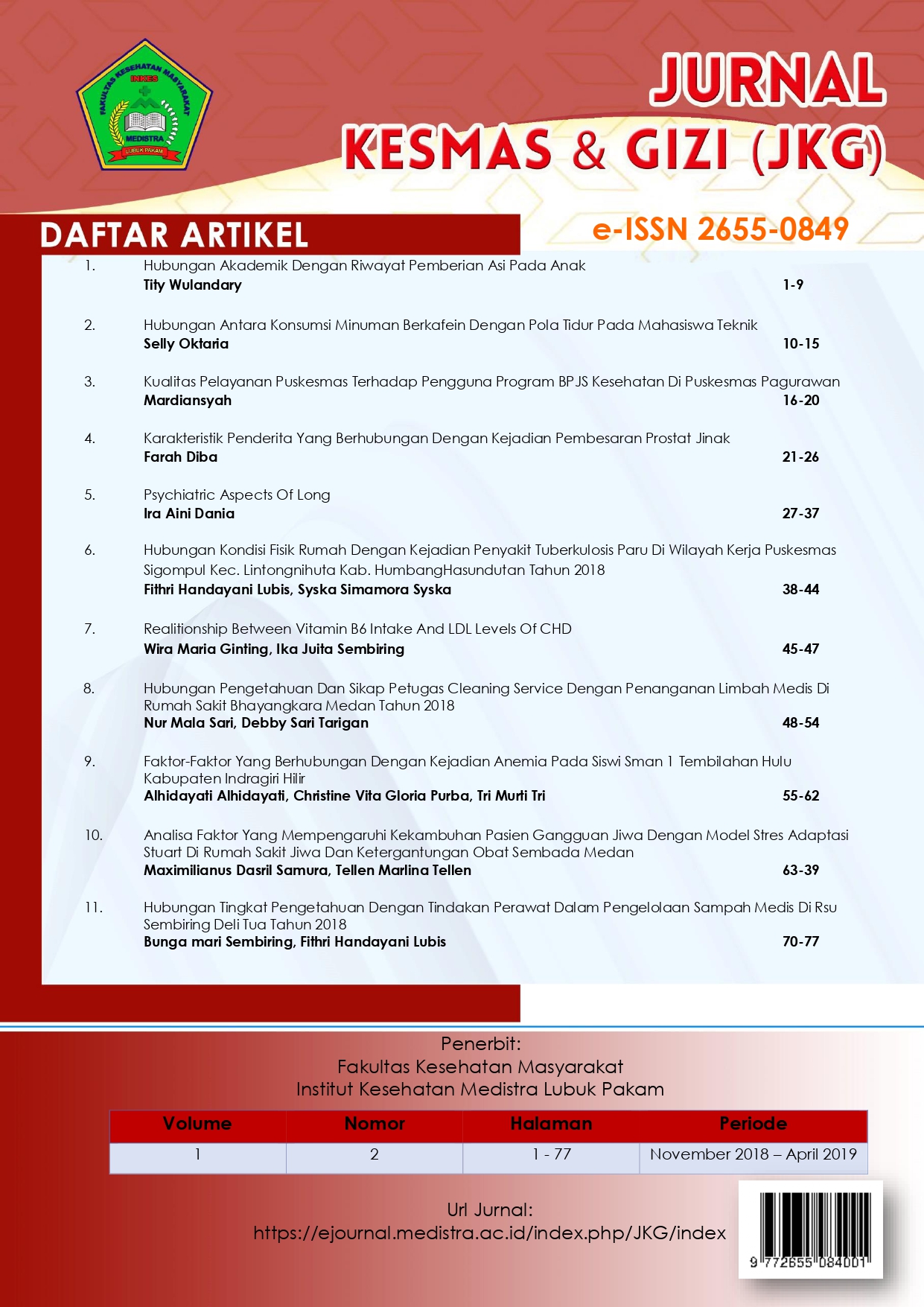 How to Cite
Oktaria, S. (2019). HUBUNGAN ANTARA KONSUMSI MINUMAN BERKAFEIN DENGAN POLA TIDUR PADA MAHASISWA TEKNIK. JURNAL KESMAS DAN GIZI (JKG), 1(2), 10-15. https://doi.org/10.35451/jkg.v1i2.110
Copyright in each article is the property of the Author.