KUALITAS PELAYANAN PUSKESMAS TERHADAP PENGGUNA PROGRAM BPJS KESEHATAN DI PUSKESMAS PAGURAWAN
Mardiansyah Mardiansyah

Universitas Islam Sumatera Utara
Keywords:
Pelayanan Kesehatan, BPJS Kesehatan, kesehatan masyarakat miskin
Abstract
Health care for the poor patients is a complex and so important problem, so that all humans are entitled to proper health services. The Puskesmas is the leading party in health services, therefore the existence of the Puskesmas is very important. The purpose of this study was to determine the quality of service at Pagurawan Health Center to BPJS patients. This research was qualitative descriptive in nature at Pagurawan Health Center, Medang Deras District, Batubara Regency. Data collection techniques are carried out through interviews and documentation. Analysis of the data used in this study is descriptive data analysis. In this case the Pagurawan Health Center has shown good service by providing services that meet the expectations and satisfaction of BPJS patients, for example: the clarity of health financing is in very good category, the environmental security of the hospital is in good category, fairness in obtaining services is in sufficient categories, clarity about tasks and the functions of health workers is in good categories, and the availability and clarity of information is in very good categories.
Downloads
Download data is not yet available.
References
BPS. 2018. Statistik Kesejahteraan Rakyat Kabupaten Batu Bara. Batu Bara: BPS Kab. Batu Bara.
Kiswanto, E. 2006. Jaminan Pemeliharaan Kesehatan bagi Masyarakat Miskin di Kota Yogyakarta. Populasi, Vol. 17 (1), p. 28-40.
Lestari, T.R.P. 2009. Implementasi Program Asuransi Kesehatan Masyarakat Miskin di Nusa Tenggara Timur. Jurnal Kesehatan Masyarakat Nasional, Vol. 3 (6), p. 264-269.
Marina, A. 2008. Analisis Kebijakan Ekonomi Publik Tentang Pelayanan Kesehatan Masyarakat Miskin di Rumah Sakit Milik Pemerintah: Implementasi Program Jamkesmas di Jawa Timur. Balance Economics, Bussiness, Management and Accounting Journal, Vol. 5 (8).
Pemerintah R.I. 2018. Panduan Praktis Pelayanan Kesehatan. Jakarta: BPJS Kesehatan (diakses pada https://bpjs-kesehatan.go.id/bpjs/ )
Siswanto, H., Makmur, M., & Lastiti, N. 2015. Analisis Kualitas Pelayanan Kesehatan dalam Operasionalisasi Program Mobil Sehat: Studi Pada Pusat Kesehatan Masyarakat Kedungpring Kabupaten Lamongan. Jurnal Administrasi Publik, Vol. 3 (11), p. 1821-1826.
Sutopo. 2006. Metodologi Penelitian Kualitatif. Surakarta: UNS.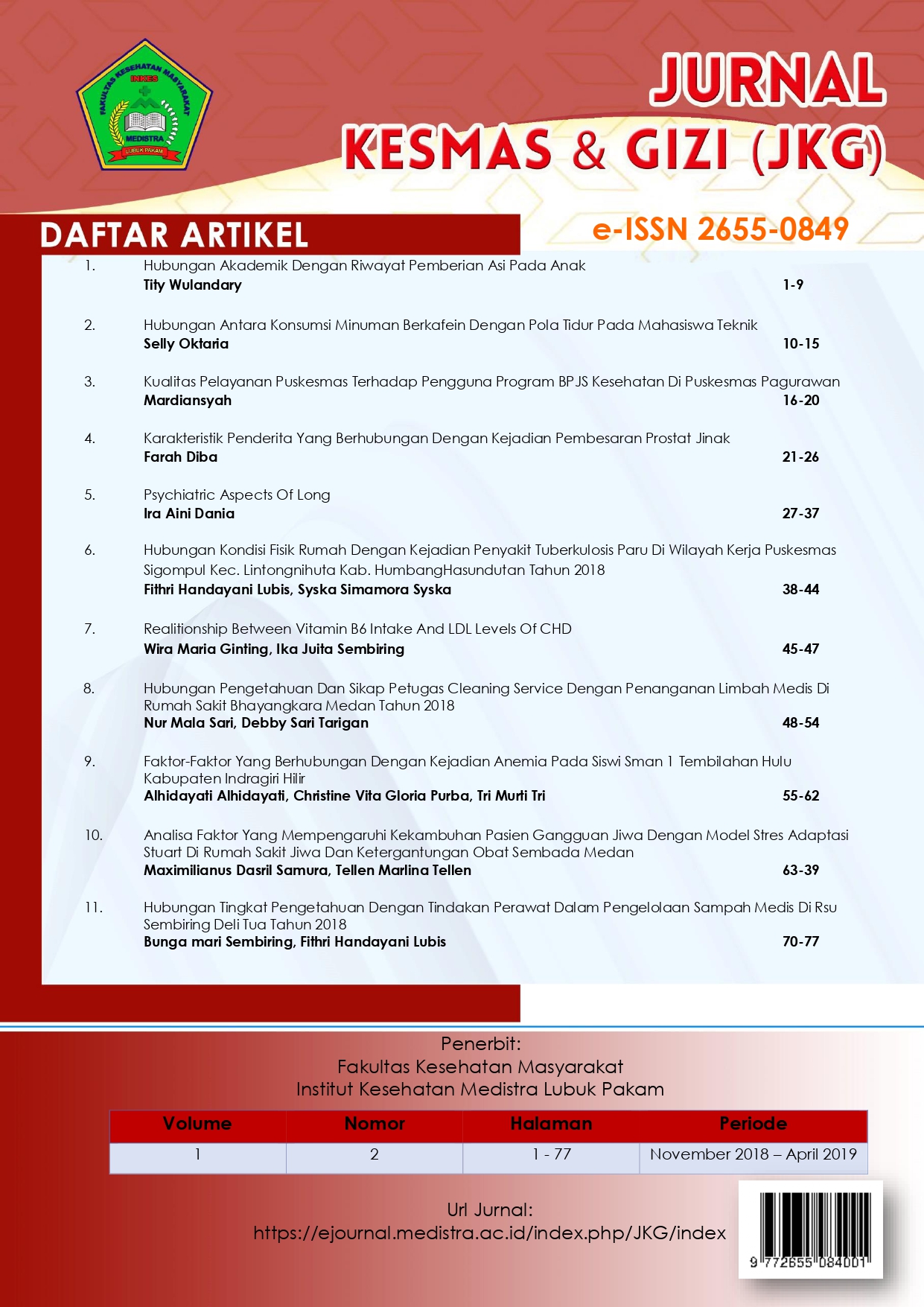 How to Cite
Mardiansyah, M. (2019). KUALITAS PELAYANAN PUSKESMAS TERHADAP PENGGUNA PROGRAM BPJS KESEHATAN DI PUSKESMAS PAGURAWAN. JURNAL KESMAS DAN GIZI (JKG), 1(2), 16-20. https://doi.org/10.35451/jkg.v1i2.115
Copyright in each article is the property of the Author.