HUBUNGAN PENGETAHUAN DAN SIKAP PETUGAS CLEANING SERVICE DENGAN PENANGANAN LIMBAH MEDIS DI RUMAH SAKIT BHAYANGKARA MEDAN TAHUN 2018
Nur Mala Sari

Institut Kesehatan DELI HUSADA

Debby Sari Tarigan

Institut Kesehatan Deli Husada Deli Tua
Keywords:
Cleaning Service, Knowledge, Attitude, Medical Waste Handling
Abstract
Hospital is an the institution that gives health care services including preventive, promotive, curative and rehabilitative, but other than a positive impact on the surrounding community, the hospital also provided a negative impact such as risk of occupational accidents for cleaning service if the medical waste isn't handled properly. Knowledge and the attitude are the factors that can facilitate cleaning service in medical waste handling. The  conducted of this study to determine the relationship between knowledge and attitude for cleaning service with medical waste handling in Bhayangkara Hospital Medan. The analytic of the study with cross sectional design involving 13 cleaning services as population and using total sampling as sample. The data of the reseach were gathered by distributing questionnaires and conducting observation while the analyzed by using fisher's exact test. The result of the research obtained that knowledge is categorized good (38,5%), attitude is categorized well (38,5%) and medical waste handling is categorized well (38,5%). The result of fisher's exact test showed that there is a significant relationship between knowledge with medical waste handling  (p = 0,032). The suggested for the hospital  to be able and equip the facility and infrastructure of handling medical waste, make counseling and training for maintain knowledge and the attitude in medical waste handling.
Downloads
Download data is not yet available.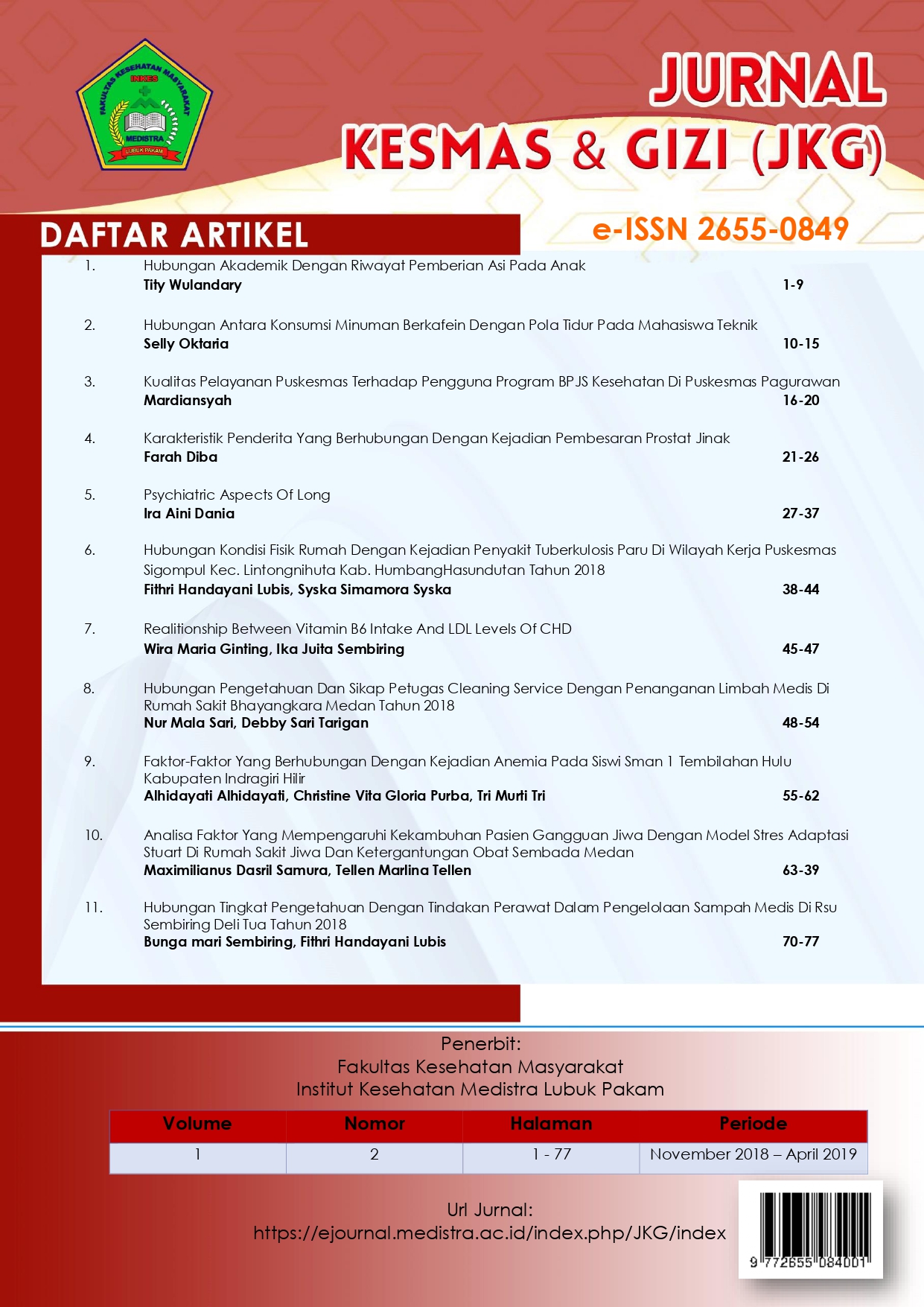 How to Cite
Sari, N., & Tarigan, D. (2019). HUBUNGAN PENGETAHUAN DAN SIKAP PETUGAS CLEANING SERVICE DENGAN PENANGANAN LIMBAH MEDIS DI RUMAH SAKIT BHAYANGKARA MEDAN TAHUN 2018. JURNAL KESMAS DAN GIZI (JKG), 1(2), 48-54. https://doi.org/10.35451/jkg.v1i2.152
Copyright in each article is the property of the Author.