PENGEMBANGAN APLIKASI KONSULTASI DAN PENGUKURAN STATUS GIZI USIA REMAJA (SMA) SECARA ONLINE (NUTRI-O)
Dodhi widyatnoko

Prodi Magister Ilmu Kesehatan Masyarakat, Fakultas Kesehatan Masyarakat, Universitas Indonesia

Meiwita Budiharsana

Fakultas Kesehatan Masyarakat, Universitas Indoensia

Artha Prabawa

Fakultas Kesehatan Masyarakat, Universitas Indoensia
Keywords:
online monitoring nutritional status, online nutritional consultation, m-health
Abstract
In Indonesia, the current trends and issues has changed of the malnutrition paradigm. The nutritional status of adolescents in Indonesia is experiencing double burden problems (Riskesdas 2007, 2010, and 2013). This happens due to improper lifestyle and eating habits, thus causing adolescents to be at risk of malnutrition, both deficiency or overnutrition. The nutrient deficiency has an impact on decreasing physical abilities, immune system, thinking and learning concentration. While overnutrition such as overweight and obesity in adolescents, increasing the risk of non-infectious diseases during adulthood such as heart and blood vessel disease, high blood pressure, dyslipidemia, and diabetes mellitus. The purpose of this study is to develop an Android-based m-Health application model as an effort to monitor nutritional status and online consultation. The development method that used is a prototype. Application modeling begins with system requirements analysis, context diagrams, Entity Relational Diagrams (ERD), Table Relational Diagrams (TRD), Flow Charts and User Interface Design. Adolescent nutritional status measured base on Height divided by Age (TB/U), Body Mass Index divided by Age (BMI/U) and other health conditions. The system information formed by the design concept can provide an information of nutritional status and fascinate competent nutritionists to give an interactive nutritional consultation.
Downloads
Download data is not yet available.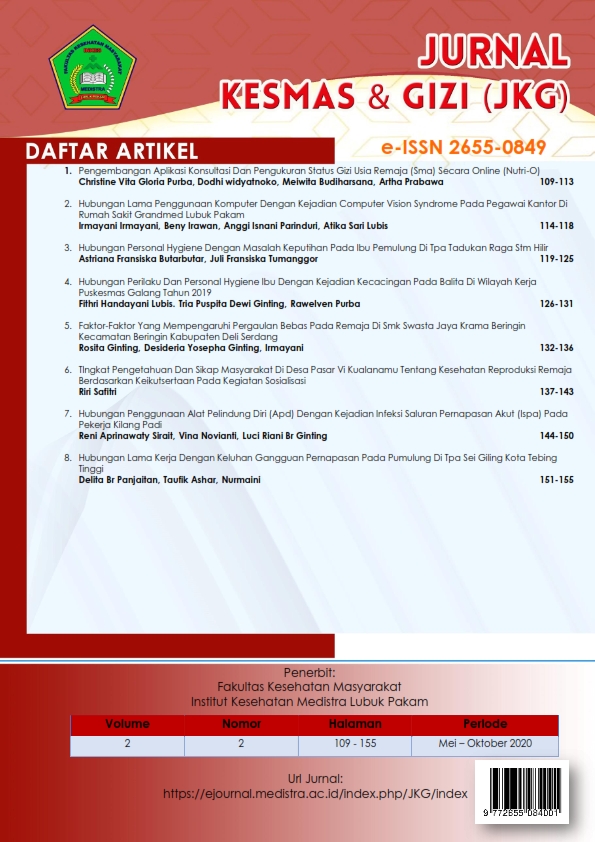 How to Cite
widyatnoko, D., Budiharsana, M., & Prabawa, A. (2020). PENGEMBANGAN APLIKASI KONSULTASI DAN PENGUKURAN STATUS GIZI USIA REMAJA (SMA) SECARA ONLINE (NUTRI-O). JURNAL KESMAS DAN GIZI (JKG), 2(2), 109-113. https://doi.org/10.35451/jkg.v2i2.390
Copyright in each article is the property of the Author.