HUBUNGAN PERSONAL HYGIENE DENGAN MASALAH KEPUTIHAN PADA IBU PEMULUNG DI TPA TADUKAN RAGA STM HILIR
Astriana Fransiska Butarbutar

Institiut kesehatan Deli husada Delitua

Juli Fransiska Tumanggor

Institut Kesehatan Deli Husada Delitua
Keywords:
whitish, Personal hygiene, scavenger mothers
Abstract
Whitish (flour albus) is a condition of the vagina when removing fluid or mucus that resembles pus. Leucorrhoea is not always a disease because there is also normal vaginal discharge. Poor personal hygiene cause vaginal discharge. The purpose of this study was to determine the relationship between personal hygiene and vaginal discharge problems in scavenger mothers in the Landfills Tadukan Raga STM Hilir 2018. The type of research used was descriptive research with a cross sectional approach, namely an analytical survey. The sample of this study amounted to 23 respondents using total sampling. The data analysis was carried out by univariate and bivariate with Chi Square statistic test with a significance limit (α) of 0,05. The reseach showed that the majority of scavenger mothers had good skin hygiene, and good hand and nail hygiene as many as 13 people with a percentage (56,5 %), and having poor Genetalia Hygiene as many as 13 people with a percentage (56,5%). The conclusion there is no relationship between skin hygiene and vaginal discharge (ρ = 0,341), there is no relationship between hand and nail hygiene with vaginal discharge (ρ = 0,660), and there is a correlation between genetalia hygiene and vaginal discharge in scavenger mothers (ρ = 0,019). Skin hygiene, hand and nail hygiene are not entirely a factor causing vaginal discharge problems, there are still many other causal factors which are the limitations of this study, while genetalia hygiene greatly affects the occurrence of vaginal discharge problems.
Keywords: whitish, Personal hygiene, scavenger mothers
Downloads
Download data is not yet available.
References
Abrori, Dkk.2017. Faktor yang Berhubungan Dengan Kejadian Keputihan Patologis Siswi SMAN 1 Simpang Hilir Kabupaten Kayong Utara. Fakultas Ilmu Kesehatan, Universitas Muhammadiyah Pontianak.
Bahari, hamid.2018. Cara Mudah Atasi Keputihan. Yogyakarta: Buku Biru.
Dagasou, Sarjte Ellen. 2014. Gambaran Tingkat Pengetahuan Ibu Tentang Keputihan di Poliklinik Obstetri/Ginekologi RSU Pancaran Kasih GMIM Manado. Universitas Sam Ratulangi.
Khuzaiyah, Siti, Dkk. 2015. Karakteristik Wanita Dengan Flour Albus. STIKES Muhammadiyah Pakajangan Pekalongan.
Melati, Rika.2012. Hubungan Antara Pengetahuan dan Keterampilan Vulva Hygiene Dengan Kejadian Keputihan pada Ibu Rumah Tangga (Studi didesa Sawah Joho Warungasem Batang).Universitas Kesehatan Semarang.
Notoadmojo, S. 2013. Metodologi Penelitian Kesehatan. Jakarta: Rhineka Cipta
Sastroasmoro,S, Ismail,S. 2014. Dasar-dasar Metodologi Penelitian Klinis. Jakarta: Seto Agung.
Saraswati, Sylvia. 2015. 52 Penyakit Perempuan. Yogyakarta: kata hati.
Sari,Wening, Dkk. 2012. Panduan Lengkap Kesehatan Wanita. Jakarta: Penebar Plus.
St. Hartina. 2018. Hubungan Tingkat Pengetahuan Remaja Putri Tentang Keputihan dengan Perilaku Personal Hygiene di Madrasah Aliyah Mu'Allimat. Universitas Aisyiyah Yogyakarta.
Utami. 2013. Hubungan Tingkat Pengetahuan Dengan Perilaku Deteksi Dini Kanker Serviks Pada Pasangan Usia Subur Di Wilayah Kerja Puskesmas Sangkrah Kcamatan Pasar Kliwon Surakarta. Surakarta.
Wardani. Novita Eka. 2012. Gambaran Pengetahuan dan Perilaku Personal Hygiene Alat Reproduksi Pada Pemulung Wanita di Pemukiman Pemulung Kelurahan Dewono Surabaya. Poltekes Kemenkes Surabaya.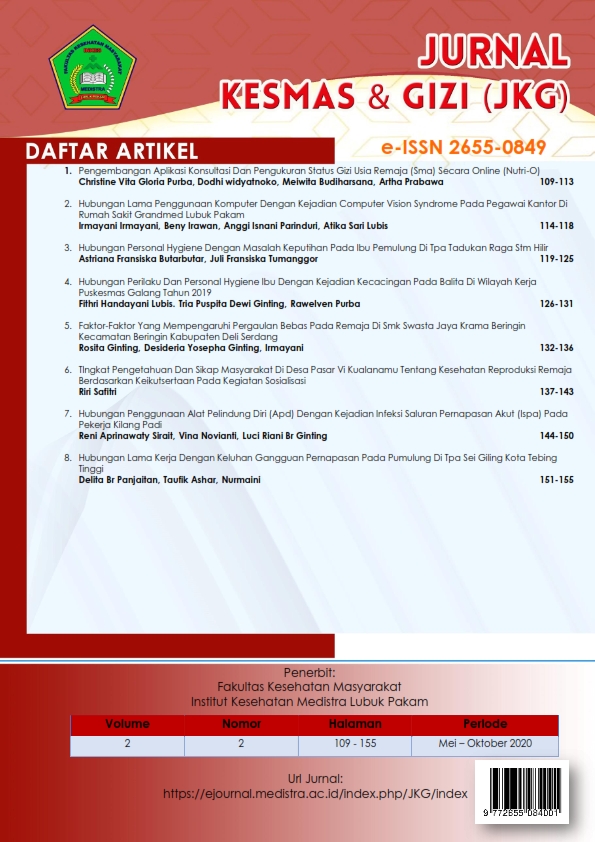 How to Cite
Butarbutar, A., & Fransiska Tumanggor, J. (2020). HUBUNGAN PERSONAL HYGIENE DENGAN MASALAH KEPUTIHAN PADA IBU PEMULUNG DI TPA TADUKAN RAGA STM HILIR. JURNAL KESMAS DAN GIZI (JKG), 2(2), 119-125. https://doi.org/10.35451/jkg.v2i2.396
Copyright in each article is the property of the Author.