FAKTOR YANG MEMPENGARUHI PEMANFAATAN PELAYANAN ANTENATAL CARE DI WILAYAH KERJA PUSKESMAS DARUSSALAM MEDAN
Sri Malemna Br barus

Mahasiswa

Marlinang l Silalahi

universitas prima indonesia
Keywords:
Antenatal care services, knowledge
Abstract
Coverage of K1 visits in North Sumatra in 2015 was 82.44% and K4 coverage was 75.50% ,. From the initial survey conducted with several pregnant women, information was also obtained that mothers did not check their pregnancies routinely due to very dense work factors, distance traveled and husband's support factors. Pregnant mothers also assumed that using health care services required large costs were still often found, especially for pregnant women who have a low economy. The purpose of this study was to determine whether there is any influence on knowledge, employment, husband's support and income by the use of antenatal care (ANC) services in the working area of ​​Darussalam Medan Health Center. This type of research used in this research is quantitative research with a research design using cross sectional design. The population in this study were all third trimester pregnant women and post-partum mothers during 2018 totaling 382 people. The research sample was 79 people. The results of this study were statistically tested using the Chi Square Test with a 95% confidence level using the SPSS version 16.0 program. The results showed there was an influence of husband support with the use of antenatal care (ANC) results of the P-Value value of 0.006 while knowledge (0.574), work (0.569), and income (0.902), which means there was no influence on the use of antenatal care services (ANC) ). The conclusion is that there is an influence of husband's support with the use of antenatal care (ANC) services at the Medan Medan Health Center and there is no effect of knowledge, employment and income on the use of antenatal care (ANC) services. It is recommended for health center staff / health workers the need to increase visits to the home of pregnant women whose access is easily accessible and pay attention to signs of risk for pregnant women.
Downloads
Download data is not yet available.
References
1. WHO. World Health Statistics. 2015.
2. Kemenkes R I. Data dan Informasi Profil Kesehatan Indonesia 2016. Jakarta; 2017.
3. Purwoastuty W. Mutu Pelayanan Kesehatan dan Kebidanan. Yogyakarta: PT Pustaka Baru; 2015.
4. Salmah, Rusmiati, Maryanah, Susanti N. Asuhan Kebidanan Antenatal. Jakarta: Buku Kedokteran EGC; 2006.
5. Ryadi ALS. Ilmu Kesehatan Masyarakat. Yogyakarta: Penerbit Andi; 2016.
6. Kemenkes R I. Profil Kesehatan Indonesia Tahun 2016. Jakarta; 2016.
7. Kemenkes R I. Profil Kesehatan Indonesia Tahun 2017. In 2017. Tersedia pada: www.depkes.go.id.donwolad.pusadtin
8. Notoatmodjo S. Metodologi Penelitian Kesehatan. Jakarta: Rineka Cipta; 2016.
9. Dahlan A. Statistika Untuk Kedokteran dan Kesehatan. Jakarta: Salemba Medika; 2013.
10. Wahyutri E, Hasnidar, Hilda. FAKTOR-FAKTOR YANG BERHUBUNGAN DENGAN PEMANFAATAN PELAYANAN ANTENATAL CARE (ANC) PADA IBU HAMIL RESIKO TINGGI. J Husada Mahakam. 2015;IV(1):63–71.
11. Ahmalia R, Parmisze A. Hubungan Pengetahuan, Pendidikan dan Dukungan Suami dengan Kunjungan Pemeriksaan Antenatal Care di Puskesmas Lubuk Alung Tahun 2017. Hum Care J [Internet]. 2018;3(3):1. Tersedia pada: http://repo.unand.ac.id
12. Safitri F, Husna A, Andika F, Dhirah UH. Kontribusi Faktor Predisposisi dan Faktor Enabling terhadap Kepatuhan Antenatal Care pada Ibu Hamil di Puskesmas Sukamakmur Sibreh. 2016;2(1):35–45.
13. Cahyani ISD. Pemanfaatan Pelayanan Antenatal Care di Puskesmas. Higeia J Public Heal Res Dev. 2018;1(3):84–94.
14. Puspitasari E, Hakimi M, Nurhidayati E. Hubungan faktor sosiodemografi dengan kunjungan antenatal care. J Kebidanan dan Keperawatan Aisyiyah. 2018;13(1):55–61.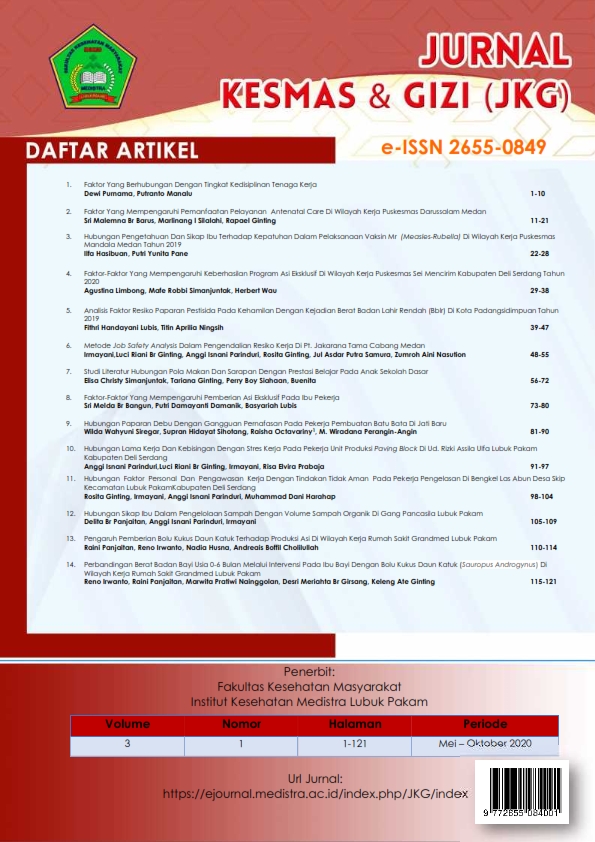 How to Cite
Br barus, S., & Silalahi, M. l. (2020). FAKTOR YANG MEMPENGARUHI PEMANFAATAN PELAYANAN ANTENATAL CARE DI WILAYAH KERJA PUSKESMAS DARUSSALAM MEDAN. JURNAL KESMAS DAN GIZI (JKG), 3(1), 11-21. https://doi.org/10.35451/jkg.v3i1.437
Copyright (c) 2020 Sri Malemna Br barus, Marlinang l Silalahi
This work is licensed under a Creative Commons Attribution-NonCommercial-ShareAlike 4.0 International License.
Copyright in each article is the property of the Author.