HUBUNGAN TINGKAT PENGETAHUAN IBU TERHADAP PERILAKU HIDUP BERSIH DAN SEHAT DENGAN KEJADIAN DIARE ANAK
Alamsyah Lukito

Universitas Islam Sumatera Utara
Keywords:
Diarrhea, PHBs (clean and healthy behaviors), Knowledge
Abstract
Diarrhea the second leading cause of death in children under five years old. with morbidity and mortality rates are relatively high in many countries, especially in developing countries, and as one of the major causes of morbidity and mortality of children in the world. Especially in northern Sumatra in 2012, of the estimated 559 011 cases of diarrhea are found and dealt with is as much as 216 175, or 38.67%, resulting in morbidity IR (incedent Rate) diarrhea per 1,000 population reaches 16.36%. This study aims to determine the relationship of the level of knowledge of mothers on Behavior Clean and Healthy Lifestyle (PHBS) with the incidence of diarrhea in health centers johor field in 2017. This research is an analytic descriptive correlation with cross sectional approach. The samples using proportionate stratified random sampling technique with sample number 64 data collection using questionnaires. Data were analyzed using chi square with Continuity correction. The results showed that of the test statistics Chi squaer obtain the value of p <0.05 can be concluded that there is a significant relationship between knowledge tehadap behavior of clean and healthy mother with the incidence of diarrhea in children in Puskesmas Medan Johor. The level of knowledge of the Clean and Healthy Lifestyle (PHBS) affect the incidence of diarrhea was one mother's lack of knowledge to recognize the causes of diarrhea incidence and wrong behavior in a child care health centers in the scope of Johor field.
Downloads
Download data is not yet available.
References
Amin, Z. Lukman. 2015. Tatalaksana Diare Akut. IDI. Jakarta 504.

Daldiyono. 2011. Ilmu Penyakit Dalam edisi II (Diare Akut). Universitas Indonesia. Jakarta: 1899-1900.

Elza Wahyuni. 2013. Hubungan Status Gizi Balita dan Perilaku Hygiene Ibu dengan Kejadian Diare pada Balita di Ruang Anak RSUD Mayjen. Ha. Thalib Kabupaten Kerinci Provinsi Jambi tahun 2013.Universitas Muhammadiyah Jakarta.

Sitinjak, Herlina. Lely. 2011. Hubungan Perilaku Hidup Bersih dan Sehat (Phbs) Dengan Kejadian Diare di Desa Pardede Onan Kecamatan Balige Tahun 2011. Universita Sumatra Utara. Available From: http://repository.usu.ac.id/handle/123456789/29777 [Accessed 12 october 2016 ].

Kurniati, A. Tri., Suriah., Rahman, Arsyad. 2013. Upaya Ibu Dalam Penanganan Diare Pada Anak Balita Etnis Bima di Wilayah Kerja Puskesmas Paruga Kota Bima. Universitas Hasanuddin Makassar . available from: http://repository.unhas.ac.id/bitstream/handle/123456789/10522/TRI%20AYU%20KURNIATI-K11109031.pdf?sequence=1.

Maryunani, Anik. 2013. Perilaku Hidup Bersih dan Sehat (PHBS). Jakarta: TIM : 86-96.

Muliawan. 2008. Hubungan Antara Prilaku Hidup Bersih dan Sehat Pada Tatanan Rumah Tangga dengan Kejadian Diare pada Anak Umur 6-12 Tahun di Wilayah Kerja Puskesmas Kersara Kabupaten Brebes Tahun 2008. Universitas Negri Semarang. available from: http://lib.unnes.ac.id/5036/1/5634.pdf [Accessed 18 September 2016 ].

Nasution, A. S., et. Al. 2015. Compendium. IDI. Jakarta: 35.

Notoatmojo, Soekidjo. 2012. Metodelogi Penelitian Kesehatan. Jakarta: Rineka Cipta.

Proverawati, Atikah., Rahmawati, Eni. 2011. PHBS Perilaku Hidup Bersih dan Sehat. Yogyakarta. Numed: 59-79.

Riskesdas. 2013. Penyakit Menular. Available from : http://www.depkes.go.id/resources/download/general/Hasil%20Riskesdas%202013.pdf [Accessed 30 october 2016 ].

WHO. 2013. Diarrhoeal Disease. Available from: http://www.who.int/mediacentre/factsheets/fs330/en/index.html [Accessed 29 october 2016 ].

Widoyono. 2011. Penyakit Tropis. Cetakan Pertama. Semarang: Erlangga.

Sastroasmoro, S., & Ismael, S. 2014. Dasar Dasar Metodologi Penelitian Klinis (5). Jakarta: Sagung Seto 112.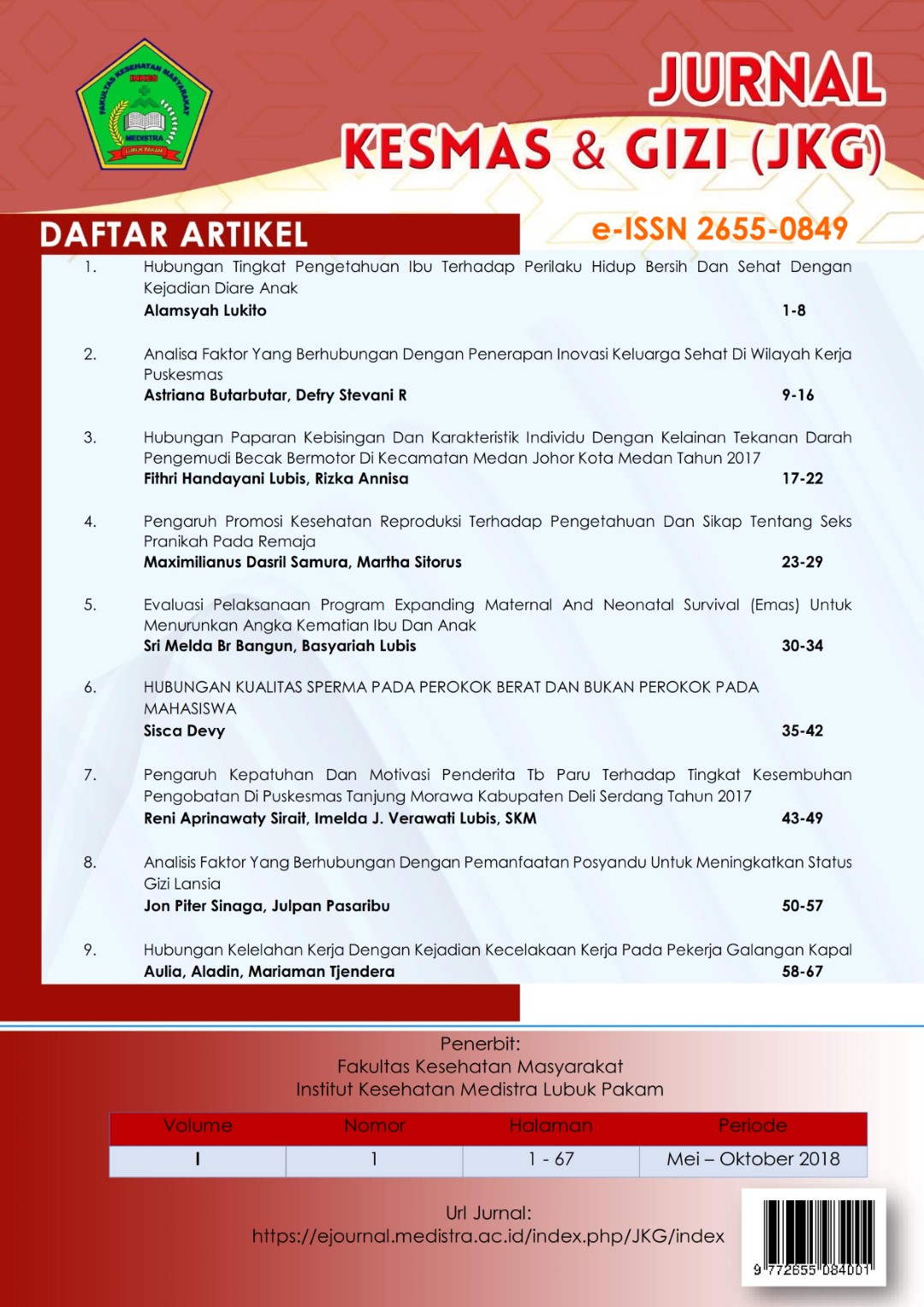 How to Cite
Lukito, A. (2018). HUBUNGAN TINGKAT PENGETAHUAN IBU TERHADAP PERILAKU HIDUP BERSIH DAN SEHAT DENGAN KEJADIAN DIARE ANAK. JURNAL KESMAS DAN GIZI (JKG), 1(1), 1-8. https://doi.org/10.35451/jkg.v1i1.99
Copyright in each article is the property of the Author.