The Differences of Anxiety of Pregnant Women in Trimester III on Lavender Aromatherapy
Keywords:
Kecemasan, Trimester III, Aromaterapi Lavender
Abstract
Childbirth can sometimes cause anxiety in pregnant women, especially in the third trimester. Pregnant women are worried about whether the baby is normal or not, the pain that will be felt and the delivery is normal or not. In order to facilitate pregnant women to go through their anxiety without complications, there are currently many being given care using lavender aromatherapy. Lavender contains substances that relax pregnant women, thereby eliminating anxiety. An initial survey conducted at PMB Erni Atika Sari, there were 19 pregnant women who said that they had anxiety in the third trimester of pregnancy, especially in the face of childbirth. Therefore, this study was conducted to determine the effect of lavender aromatherapy on the anxiety of pregnant women in the third trimester. This research was conducted with a quasi-experimental design with a non-equivalent control group design. The research location is PMB Erni Atika Sari and PMB Lismawati. The sample is primigravida third trimester pregnant women with saturated sampling with a total of 40 people. The results showed that there was an effect of giving lavender aromatherapy on the anxiety of primigravida pregnant women in the third trimester (p = 0.000). For this reason, it is expected that pregnant women can use lavender therapy as a complementary therapy that provides a relaxing effect so that it can reduce the anxiety of pregnant women facing childbirth.
Downloads
Download data is not yet available.
References
Amzarjerdi, A., Keshavarz, M., Montazeri, A., Bekhradi, R. (2021). Effect of Lavender Oil on Nauses, Vomiting and Anxiety in Pregnant Women : A Randomized Clinical Trial. Research Square, 1-14. DOI: https://doi.org/10.21203/rs.3.rs-681694/v.
Burroughhs, P & Pernoll. (2017). Buku Saku Obstetry Gynecology william. EGC, Jakarta.
Dennis, C.L., Falah, H., Shiri, R. 2017. Prevalence of Antenatal and Postnatal Anxiety: Systematic Review and Meta-Analysis. Br J Psychiatry. 210 (5): 315-323.
Hutasoit, Aini. (2020). Aromatherapy untuk Pemula. Gramedia Pustaka Utama, Jakarta.
Karlina, Reksohusodo, Widayati. (2015). Pengaruh Pemberian Aromaterapi Lavender secara Inhalasi terhadap Penurunan Intensitas Nyeri Persalinan
Fisiologis pada Primipara Inpartu Kala Satu Fase Aktif di BPM "Fetty
Fathiyah" Kota Mataram. Universitas Brawijaya. 2 (2), 108-119
Miarso, Novyriana, Muthoharoh. (2018). TEKNIK AROMATERAPI LAVENDER UNTUK MENGURANGI KECEMASAN IBU HAMIL MENGHADAPI PERSALINAN. The 8 th University Research Colloquium. 557-560. Retrieved from. http://repository.urecol.org/index.php/proceeding/article/view/397
Maisi, S., Widyawati, M.N., Suwondo, A., Kusworowulan, S. 2017. Effectiveness of Lavender Aromatherapy and Classical Music Therapy in Lowering Blood Pressure in Pregnant Women with Hypertension. Belitung Nurshing Journal. 3 (6): 750-756.
Restiana. (2017). Efek Lilin Aromaterapi Lavender Terhadap Perubahan
Intensitas Nyeri Persalinan Normal Pada Kala I Fase Aktif. Skripsi. Universitas Airlangga.
Sulastri, Dewani, Mulyanti. (2018). KUNJUNGAN ANTENATAL TIDAK ADEKUAT SEBAGAI FAKTOR RISIKO PERSALINAN SEKSIO SESAREA. 226-240. Retrieved from https://nanopdf.com/download/kunjungan-antenatal-tidak-adekuat-sebagai-faktor_pdf
Sinesi, A., Maxwell, M., O'Carrol, R., Cheyne, H. 2019. Anxiety Scales Used in Pregnancy : Systematic Review. BJPsych Open. 5 (e5): 1-3.
Susanti, D., & Yati, D. (2021). LAVENDER AROMATHERAPY HELPFUL FOR MANAGEMENT OF ANXIETY IN POSTPARTUM CESAREAN SECTION. International Journal of Medical Science and Public Health, 10 (1), 94-96. Retrieved form https://www.ijmsph.com/fulltext/67-1620280765.pdf?1648174442
Susilarini, dkk. (2017). Pengaruh Pemberian Aromatherapi Lavender Terhadap Pengendalian Nyeri Persalinan Kala I Pada Ibu Bersalin. Jurnal Kebidanan.
(12), 47-54.
Yuliatun, L. (2018). Penangangan Nyeri Persalinan Dengan Metode Nonfarmakologi, Bayumedia Publishing, Malang.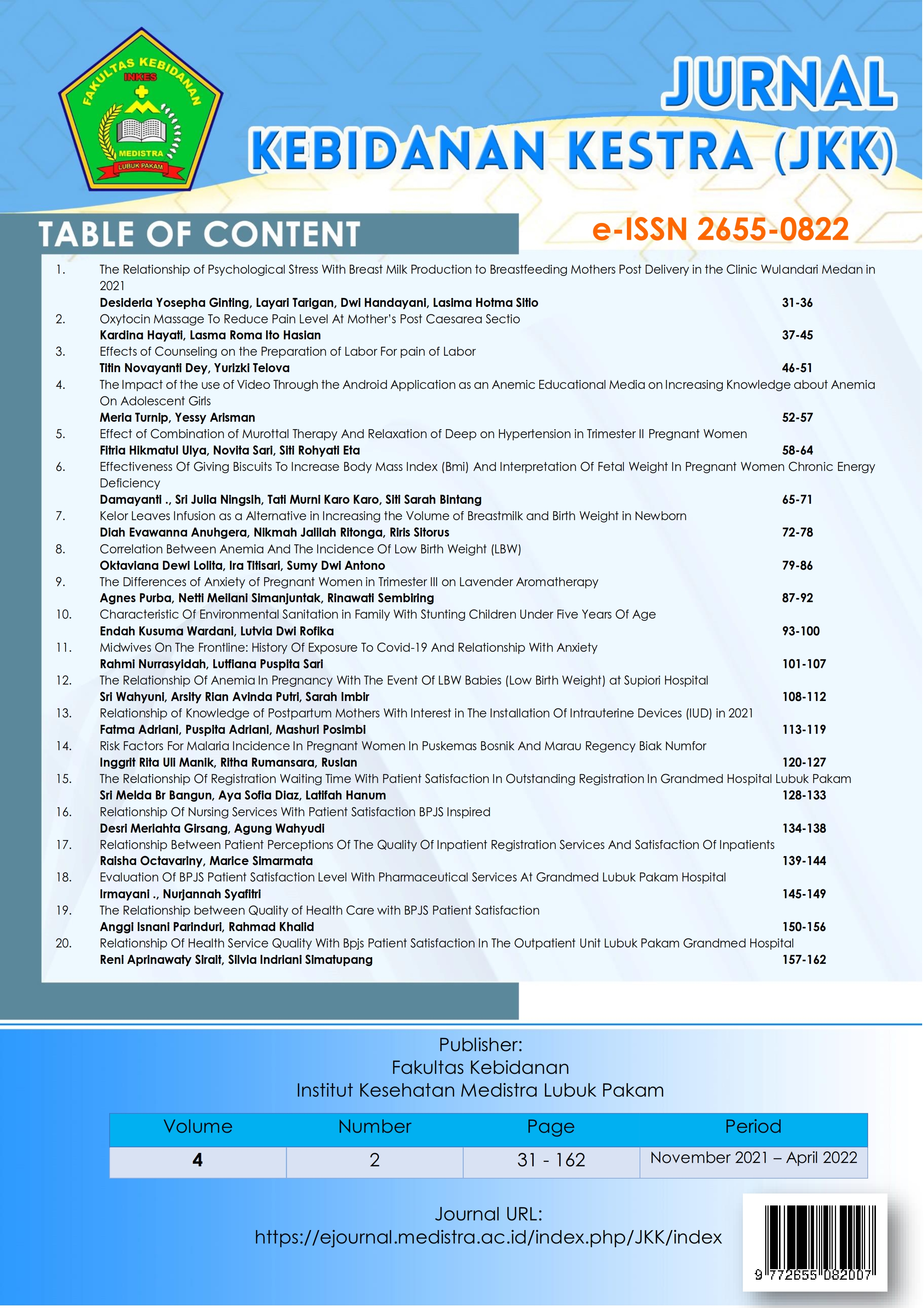 Downloads
How to Cite
Purba, A., Simanjuntak, N. M., & Sembiring, R. (2022). The Differences of Anxiety of Pregnant Women in Trimester III on Lavender Aromatherapy. JURNAL KEBIDANAN KESTRA (JKK), 4(2), 87–92. https://doi.org/10.35451/jkk.v4i2.1032
License
Copyright in each article is the property of the Author.