Characteristic Of Environmental Sanitation in Family With Stunting Children Under Five Years Of Age
Endah Kusuma Wardani

STIKes Banyuwangi

Lutvia Dwi Rofika
Keywords:
children under five years of age, stunting, environmental sanitation
Abstract
Attention to malnutrition has increased in recent decades, one of which is stunting. The nutritional problem that is currently being highlighted in the world is stunting where there are around 161 million children experiencing stunting. Stunting is a measure of short height compared to age. Factors causing stunting consist of direct and indirect causes, one of which is from the aspect of environmental sanitation, namely access to clean water, sanitation and hygiene. This study aims to provide an overview of the characteristics of environmental sanitation in families with stunting children under five years of age in the Klatak and Wonosobo Public Health Centers, Banyuwangi. This research is a descriptive study and a case series design. The research subjects used were 60 stunting toddlers with proportional random sampling as the sampling technique. The variables in this study were environmental sanitation, which consisted of access to clean water, ownership of clean water facilities, ownership of bathrooms, ownership of latrines, and ownership of cattle pens. The research instrument used a questionnaire to measure the characteristics of respondents and environmental sanitation conditions, interview guidelines, observation sheets, KIA books, and weighing month reports. The data was processed using descriptive analysis. The results depicted in this study are that most of the research subjects live in families that have access to clean water, have bathrooms and latrines, but also in families who have cattle pens close to the main house. Monitoring of ownership, use, and maintenance of access to clean water, latrines, bathrooms, and livestock cages in the home environment must be carried out properly so that it can become one of the strategies in preventing stunting under five. Prevention of contamination of water, soil, and air quality is one of the ways in preventing stunting in toddlers so that toddlers can develop optimally according to their age and growth period.
Downloads
Download data is not yet available.
References
Bardosono, S., Sastroamidjojo, S., & Lukito, W. (2007). Determinants of child malnutrition during the 1999 economic crisis in selected poor areas of Indonesia. Asia Pacific Journal of Clinical Nutrition, 16(3).
Beal, T., Tumilowicz, A., Sutrisna, A., Izwardy, D., & Neufeld, L. M. (2018). A review of child stunting determinants in Indonesia. Maternal & Child Nutrition, 14(4), e12617.
Chase, C., & Ngure, F. (2016). Multisectoral approaches to improving nutrition: water, sanitation, and hygiene. Available at: [email protected] Worldbank. Org or Www. Wsp. Org. Accessed December, 21, 2016.
De Onis, M., & Branca, F. (2016). Childhood stunting: a global perspective. Maternal & Child Nutrition, 12, 12–26.
Dinas Kesehatan Kabupaten Banyuwangi. (2021). Profil Kesehatan Kabupaten Banyuwangi 2020. Dinas Kesehatan Kabupaten Banyuwangi.
Fikawati, Sandra, Syafiq, Ahmad, & Veratamala, A. (2017). Gizi Anak dan Remaja. PT. RajaGrafindo Persada.
Hasanah, S., Handayani, S., & Wilti, I. R. (2021). Hubungan Sanitasi Lingkungan Dengan Kejadian Stunting Pada Balita di Indonesia (Studi Literatur). Jurnal Keselamatan Kesehatan Kerja Dan Lingkungan, 2(2), 83–94.
Kementerian Kesehatan RI. (2014). Sanitasi Total Berbasis Masyarakat. Kementerian Kesehatan RI.
Kementerian Kesehatan RI. (2021). Laporan Kinerja Kementerian Kesehatan Tahun 2020. Kementerian Kesehatan RI.
Kirkhorn, S. R. (n.d.). Garry VF. Agricultural Lung Diseases. Environ Health Perspect, 108, 705–712.
Leroy, J. L., & Frongillo, E. A. (2019). Perspective: what does stunting really mean? A critical review of the evidence. Advances in Nutrition, 10(2), 196–204.
Marini, M., Ofarimawan, D., & Ambarita, L. P. (2020). HUBUNGAN SUMBER AIR MINUM DENGAN KEJADIAN DIARE DI PROVINSI SUMATERA SELATAN. SPIRAKEL, 12(1), 35–45.
Prendergast, A. J., & Humphrey, J. H. (2014). The stunting syndrome in developing countries. Paediatrics and International Child Health, 34(4), 250–265.
Puspita, A. D. (2014). Hubungan Pemeliharaan Ternak dengan Kejadian ISPA di Desa Patokan, Kecamatan Bantaran, Kabupaten Probolinggo. Universitas Airlangga.
Ramdaniati, S. N., & Nastiti, D. (2019). Hubungan Karakteristik Balita, Pengetahuan Ibu dan Sanitasi Terhadap Kejadian Stunting pada Balita di Kecamatan Labuan Kabupaten Pandeglang. HEARTY: Jurnal Kesehatan Masyarakat, 7(2).
Rhomadona, S. W., & Siagian, M. L. (2021). Upaya Peningkatan Kesehatan Sanitasi Keluarga dalam Pencegahan Stunting Melalui Edukasi Tentang Cara Penyimpanan dan Pengolahan Sayuran yang Benar. Jurnal Pengabdian Masyarakat, 2(2), 18–25.
Riyadi, H., Martianto, D., Hastuti, D., Damayanthi, E., & Murtilaksono, K. (2011). Faktor-Faktor Yang Mempengaruhi Status Gizi Anak Balita Di Kabupaten Timor Tengah Utara, Provinsi Nusa Tenggara Timur. Jurnal Gizi Dan Pangan, 6(1), 66–73.
Saputri, I. W. (2016). Analisis Spasial Faktor Lingkungan Penyakit ISPA Pneumonia pada Balita di Provinsi Banten Tahun 2011-2015. FKIK UIN Jakarta.
Sari, L, Famalika, A, Sihombing, PR, Hidayat, M. (2020). FAKTOR-FAKTOR YANG MENJELASKAN PREVALENSI ANAK PENGIDAP ISPA DI INDONESIA. LOMBOK JOURNAL OF SCIENCE, 2(3), 8–15.
Semba, R. D., Moench-Pfanner, R., Sun, K., De Pee, S., Akhter, N., Rah, J. H., Campbell, A. A., Badham, J., Bloem, M. W., & Kraemer, K. (2011). Consumption of micronutrient-fortified milk and noodles is associated with lower risk of stunting in preschool-aged children in Indonesia. Food and Nutrition Bulletin, 32(4), 347–353.
Stewart, C. P., Iannotti, L., Dewey, K. G., Michaelsen, K. F., & Onyango, A. W. (n.d.). Matern Child Nutr.(2013). Contextualising Complementary Feeding in a Broader Framework for Stunting Prevention. Sep, 9, 27–45.
Susanti, WE, Novrikasari & Sunarsih, E. (2016). Determinan Kajadian Diare pada Anak Balita di Indonesia (Analisis Lanjut Data Sdki 2012). Jurnal Ilmu Kesehatan Masyarakat, 7(1), 64–72.
Swastika, D. (2017). Analisis Kualitas dan Kelayakan Air PDAM pada Beberapa Usaha Katering di kota Semarang. Universitas Katolik Soegijapranata, Semarang.
TNP2K. (2017). 100 Kabupaten/Kota Prioritas untuk Intervensi Anak Kerdil (Stunting). Sekretariat Wakil Presiden Indonesia.
Uliyanti, U., Tamtomo, D. G., & Anantanyu, S. (2017). Faktor yang berhubungan dengan kejadian stunting pada balita usia 24-59 bulan. Jurnal Vokasi Kesehatan, 3(2), 67–77.
Yuniarti, T. S., Margawati, A., & Nuryanto, N. (2019). Faktor Risiko Kejadian Stunting Anak Usia 1-2 Tahun Di Daerah Rob Kota Pekalongan. Jurnal Riset Gizi, 7(2), 83–90.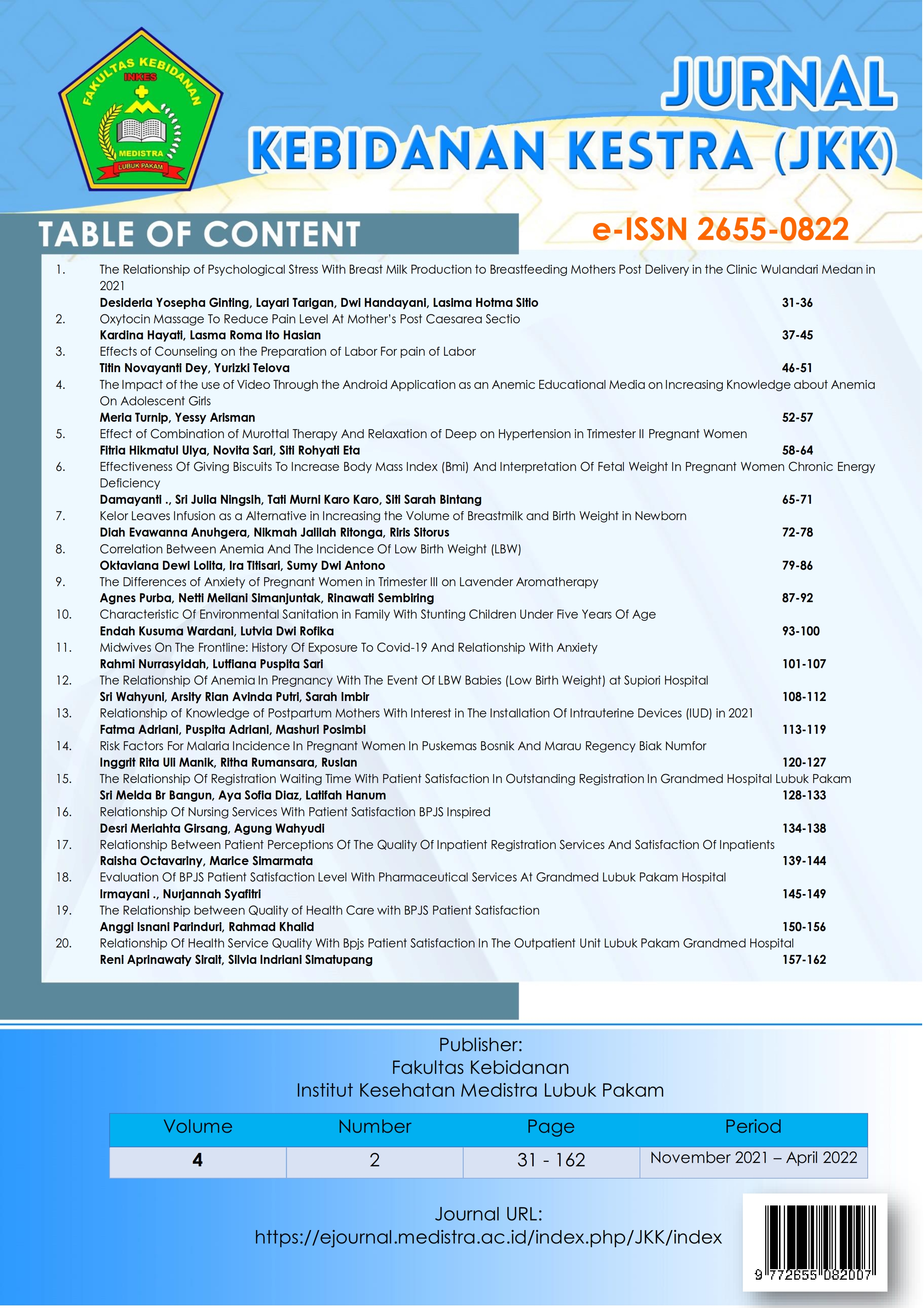 How to Cite
Wardani, E., & Rofika, L. (2022). Characteristic Of Environmental Sanitation in Family With Stunting Children Under Five Years Of Age. JURNAL KEBIDANAN KESTRA (JKK), 4(2), 93-100. https://doi.org/10.35451/jkk.v4i2.1043
Copyright (c) 2022 Endah Kusuma Wardani, Lutvia Dwi Rofika
This work is licensed under a Creative Commons Attribution 4.0 International License.
Copyright in each article is the property of the Author.