Risk Factors For Malaria Incidence In Pregnant Women In Puskemas Bosnik And Marau Regency Biak Numfor
Inggrit Rita Uli Manik

Poltekkes Kemenkes Jayapura

Ritha Rumansara

POLTEKKES KEMENKES JAYAPURA

Ruslan .

POLTEKKES KEMENKES JAYAPURA
Keywords:
malaria, pregnant women, risk factors
Abstract
Malaria infection in pregnancy is very detrimental to both the mother and the fetus it contains, because it can increase the morbidity and mortality of the mother and fetus. The prevalence of malaria in Papua Province with Annual Parasite Incendence in 2016 amounted to 208.95 per thousand population, the prevalence of malaria in pregnant women in Papua Province as much as (3.09%). The prevalence of malaria in pregnant women in Biak Numfor Regency in 2017 was 4.11%. The purpose of this study was to determine the risk factors for the incidence of malaria in pregnant women at the Bosnik and Marau Health Centers, Biak Numfor Regency in 2018.This study is an observational study with case control design in pregnant women in the Bosnik Health Center and Marauw Health Center area of Biak Numfor Regency. The study sample with simple random sampling was 27 pregnant women as cases and 27 pregnant women as control.data analised with chi square test. From the results of a multivariate analysis found 2 (two) variables associated with malaria incidence in pregnant women, namely sleeping not using mosquito nets (OR = 3,768 p = 0.024 95% CI 1,158-12,270) and Hb anemia < 9 gr% (OR = 5,500 p = 0.013 95% CI 1,323-22,862) while 3 (three) variables namely low economic status, first parity and ≥ 4 and nutritional status is not associated with malaria incidence. Risk factors for malaria incidence in pregnant women are related to sleep habits not using mosquito nets and anemia Hb < 9gr%.
Downloads
Download data is not yet available.
References
Aisyan SDS, Djannah SN, Wardani Y. (2010). Hubungan antara status sosial ekonomi keluarga dengan kematian perinatal di wilayah kerja Puskesmas Baamang Unit II Sampit Kalimantan Tengah Januari-April 2010. Jurnal KESMAS Volume 5(1):31-40.
Amiruddin, R. (2013). Surveilans Kesehatan Masyarakat, Edisi 1, Bogor: IPB Press.
Budiyanto A dan Wurisastuti T. (2017). Faktor yang Berhubungan dengan Kejadian Malaria pada Ibu Hamil di Indonesia. Media Litbangkes, Vol. 27 No. 1, Maret 2017, 25–30.
Dinkes Biak. (2017). Profil Kesehatan Kabupaten Biak. Biak: Dinkes Provinsi Biak.
Harijanto PN, Malaria dari Molekuler ke Klinis. (2010). 2ed. Jakarta: Buku Kedokteran EGC;
Ismen. (2007). Kehamilan dan Kejadian Malaria di Puskesmas Way Muli, Lampung Selatan. KESMAS, Jurnal Kesehatan Masyarakat Nasional Vol. 2, No. 1, Agustus 2007. 19-25.
Kemenkes RI. (2018). Laporan Hasil RIset Kesehatan Dasar (RISKESDAS) Tahun 2018. Jakarta: Kemenkes RI.
Rahmadiliyani, Nina, dan Noralisa Noralisa. (2013). "Hubungan Penggunaan Kelambu Berinsektisida dan Kejadian Malaria di Desa Teluk Kepayang Kecamatan Kusan Hulu Kabupaten Tanah Bumbu Tahun 2013." Jurnal Buski, vol. 4, no. 3.
Rusjidi, SR (2012). MALARIA PADA MASA KEHAMILAN. Majalah Kedokteran Andalas No.2. Vol.36. Juli-Desember 2012. 173-178.
Takem, E. N., & D'Alessandro, U. (2013). Malaria in pregnancy. Mediterranean journal of hematology and infectious diseases, 5(1), e2013010. https://doi.org/10.4084/MJHID.2013.010
Lintungan, Corry dan Timpua Tony. (2014). HUBUNGAN PEMAKAIAN KELAMBU BERINSEKTISIDA DENGAN KEJADIAN MALARIA DI KELURAHAN WANGURER KECAMATAN GIRIAN KOTA BITUNG. Jurnal Kesehatan Lingkungan Poltekkes Kemenkes Manado Volume 4 No 1 2014, 1-9.
Khasanah N (2003). Hubungan status protein, Besi, Seng, Vitamin A, Folat dan Antropometri Ibu Hamil Trimester II dengan Berat Lahir Rendah. Semarang: Universitas Diponegoro;.
Poespoprodjo JR (2011). Malaria dalam Kehamilan, Skrining Malaria dan Pengobatan yang Efektif. Buletin Jendela Data dan Informasi Kesehatan.;1 Triwulan I.
WHO. (2015). Global technical strategy for malaria 2016–2030.https://www.who.int/publications/i/item/9789241564991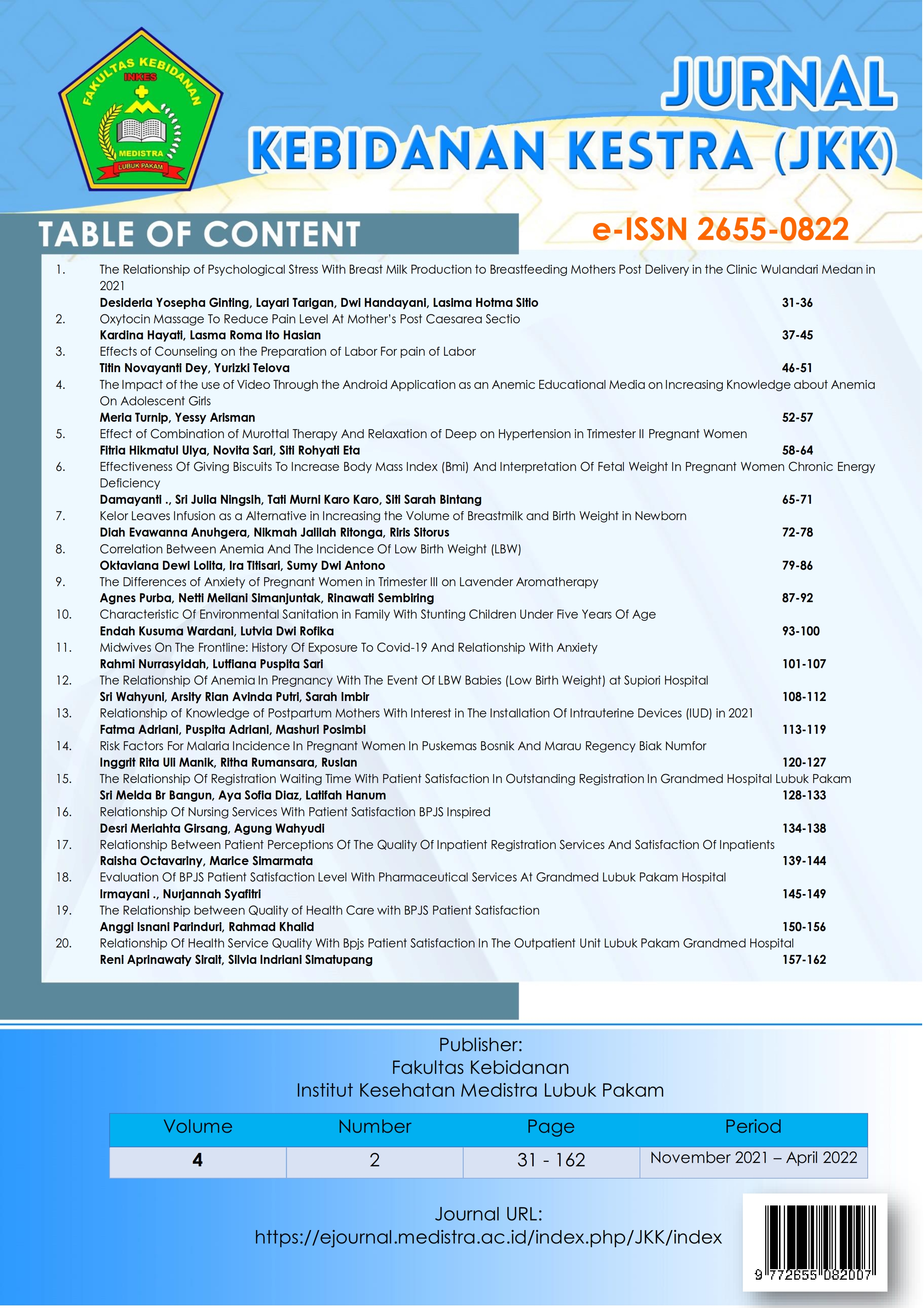 How to Cite
Manik, I. R., Rumansara, R., & ., R. (2022). Risk Factors For Malaria Incidence In Pregnant Women In Puskemas Bosnik And Marau Regency Biak Numfor. JURNAL KEBIDANAN KESTRA (JKK), 4(2), 120-127. https://doi.org/10.35451/jkk.v4i2.1047
Copyright (c) 2022 Inggrit Manik Manik, Ritha Rumansara, Ruslan .
This work is licensed under a Creative Commons Attribution 4.0 International License.
Copyright in each article is the property of the Author.