The Relationship Of Anemia In Pregnancy With The Event Of LBW Babies (Low Birth Weight) at Supiori Hospital
Sri Wahyuni

Poltekkes Kemenkes Jayapura

Arsity Rian Avinda Putri

POLTEKKES KEMENKES JAYAPURA

Sarah Imbir

POLTEKKES KEMENKES JAYAPURA
Keywords:
anemia, pregnancy, LBW
Abstract
Background: Anaemia is a common medical problem in pregnancy. The extent up to which, maternal anaemia effects maternal and neonatal health is still uncertain. Maternal anaemia is commonly considered a risk factor for low birth weight (LBW) babies. The purpose of this study was to determine the relationship between anemia in pregnancy and the incidence of LBW infants in Supiori Hospital.
This research method used an analytical survey with a cross sectional approach by looking at the medical record data at the Supiori Hospital in Januari-May 2021 who giving birth as many as 80 responden. Sampling technique with total sampling. Bivariate analysis used chi-square.
Results: Bivariate analysis showed statistical test results using chi-square obtained a significant value, namely 0.000 <0.05.
Conclusion: There was a relationship between pregnancy and anemia with the incidence of LBW infants in Supiori Hospital.
Downloads
Download data is not yet available.
References
Anvikar, A. R., van Eijk, A. M., Shah, A., Upadhyay, K. J., Sullivan, S. A., Patel, A. J., Joshi, J. M., Tyagi, S., Singh, R., Carlton, J. M., Gupta, H., & Wassmer, S. C. (2020). Clinical and epidemiological characterization of severe Plasmodium vivax malaria in Gujarat, India. Virulence, 11(1), 730–738. https://doi.org/10.1080/21505594.2020.1773107
Aditianti & Djaiman SPH. (2020). Pengaruh Anemia Ibu Hamil Terhadap Berat Bayi Lahir Rendah: Studi Meta Analisis Beberapa Negara Tahun 2015 Hingga 2019. Jurnal Kesehatan Reproduksi, 11(2), 2020:163-177 DOI:10.22435/kespro.v11i2.3799.163-177
Astriana, W. (2017). Kejadian anemia pada ibu hamil ditinjau dari paritas dan usia. Aisyah: Jurnal Ilmu Kesehatan, 2(2), 217394.
Cunningham, dkk. (2012). Obstetri Williams. Ediisi ke-23. Volume 2. Penerbit Buku Kedokteran EGC, Jakarta, Indonesia.
Dinkes Provinsi Papua. (2019). Profil Kesehatan Tahun 2018. Jayapura: Dinkes Provinsi Papua
Figueiredo, A., Gomes-Filho, I. S., Silva, R. B., Pereira, P., Mata, F., Lyrio, A. O., Souza, E. S., Cruz, S. S., & Pereira, M. G. (2018). Maternal Anemia and Low Birth Weight: A Systematic Review and Meta-Analysis. Nutrients, 10(5), 601. https://doi.org/10.3390/nu10050601
Haryanti, S. Y., Pangestuti, D. R., & Kartini, A. (2019). Anemia Dan Kek Pada Ibu Hamil Sebagai Faktor Risiko Kejadian Bayi Berat Lahir Rendah (Bblr)(Studi Di Wilayah Kerja Puskesmas Juwana Kabupaten Pati). Jurnal Kesehatan Masyarakat (Undip), 7(1), 322–329.
Indrasari, N. (2016). Faktor Resiko Pada Kejadian Berat Badan Lahir Rendah (BBLR). Jurnal Ilmiah Keperawatan Sai Betik, 8(2), 114–123.
Meikawati, W., Rahayu, D., & Purwanti, I. (2021). BERAT BADAN LAHIR RENDAH DAN ANEMIA IBU SEBAGAI PREDIKTOR STUNTING PADA ANAK USIA 12–24 BULAN DI WILAYAH PUSKESMAS GENUK KOTA SEMARANG. Media Gizi Mikro Indonesia, 13(1), 37-50. https://doi.org/10.22435/mgmi.v13i1.5207
Manuaba. (2012). Ilmu Kebidanan Penyakit Kandungan dan KB. Jakarta. EGC
Novianti S & Aisyah IS. (2018). Hubungan Anemia dan BBLR. Jurnal Siliwangi Vol.4. No.1. Seri Sains dan Teknologi, 6-8.
Pramita, L. S., Fatmaningrum, W., Utomo, M. T., & Akbar, M. I. A. (2021). Low-Hemoglobin Levels During Pregnancy with Low-Birth Weight: A Systematic Review and Meta-Analysis. Pediomaternal Nursing Journal, 7(1), 55–64. https://doi.org/10.20473/pmnj.v7i1.24184
Syifarurahmah M, Yuswaryati, Edward Z. (2016). Hubungan Anemia dengan Kejadian Bayi Berat Lahir Rendah pada Kehamilan Aterm di RSUD Achmad Darwis Suliki. Jurnal Kesehatan Andalas Vol 5 No 2.470-474.
WHO. (2020). Newborn mortality. Geneva : WHO.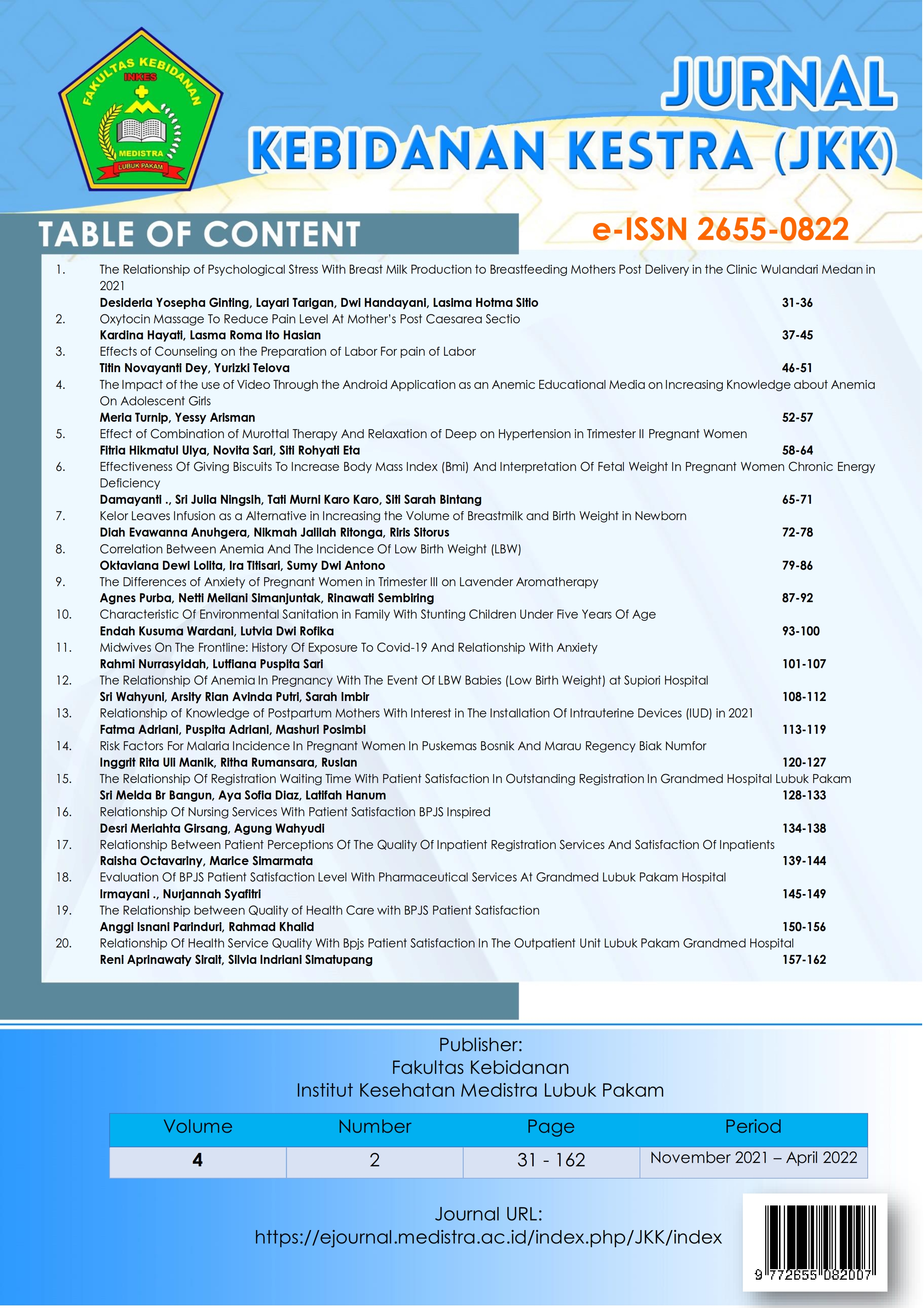 How to Cite
Wahyuni, S., Putri, A. R. A., & Imbir, S. (2022). The Relationship Of Anemia In Pregnancy With The Event Of LBW Babies (Low Birth Weight) at Supiori Hospital. JURNAL KEBIDANAN KESTRA (JKK), 4(2), 108-112. https://doi.org/10.35451/jkk.v4i2.1051
Copyright (c) 2022 Sri Wahyuni, Arsity Rian Avinda Putri, Sarah Imbir
This work is licensed under a Creative Commons Attribution 4.0 International License.
Copyright in each article is the property of the Author.