Relationship Of Nursing Services With Patient Satisfaction BPJS Inspired
Keywords:
Nursing service, Service quality, Patient satisfaction
Abstract
Based on the Law of the Republic of Indonesia No. 36 of 2014, Health Service is any effort or activity that is carried out in an integrated, integrated and sustainable manner to maintain and improve the health status of the community in the form of disease prevention, health improvement, disease treatment, and health restoration by the government and or the community. Health services are a sub-system of health services whose main purpose is preventive (prevention) and promotive (health improvement) services with community targets. This type of research is a quantitative research that is an analytic survey with a cross sectional design which aims to determine the relationship between nursing services and BPJS patient satisfaction inpatients at Grandmed Lubuk Pakam Hospital which was observed at the same time. The population of this study were all outpatients, determined using a total sampling of 35 people. The data were processed using the chi square test at a 95% confidence level (? = 5%). The results of this study indicate that there is no relationship between nursing service on tangible dimensions (0.321> 05), empathy (0.130> 0.05), and responsiveness (0.526> 0.05), while reliability (0.652> 0.05). assurance (0.530>0.50)). With patient satisfactio bpjs patient satisfaction is inpatient at grandmed Lubuk Pakam hospital. The conclusion in this study is that there is no relationship between nursing service end satisfaction of inpatient BPJS Patients at grandmed Lubuk Pakam hospital.
Downloads
Download data is not yet available.
References
Matondang,,M. R.,MMadjid, T.,A., &CChotimah,II. (2019).FFaktor-FaktoryyyYangbbeBerhubungan DenganmmMutu Pelayanan KesehatanddddDipppPuskesmas KaradenanKKecamatan Cibinong KabupatennnnBogortttdddTahun 2018.,Promotor,32(4), 276-284.
Ester, M., & Putri, H. (2019). Hubungan Pelayanan Keperawatan Dengan Kepuasan Pesien BPJS Rawat Inap Di Rumah Sakit Umum Herna Medan. Jurnal Darma Agung Medan, Volume VI, Nomor 2, Okotober 2019: 117-123.
Frida,EE. M.,,&PPutri, H. (2019). Hubungan Pelayanan KeperawatanDDenganKKepuasanPPasien BPJS RawatTInapgdi RumahKSakituuuUmumHkHerna Medan.JJurnalDDarma Agung Husada,36(2), 117-123.
Harahap,PE.MM. (2019). Hubungan PelayananKKeperawatanDdengan KepuasanNPasien BPJS Rawat Inap di RumahhSakit Sundari Medan. JournalOof Nursing Update,D1(1), 06-10.
Kemenkes. (2017). Kemenkes Terus Tingkatkan Akses Dan MutuPPelayanan Kesehatan. (https://www.depkes.go.id/articel/view/17010500003).DDiakses pada tanggal 8 April 2019.
Notoadmodjo, (2017). Pendidikan dan Perilaku Kesehatan. Jakarta: Rineka Cipta.
Pohan. (2007). Penilaian Mutu Pelayanan Kesehatan. Jakarta.
Tjicptono, F. (2013). Pemasaran Jasa. Jakarta: Banyumedia.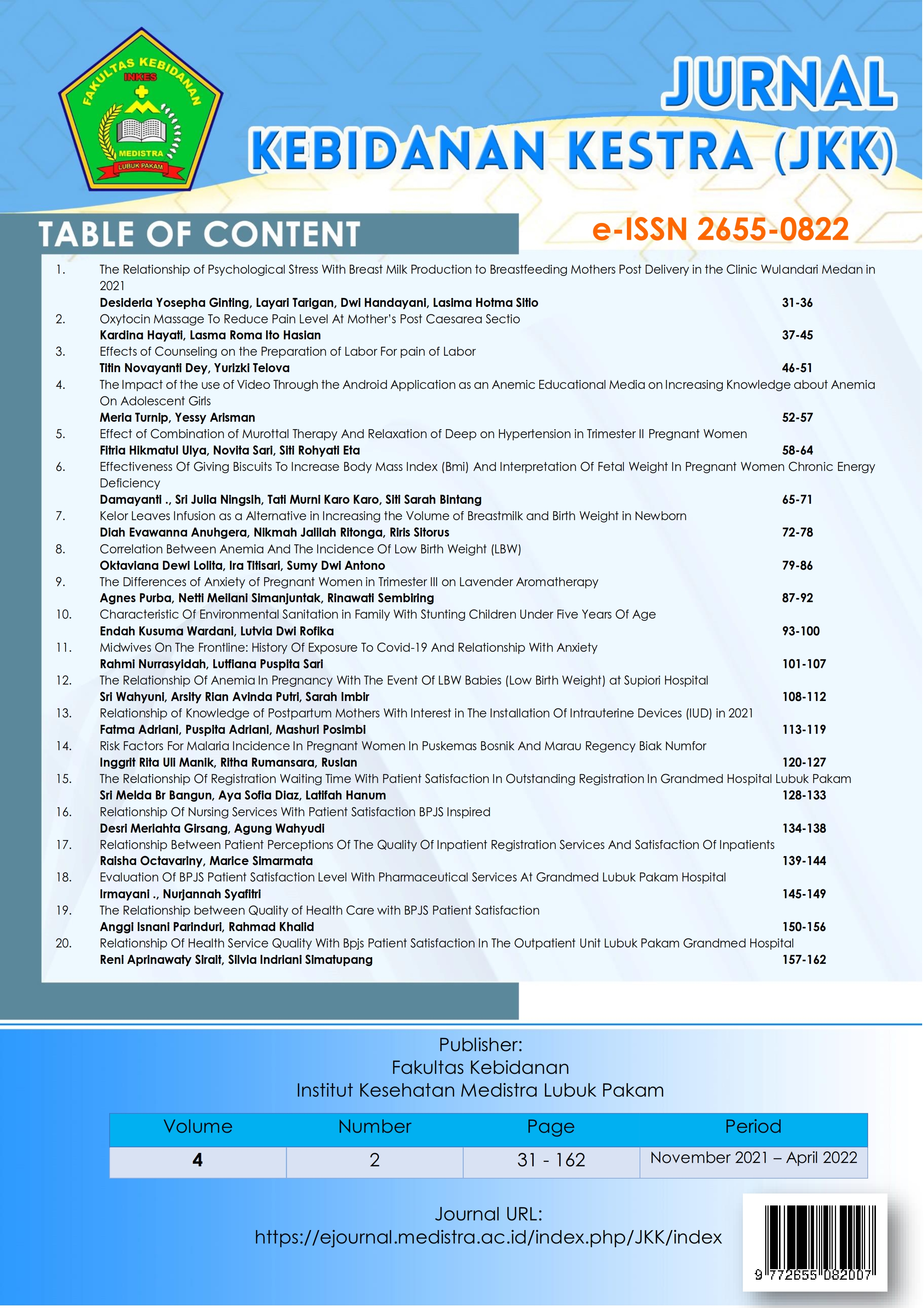 Downloads
How to Cite
Girsang, D. M., & Wahyudi, A. (2022). Relationship Of Nursing Services With Patient Satisfaction BPJS Inspired. JURNAL KEBIDANAN KESTRA (JKK), 4(2), 134–138. https://doi.org/10.35451/jkk.v4i2.1065
License
Copyright in each article is the property of the Author.