The Relationship between Quality of Health Care with BPJS Patient Satisfaction
Anggi Isnani Parinduri

Institut Kesehatan Medistra Lubuk Pakam

Rahmad Khalid

Institut Kesehatan Medistra Lubuk Pakam
Keywords:
Quality of health care, Patient satisfaction, BPJS
Abstract
Hospitals are a health care institution that organizes multiple health services in a plenary, one of the important indicators that must be considered in health services is patient satisfaction. Patient satisfaction is one of the important elements in evaluating service quality by measuring the response of patients after receiving health care services. The patient satisfaction level also depends on the quality of services offered with patient expectations. This study aims to explain the relationship of the quality of health services with the satisfaction of BPJS participants. This research is a quantitative study with an analytic survey approach, using cross sectional design. The population in the study was all BPJS users in the inpatient room of the Grandmed Hospital Lubuk Pakam, the number of samples taken by 50 people with sampling techniques using purposive sampling. Data collection method using primary data and secondary data. Statistical test using chi square test with confidence level = 0.05. The results of the analysis showed that there was a relationship between patient satisfaction and reliability (p=0.016) and there was a relationship between patient satisfaction and responsiveness (p=0.001). It is hoped that the management, service department, health workers and all parties at Grandmed Lubuk Pakam Hospital to provide and improve services to patients in accordance with public service standards, because the services provided to patients show the quality of the hospital.
Downloads
Download data is not yet available.
References
Agus. (2015). Hubungan Mutu Pelayanan BPJS Kesehatan dengan Kepuasan Pasien di Instalasi Rawat Inap Kelas II Rumah Sakit Umum Daerah Sekayu.
Azwar, A. (2010). Pengantar Administrasi Kesehatan. Jakarta: Binarupa Aksara.
Bustan J. (2012). Pengaruh Kualitas Pelayanan Terhadap Kepuasan Pasien Rumah Sakit Pemerintah dan Swasta di Kota Palembang. Orasi Bisnis. 2012;7(1):84–92.
Fauzi A, Kurniati RR. (2006). Pengaruh Kualitas Pelayanan terhadap Kepuasan Pelanggan. Jurnal Ilmu-ilmu Sosial (Social Sciences). 2006;18(1):56–65.
Notoatmodjo, S. (2010). Metodologi Penelitian Kesehatan. Jakarta Pusat: Rineka Cipta.
Lemeshow, S., David, W., Janelle, K., and Stephen, K. (1997). Besar Sampel dalam Penelitian Kesehatan (Terjemahan Dibyo Pramono), Yogyakarta: Gadjah Mada University Press.
Purnamasari, W. (2020). Hubungan Kualitas Pelayanan Kesehatan dengan Kepuasan Pasien Rawat Jalan di Puskesmas Antang Kota Makassar. Skripsi. Universitas Hasanuddin.
Kementerian Kesehatan Republik Indonesia. (2016). Standar Kepuasan Pasien di Pelayanan Kesehatan. Jakarta.
Simalango, A. (2019). HUBUNGAN MUTU PELAYANAN KESEHATAN DENGAN KEPUASAN PASIEN BPJS RAWAT INAP DI RUMAH SAKIT SANTA ELISABETH MEDAN TAHUN 2019. JURNAL KESMAS DAN GIZI (JKG), 2 (1), 71-78. Retrieved from https://ejournal.medistra.ac.id/index.php/JKG/article/view/227
Sugiyono. (2017). Metodologi Penelitian Kuantitatif, Kualitatif, dan R&D. CV. Alfabeta, Bandung.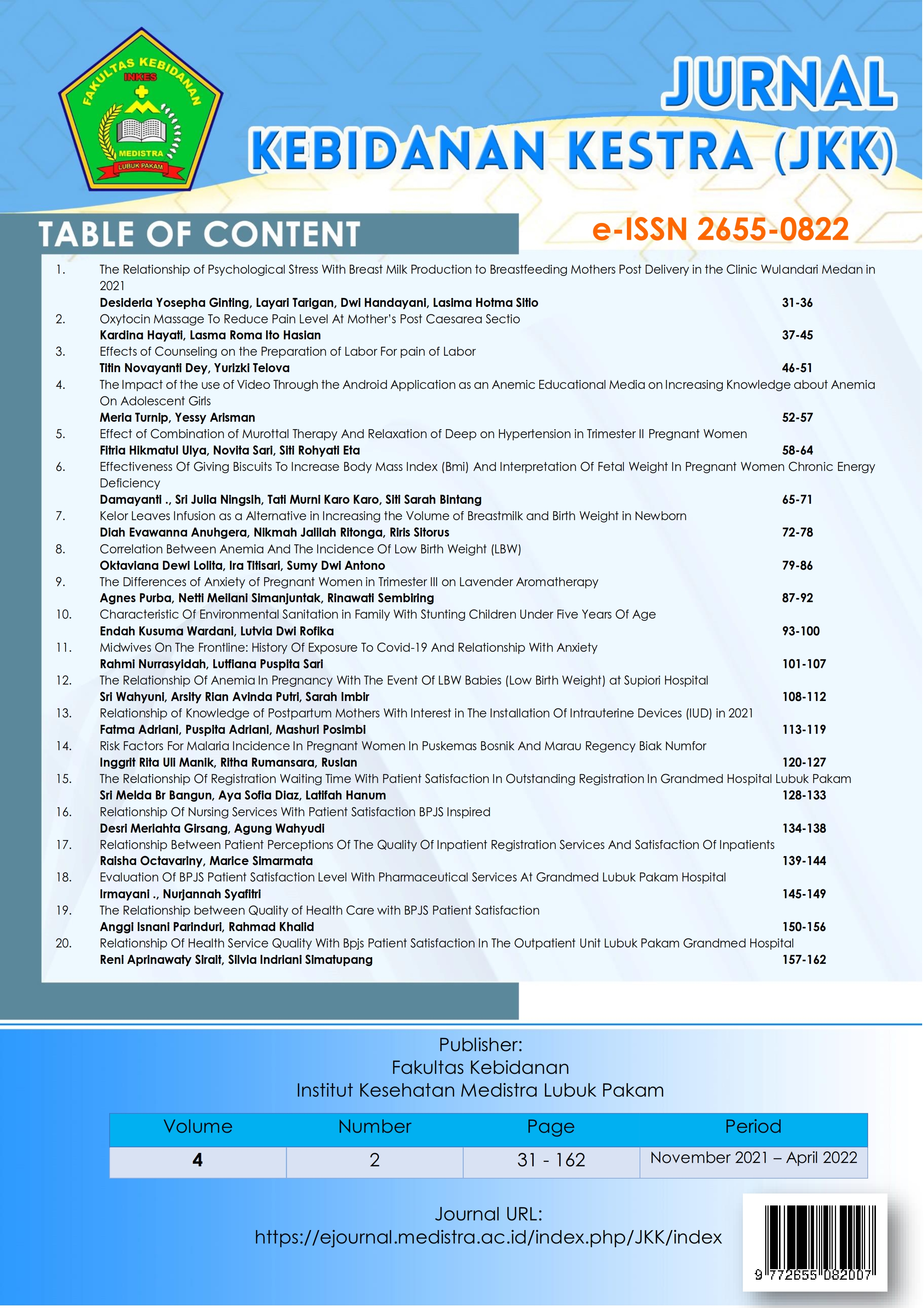 How to Cite
Parinduri, A., & Khalid, R. (2022). The Relationship between Quality of Health Care with BPJS Patient Satisfaction. JURNAL KEBIDANAN KESTRA (JKK), 4(2), 150-156. https://doi.org/10.35451/jkk.v4i2.1075
Copyright (c) 2022 Anggi Isnani Parinduri, Rahmad Khalid
This work is licensed under a Creative Commons Attribution 4.0 International License.
Copyright in each article is the property of the Author.