PENGARUH DUKUNGAN SUAMI DENGAN MOBILITAS PEKERJAAN TINGGI DAN SIKAP IBU HAMIL TERHADAP TES HIV DI PUSKESMAS NAMORAMBE WILAYAH KABUPATEN DELI SERDANG
Masta Melati Hutahaean

STIKes Murni Teguh

Eka Ristin Tarigan

STIKes Murni Teguh
Keywords:
Infuence, Attitude, Husband's Support, High Mobility, HIV Test
Abstract
The government is starting to state housewives as the HIV protection targets, including pregnant women, considering the increasing of the risk of HIV transmission in the low risk groups including mothers and infants. Based on the Ministry of Health (2017) the percentage of pregnant women that taking an HIV test in Deli Serdang District is only around 0.33%. This study is addressed to analyze the effect of husband support with high occupational mobility and attitudes of the pregnant women towards HIV testing at Namorambe Health Center, Deli Serdang District.
This type of research is an observational analytic study with a case control design. The population in this study were all pregnant women who came for their prenatal care and had received counseling for HIV testing at the Namorambe Health Center. The sample is 31 cases and 31 controls. Univariate and bivariate analysis with chi square test.
The results showed that attitude (OR: 8,196; 95% CI = 2,311-29,073) influenced the participation of HIV testing while husband's support did not affect the participation of HIV testing at the Namorambe Health Center in Deli Serdang District.
It is recommended for health workers to make efforts to improve the positive attitude of pregnant women to be more empowered and aware of the vulnerability of contracting HIV, especially in mothers with high husband's work mobility so that they can make the right decisions related to prevention of HIV transmission from mother to baby through HIV testing even though they have not received support from husband.
Downloads
Download data is not yet available.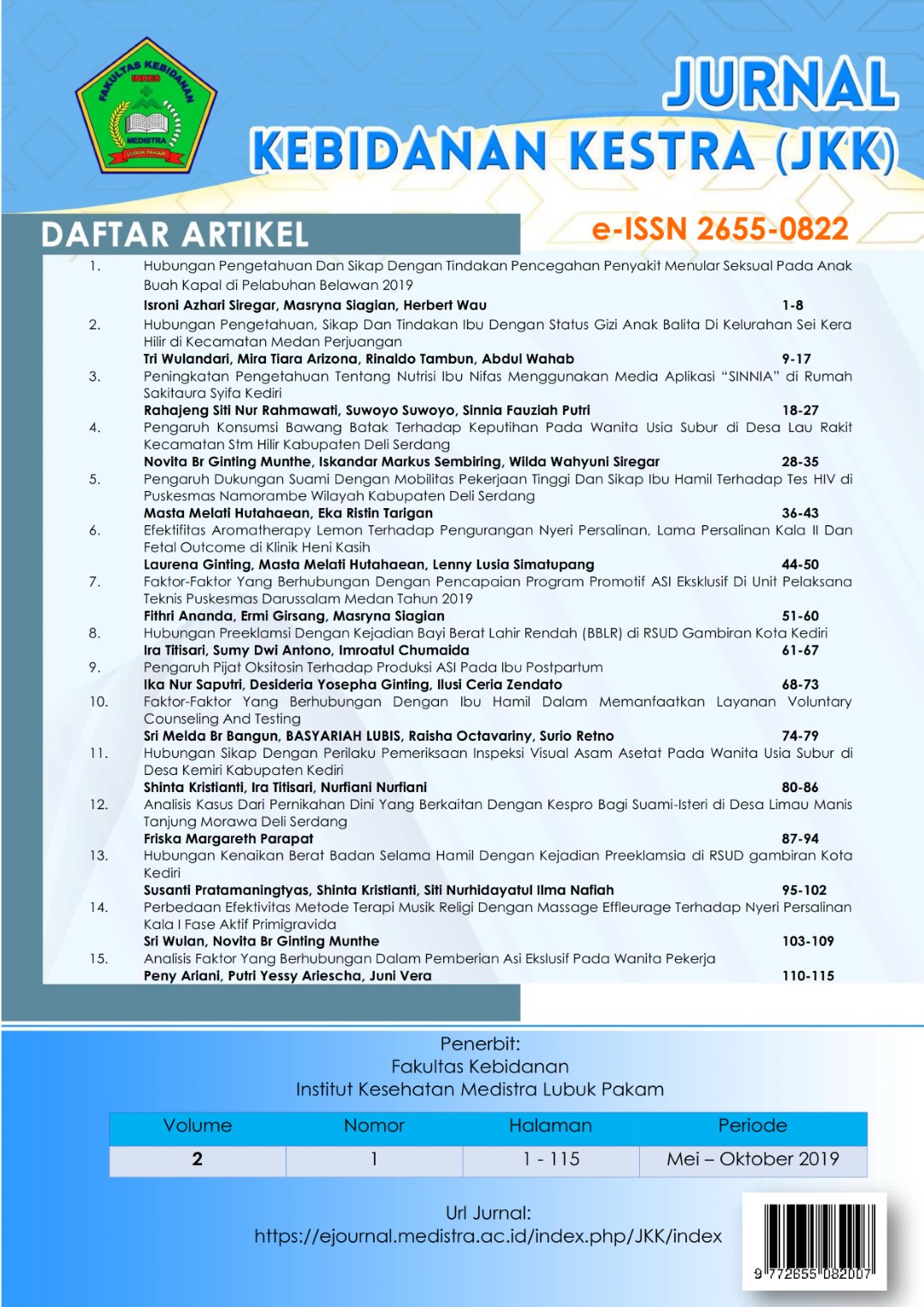 How to Cite
Hutahaean, M., & Tarigan, E. (2019). PENGARUH DUKUNGAN SUAMI DENGAN MOBILITAS PEKERJAAN TINGGI DAN SIKAP IBU HAMIL TERHADAP TES HIV DI PUSKESMAS NAMORAMBE WILAYAH KABUPATEN DELI SERDANG. JURNAL KEBIDANAN KESTRA (JKK), 2(1), 36-43. https://doi.org/10.35451/jkk.v2i1.242
Copyright in each article is the property of the Author.