HUBUNGAN DUKUNGAN KELUARGA DENGAN TINGKAT KECEMASAN IBU HAMIL MENGHADAPI PROSES PERSALINAN DI KLINIK PRATAMATANJUNG KEC DELITUA KAB DELI SERDANG TAHUN 2019
Megawati Sinambela

Institut Kesehatan DELI HUSADA Deli Tua

Reisy Tane

Institut Kesehatan Medistra Lubuk Pakam
Keywords:
anxiety, pregnant women, family support
Abstract
Family emotional support is an important factor for successful delivery time. A woman who has a harmonious relationship whith her husband will have fewer effects of emotional, physical symptoms, and complications during delivery time and adjust post-partum. Anxiety functions as a barometer to measure the level of social support. The purpose of this research is to know the relationship between the anxiety of pregnant women and the family support for delivery time at the  Pratama Tanjung Clinic, Kec. Deli Tua, Kab. Deli Serdang. The method of this research is a servei analitik with cross sectional and technique for collecting sample is Aksidental sampling. The results test that showed there was a significant relationship between family support with the anxiety of pregnant women with P value = 0,020 (P < 0,05) of this research is using the chi-square conclusion the result showed that trere was a significant relationship between the anxiety of pregnant women and the family support for delivery time at pratama tanjung clinic suggestion pregnant women must always control her pregnance and expected to her families to accompany both at home and at the time for checking her pregnancy.
Downloads
Download data is not yet available.
References
Armagutini Y. Determinan Kejadian Komplikasi Persalinan Di Indonesia (Analisis Data Sekunder Survei Demografi dan Kesehatan Indonesia Tahun 2007) Jurnal Ekologi Kesehatan. 2012;11.

Kecemasan Ibu Hamil Menghadapi Kelahiran Anak Pertama Pada Masa Triwulan Ketiga Yogyokarta : Universitas Islam Indonesia.

Depkes RI. Profil Kesehatan Indonesia Tahun 2016. Jakarta: Departemen Kesehatan Republik Indonesia; 2016.

Dinas Kesehatan Provinsi Sumatera Utara. Profil Kesehatan Provinsi Sumatera Utara Tahun 2015. Medan: Dinas Kesehatan Provinsi Sumatera Utara;2015. Friedman, M. 1998 Keperawatan Keluarga, Teori dan Praktek, Jakarta : EGC.
Fitriana. 2013. Hubungan Sosial Dukungan Keluarga Dan Tingkat Kecemasan Ibu Hamil Menghadapi Persalinan di BPS Ambarwati Desa Kebondalam Kecamatan Jambu Semarang Akademi Kebidanan Ngudi Waluyo KTI.
Hidayati, N. 2013. Hubungan Dukungan Suami Dengan Tingkat Kecemasan Ibu Hamil Dalam Proses Persalinan di Puskesmas Margangsan Yogyakarta Skripsi. Universitas muhamamadiyah Yogyakarta.
Kementerian Kesehatan RI. Menuju Persalinan yang Aman dan Selamat agar Ibu Sehat Bayi Sehat: Promkes Jakarta 2016

Setiadi, G. W. 2008. Konsep Dan Proses Keperawatan Keluarga. Cetakan I. Jakarta: Penerbit Graham Ilmu.
Umboh. 2015. Keperawatan Kesehatan Jiwa Komunitas. EGC, Yogyakarta.
Usman, 2016, Metode Mengatasi Cemas Dan Depresi, Yogyakarta.
WHO.Maternal Mortality: World Health Organization; 2015.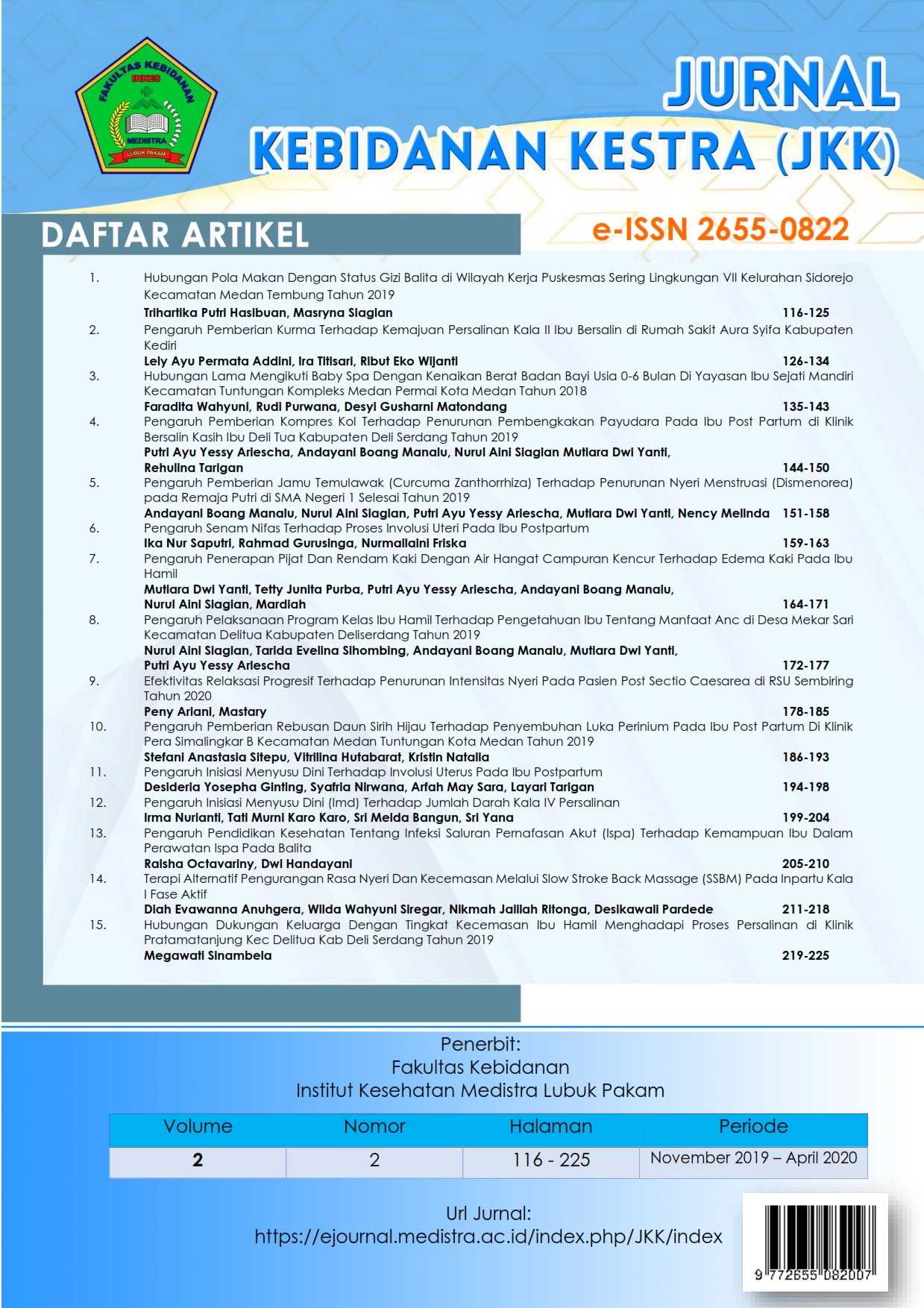 How to Cite
Sinambela, M., & Tane, R. (2020). HUBUNGAN DUKUNGAN KELUARGA DENGAN TINGKAT KECEMASAN IBU HAMIL MENGHADAPI PROSES PERSALINAN DI KLINIK PRATAMATANJUNG KEC DELITUA KAB DELI SERDANG TAHUN 2019. JURNAL KEBIDANAN KESTRA (JKK), 2(2), 219-225. https://doi.org/10.35451/jkk.v2i2.378
Copyright in each article is the property of the Author.