PENGARUH FOOTBATH TREATMENT TERHADAP NYERI POST SECTIO CAESAREA DI RUANG MELATI RSUD DR SOEKARDJO TASIKMALAYA TAHUN 2019
Detty Chotimah

Program Studi Diploma IV Kebidanan Poltekkes Kemenkes Tasikmalaya

Yulia Herliani

Program Studi Diploma IV Kebidanan Poltekkes Kemenkes Tasikmalaya

Endang Astiriyani

Program Studi Diploma IV Kebidanan Poltekkes Kemenkes Tasikmalaya
Keywords:
Post Sectio Caesarea, pain, Foot bath Treatment
Abstract
Sectio caesarea is a surgical procedure in giving birth with an abdominal incision and uterus that have higher morbidity than normal childbirth. Foot bath treatment is one part of post natal spa can release endorphins in the brain which is a natural pain reliever. The purpose of this research is to determine the effect of foot bath treatment on post SC pain in Melati room RSUD dr Soekardjo Tasikmalaya.
This research was used pre eksperimental with pretest posttest design. The research instrument used Numerical Rating Scale (NRS). Sampling technique was used purposive sampling with 30 respondents. Foot bath treatment is done for 15 minutes. The analyzed was by Wilcoxon Signed Rank Test.
The result of this research showed that the scale of pain before getting foot bath treatment is mostly moderate pain as many as 26 peoples (87,7%). The scale of pain after getting foot bath treatment is mostly mild pain as many as 25 peoples (83,3%). The result of the statistical test showed p value 0,000 <0,05 it means there is an effect of foot bath treatment to post SC pain.
Downloads
Download data is not yet available.
References
Black, J & Hawks, J, (2009), Keperawatan Medikal Bedah: Manajemen Klinis untuk Hasil yang diharapkan. Dialihbahasakan oleh Nampira R, Salemba Emban Patria, Jakarta.
Gibbons, L., Jose JAL, (2010). The Global Numbers and Costs of Additionally Needed and Unne Cessary Caesarean Sections Performed per Year:Overase as a Barter to Universal Coverage. World Health Report.
Kemenkes RI, (2013), Riset Kesehatan Dasar: RISKESDAS, Balitbang, Jakarta.
Lalage, Z. (2015), Hidup Sehat dengan Terapi Air. Yogyakarta: Abata Press.
Meiliya, E & Wahyuningsih, (2010), Buku Saku Kebidanan, EGC, Jakarta.
Muttaqin, A, (2008), Buku Ajar Asuhan Keperawatan Klien dengan Gangguan Sistem Persarafan, Salemba Medika, Jakarta.
Patasik, CK, (2013), Efektifitas Teknik Relaksasi Nafas Dalam dan Guided Imagery Terhadap Penurunan Nyeri pada Pasien Post Operasi Sectio Caesarea di Irina D Blu RSUP Prof. Dr. R. D. Kandou Manado.
Rustam, M, (2012), Sinopsis Obstetri: Obstetri Fisiologi, Obstetri Patologi, EGC, Jakarta.
Wahyuni, C, (2016), Pengaruh Pemberian Terapi Rendam Air Hangat Terhadap Nyeri Kram Kaki pada Ibu Hamil Trimester II dan III.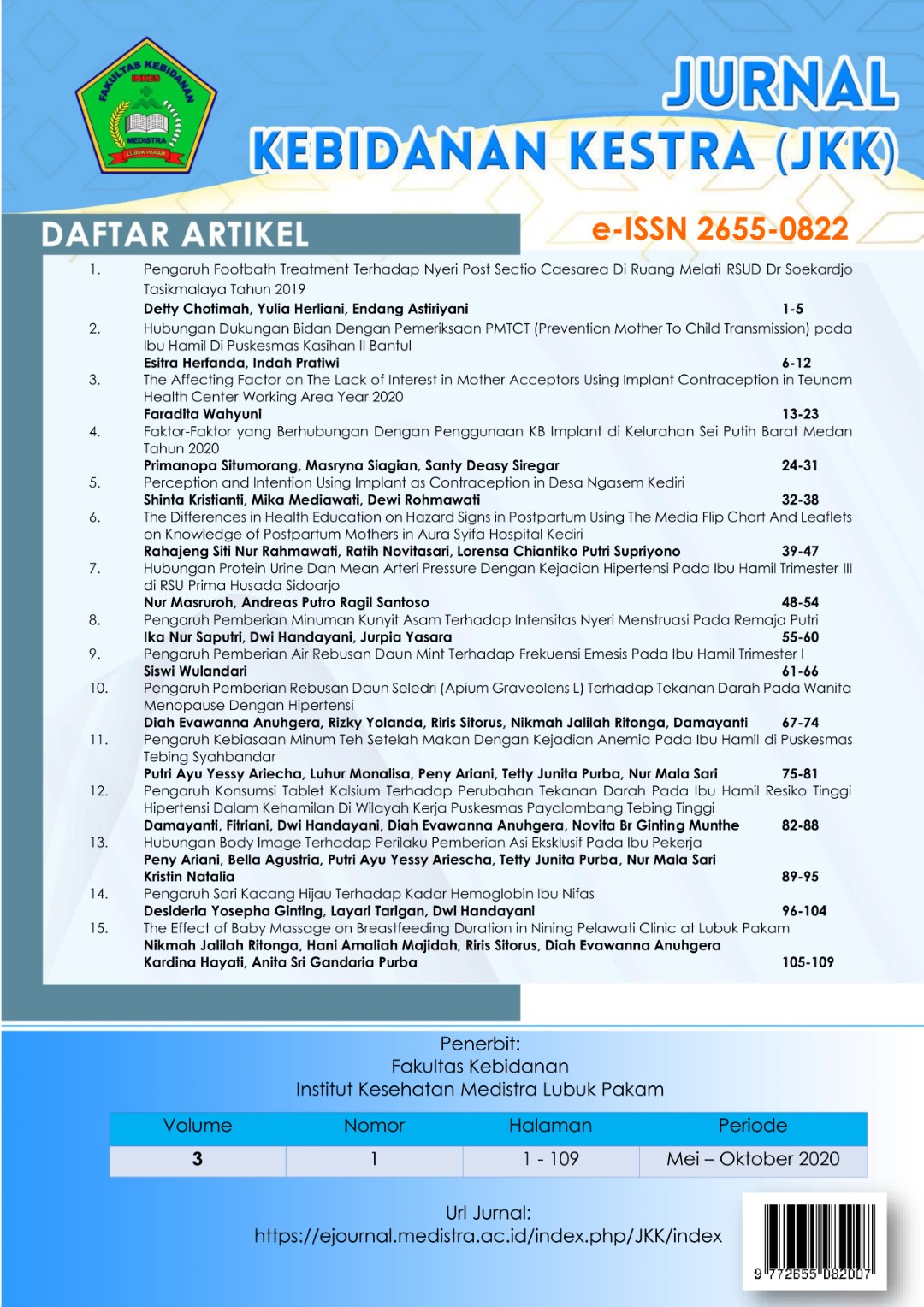 How to Cite
Chotimah, D., Herliani, Y., & Astiriyani, E. (2020). PENGARUH FOOTBATH TREATMENT TERHADAP NYERI POST SECTIO CAESAREA DI RUANG MELATI RSUD DR SOEKARDJO TASIKMALAYA TAHUN 2019. JURNAL KEBIDANAN KESTRA (JKK), 3(1), 1-5. https://doi.org/10.35451/jkk.v3i1.420
Copyright (c) 2020 Detty Chotimah, Yulia Herliani, Endang Astiriyani
This work is licensed under a Creative Commons Attribution-NonCommercial-ShareAlike 4.0 International License.
Copyright in each article is the property of the Author.