THE DIFFERENCES IN HEALTH EDUCATION ON HAZARD SIGNS IN POSTPARTUM USING THE MEDIA FLIP CHART AND LEAFLETS ON KNOWLEDGE OF POSTPARTUM MOTHERS IN AURA SYIFA HOSPITAL KEDIRI
Rahajeng Siti Nur Rahmawati

Poltekkes Kemenkes Malang

Ratih Novitasari

Poltekkes Kemenkes Malang

Lorensa Chiantiko Putri Supriyono

Poltekkes Kemenkes Malang
Keywords:
Postpartum Mothers, Health Education, Knowledge of Hazard Signs, Flip Charts, Leaflets
Abstract
Most maternal deaths occur during the puerperium period so that health workers should be more careful in handling postpartum mothers. There were 8 of the 10 (80%) normal primiparous postpartum mothers in the Aura Syifa Hospital Puerperal Room who did not know about the danger signs during the puerperium. Providing information and health education regarding danger signs during puerperium is one of the efforts in dealing with this. Health education is carried out using the media of leaflets, booklets, flipcharts, and audiovisuals. The purpose of this study was to determine the differences in health education about danger signs during puerperium using flip chart and leaflet media on knowledge of postpartum mothers in Aura Syifa  Hospital Kediri. This study used a Pre-Experimental research design with research design using posttest design. The sampling technique used is simple random sampling. The number of samples in this study were 32 respondents who were in accordance with the inclusion and exclusion criteria which were divided into 2 groups. The Data was collected using questionnaires and data were analyzed using the Mann Whitney U-Test statistical test with a significance value of 0.05. The results of the study shows Ï value of 0.002 <0.05, which means that there is a significant difference in health education about danger signs during puerperium using flip chart media and leaflets on knowledge of postpartum mothers. Thus it is known that flip chart media is more effective than leaflet media in health education on the knowledge of postpartum mothers about danger signs during the puerperium.
Downloads
Download data is not yet available.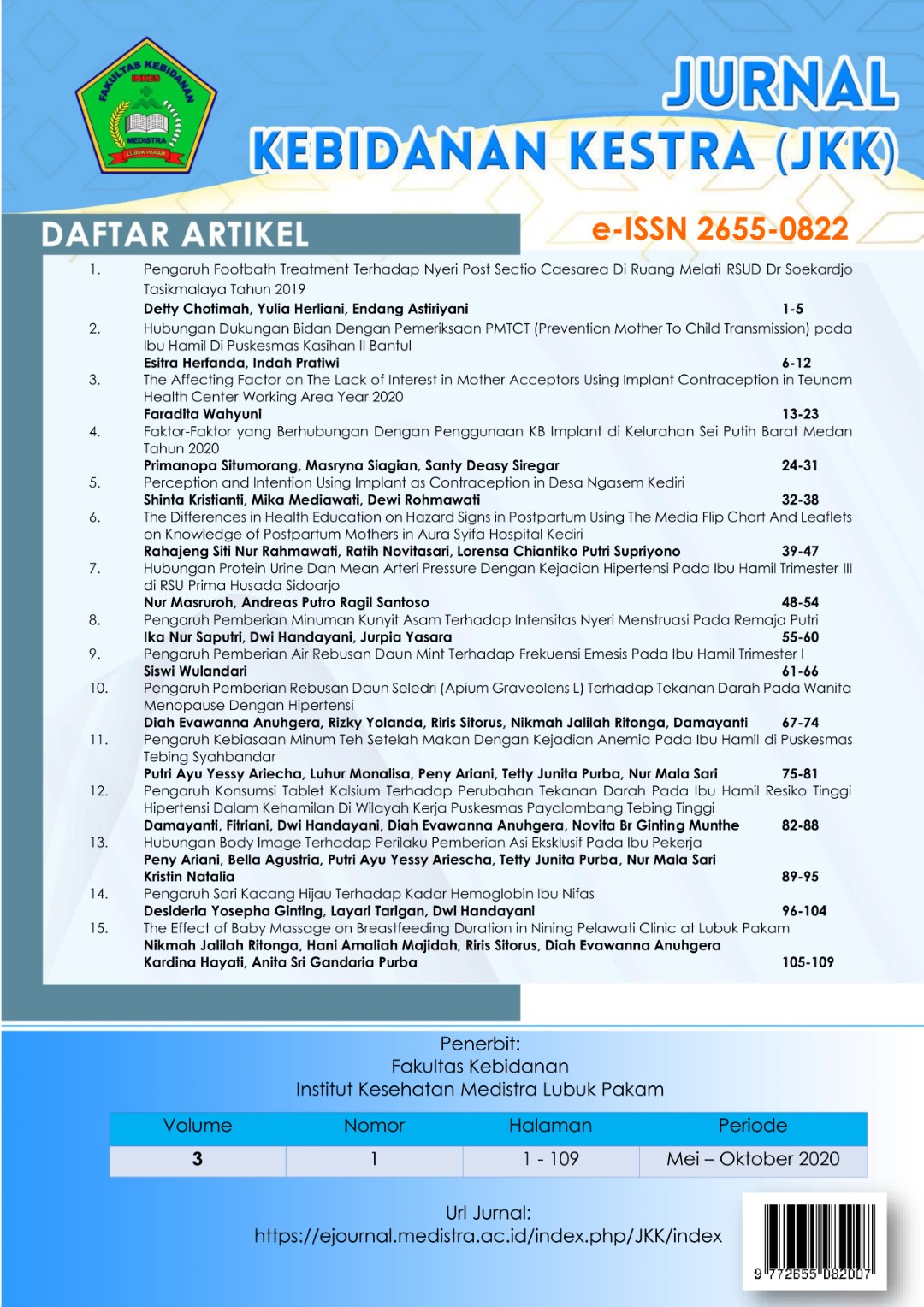 How to Cite
Rahmawati, R., Novitasari, R., & Supriyono, L. (2020). THE DIFFERENCES IN HEALTH EDUCATION ON HAZARD SIGNS IN POSTPARTUM USING THE MEDIA FLIP CHART AND LEAFLETS ON KNOWLEDGE OF POSTPARTUM MOTHERS IN AURA SYIFA HOSPITAL KEDIRI. JURNAL KEBIDANAN KESTRA (JKK), 3(1), 39-47. https://doi.org/10.35451/jkk.v3i1.478
Copyright (c) 2020 Rahajeng Siti Nur Rahmawati, Ratih Novitasari, Lorensa Chiantiko Putri Supriyono
This work is licensed under a Creative Commons Attribution-NonCommercial-ShareAlike 4.0 International License.
Copyright in each article is the property of the Author.