HUBUNGAN PROTEIN URINE DAN MEAN ARTERI PRESSURE DENGAN KEJADIAN HIPERTENSI PADA IBU HAMIL TRIMESTER III DI RSU PRIMA HUSADA SIDOARJO
Nur Masruroh

Universitas Nahdlatul Ulama Surabaya

Andreas Putro Ragil Santoso

Universitas Nahdlatul Ulama Surabaya
Keywords:
Protein urine, mean arterial pressure, hipertensi
Abstract
Preeclampsia is still a major health problem for pregnant women in the world and in Indonesia. These are the three main causes of maternal death. Preeclampsia is a complication in pregnancy characterized by hypertension, protein in the urine and edema in the extremities. This study aims to determine the relationship between urine protein levels and mean arterial pressure in third trimester pregnant women at Prima Husada Hospital Sidoarjo. This research method is cross sectional analytic observation with a sample size of 30 pregnant women. Urine protein levels are obtained by examining using the urine dipstick method. Meanwhile, mean arterial pressure is obtained by measuring the mother's blood pressure and then calculated using a formula to determine the results. Data analysis using Chi Square. Results: Of the 30 respondents, 20% were positive on the examination of protein levels and 30% were positive on the examination of the mean arterial pressure. On examination of urine protein with hypertension, the result was p = 0.272 (> 0.005). The results of the analysis of the relationship between MAP and hypertension obtained p = 0.001 (<0.005). Conclusion: There is no relationship between protein levels and hypertension and there is a relationship between mean arterial pressure and hypertension. It is expected that pregnant women carry out routine pregnancy checks at least 4 times during pregnancy and midwives routinely carry out early detection of preeclampsia to prevent complications in the mother and the fetus.
Downloads
Download data is not yet available.
References
Alatas Haidar. (2019). Hipertensi Dalam Kehamilan. Seminar Nasional Penyakit Tidak Menular Penyebab Kematian Maternal , 2(2), 27–51.
Angelina, R., Nurmainah, N., & Robiyanto, R. (2018). Profil Mean Arterial Pressure dan Tekanan Darah pada Pasien Hipertensi Krisis dengan Kombinasi Amlodipin. Indonesian Journal of Clinical Pharmacy, 7(3), 172. https://doi.org/10.15416/ijcp.2018.7.3.172
Dan, P., Jawab, T., Kesehatan, T., Program, M., Nasional, K., Fakultas, A. A., Kesehatan universitas, I., & Jember, M. (n.d.). PROSIDING SEMINAR NASIONAL 2018 ROLL OVER TEST SEBAGAI PREDIKSI PRE EKLAMSI PADA IBU HAMIL.
Departemen Kesehatan RI. (2018). Riset Kesehatan Dasar 2018. Badan Penelitian dan Pengembangan Kesehatan Kemenkes RI.

Kementrian Kesehatan. (2018). Profil Kesehatan Jawa Timur 2018. 100.
Kurniadi, A., Tanumihardja, T., & Pradiptaloka, E. (2017). STATUS PROTEINURIA DALAM KEHAMILAN DI KABUPATEN SUMBA BARAT DAYA, NUSA TENGGARA TIMUR TAHUN 2016 Proteinuria Status in Pregnancy in Southwest Sumba District, East Nusa Tenggara in 2016. Jurnal Kesehatan Reproduksi, 8(1), 53–61. https://doi.org/10.22435/kespro.v8i1.6332.53-61
Mutiara, B., Amirus, K., Aryastuti, N., Wulandari, R., Sudirahayu, I., Studi, P., Masyarakat, K., Malahayati, U., & Lampung, B. (n.d.). ANALISIS FAKTOR RISIKO YANG MEMPENGARUHI TEKANAN DARAH DAN PROTEIN URINE PADA IBU DENGAN PREEKLAMSIA DI RSUD DR. H. ABDUL MOELOEK PROVINSI LAMPUNG 2017. http://openjurnal.unmuhpnk.ac.id/index.php/JKMK
Özkara, A., Kaya, A. E., Başbuğ, A., Ökten, S. B., Doğan, O., Çağlar, M., & Kumru, S. (2018). Proteinuria in preeclampsia: Is it important? Ginekologia Polska, 89(5), 256–261. https://doi.org/10.5603/GP.a2018.0044
Putro, A., Santoso, R., Laila, M., Studi, P., Kesehatan, D.-I., & Kesehatan, F. (2019). HUBUNGAN LEUKOSIT DENGAN PROTEIN URINE PADA IBU HAMIL TRIMESTER III DI PUSKESMAS KLAMPIS BANGKALAN MADURA. In Medical Technology and Public Health Journal (MTPH Journal) | (Vol. 3, Issue 2).
Rahmaningtyas, I., Sendra, E., Kemenkes, P., Prodi, M., & Kediri, K. (2018). MODEL ASUHAN KEBIDANAN BERBASIS TEORI HELEN VARNEY DALAM DETEKSI DINI PREEKLAMPSIA KEHAMILAN DI RSIA CITRA KELUARGAKOTA KEDIRI The Model Of Hospital Breast Care Based On Varney Helen Theory In Early Detection Of Preeclampsia Pregnancy In Citra Family Kediri City (Vol. 2, Issue 1).
Rayvita. (2010, July). Mean Arterial Pressure Postresusitasi Sebagai Prediktor Keluaran Pasien Cedera Otak Traumatik Berat Dengan Gambaran CT Cedera Difus. Diponegoro University Repository. https://core.ac.uk/reader/11722634
RUMELIA LUBINA SEMBIRING. (2018). Aktivitas Fisik, Stress, Mean Arterial Pressure (MAP), Roll Over Test (ROT) Dan Kortisol Sebagai Prediktor Hipertensi Pada Kehamilan. http://digilib.unhas.ac.id/uploaded_files/temporary/DigitalCollection/OWM1ZjFlNjg1NmNiZWQ1Y2M3ZWI4ZTgwM2I1NjUwNDMzOWIzMDY5ZQ==.pdf
Sari, P., Hapsari, D., Dharmayanti, I., Kusumawardani, N., Teknologi, P., Kesehatan, I., Litbangkes, B., Ri, K., Percetakan, J., & No, N. (n.d.). FAKTOR-FAKTOR YANG BERPENGARUH TERHADAP RISIKO KEHAMILAN "4 TERLALU (4-T)" PADA WANITA USIA 10-59 TAHUN (ANALISIS RISKESDAS 2010).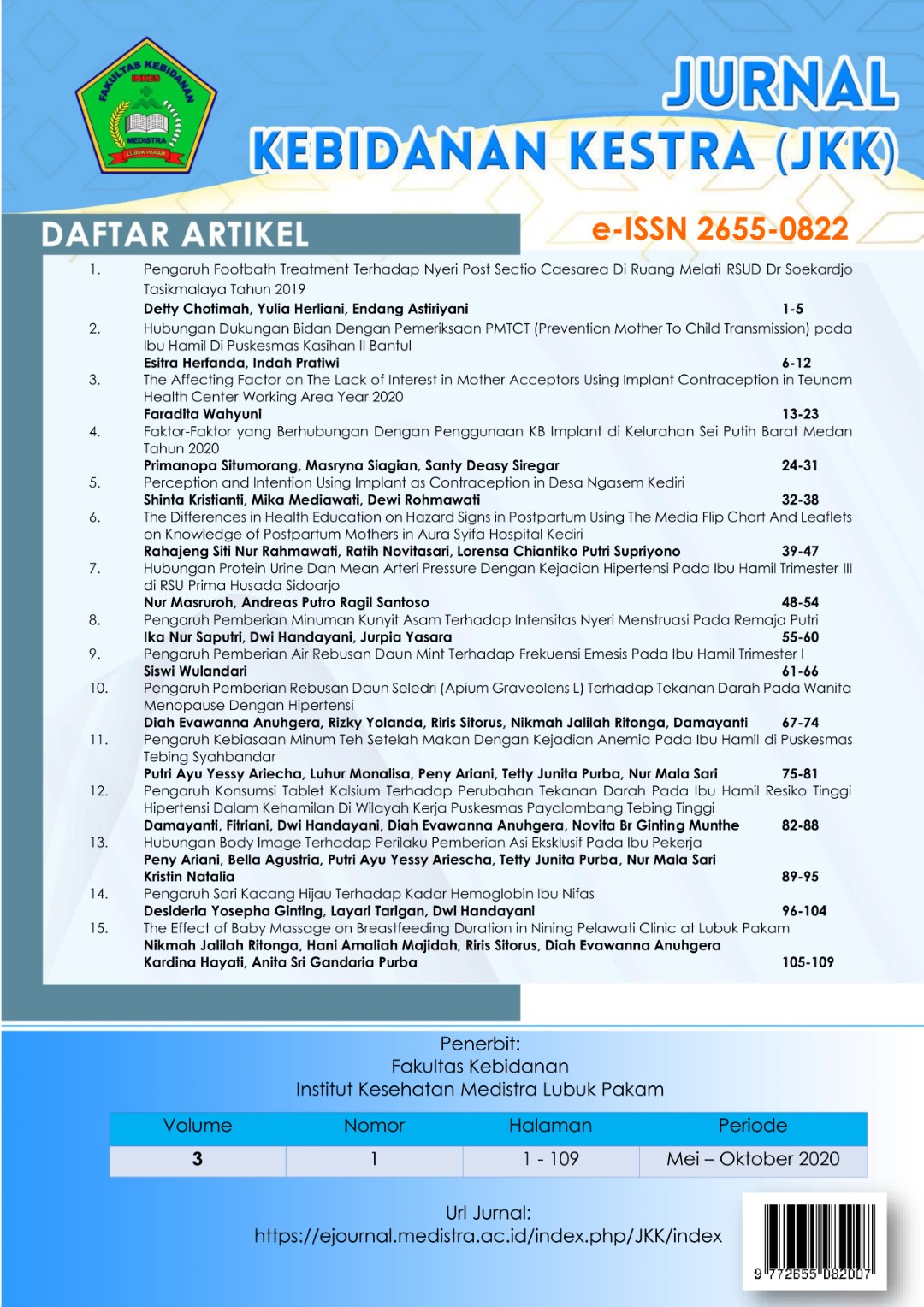 How to Cite
Masruroh, N., & Santoso, A. (2020). HUBUNGAN PROTEIN URINE DAN MEAN ARTERI PRESSURE DENGAN KEJADIAN HIPERTENSI PADA IBU HAMIL TRIMESTER III DI RSU PRIMA HUSADA SIDOARJO. JURNAL KEBIDANAN KESTRA (JKK), 3(1), 48-54. https://doi.org/10.35451/jkk.v3i1.479
Copyright (c) 2020 Nur Masruroh, Andreas Putro Ragil Santoso
This work is licensed under a Creative Commons Attribution-NonCommercial-ShareAlike 4.0 International License.
Copyright in each article is the property of the Author.