The Relationship Of Obesity And The Use Of Hormonal Contraceptions To The Event Of Late Menopause In Women Aged 55-65 Years
Selli Marlina Pasaribu

STIKes Senior Medan

Faradita Wahyuni

Institut Kesehatan Medistra Lubuk Pakam
Keywords:
Keywords: Late menopause, Hormonal Contraception, Obesity
Abstract
WHO estimates that 25 million women worldwide enter menopause, data by 2018 around 500 million menopausal women worldwide, then by 2030 an estimated 1.2 billion women experience menopausal syndrome almost worldwide. Late menopause increases the risk of breast cancer, cervical cancer, and ovarian cancer in women. This study aims to analyze Determinants Affecting Menopause Slow Events in Women Age 55-65 Years. This research is an observational analytic research with case control design that case group experiencing menopause slowly amount to 49 responden and control group not experiencing menopause slow amounted 49 respondents. Data collection by interview using questionnaire. Method of data analysis by univariate analysis, bivariate analysis with simple logistic regression test and multivariate analysis with multiple logistic regression test.The results showed that there was an effect of obesity (p = 0,015 and hormonal contraceptive use (p = 0,027), with menopausal incidence in women aged 55-65 years at Bromo Puskesmas Medan. The results of multiple logistic regression test showed that dominant variables that influence the incidence of menopause slowly in women aged 55-65 years is obesity (OR = 2,504).Based on the results of research is expected for health workers to be able to improve services optimally, especially in providing various knowledge about menopause slow and set healthy lifestyle such as balanced diet, and maintain ideal body weight
Downloads
Download data is not yet available.
References
Fairus, M., Prasetyowati., 2011. Gizi dan Kesehatan Reproduksi. Jakarta: EGC.
Fox-Spencer, R, dan Brown, P, 2007. Osteoporosis.Erlangga. Jakarta:EGC
Infodatin Lansia, 2013, SituasiLanjutUsia di Indonesia. Pusat Data dan InformasiKementerian Kesehatan RIISSN 2442-7659
Kasdu, Dini., 2002. Kiat Sehat dan Bahagia di Usia Menopause.
Kaczmarek, Maria. 2007. The timing of natural menopause in Poland and associatedfactors. Maturitas 57 (2007) 139–153
Kemenkes RI, 2013. Angka Kecukupan gizi yang Dianjurkan bagi Bangsa Indonesia,Permenkes No. 75 Tahun 2013.
Masruroh. 2012. Hubungan Antara Penggunaan Kontrasepsi Hormonal dengan UsiaMenopause. Fakultas Imu Kesehatan Universitas Darul Ulum Jombang.
Proverawati, A., 2013. Menopause dan SindromePremenopause,Yogyakarta: Nuha Medika
Surakasula, A., Nagarjunapu, G. C., Raghavaiah, K. V., 2014. A Comparative Studyof Pre- and Post-Menopausal Breast Cancer: Risk Factors, Presentation,Characteristics and Management.Journal of Research in Pharmacy Practice.Volume: 3.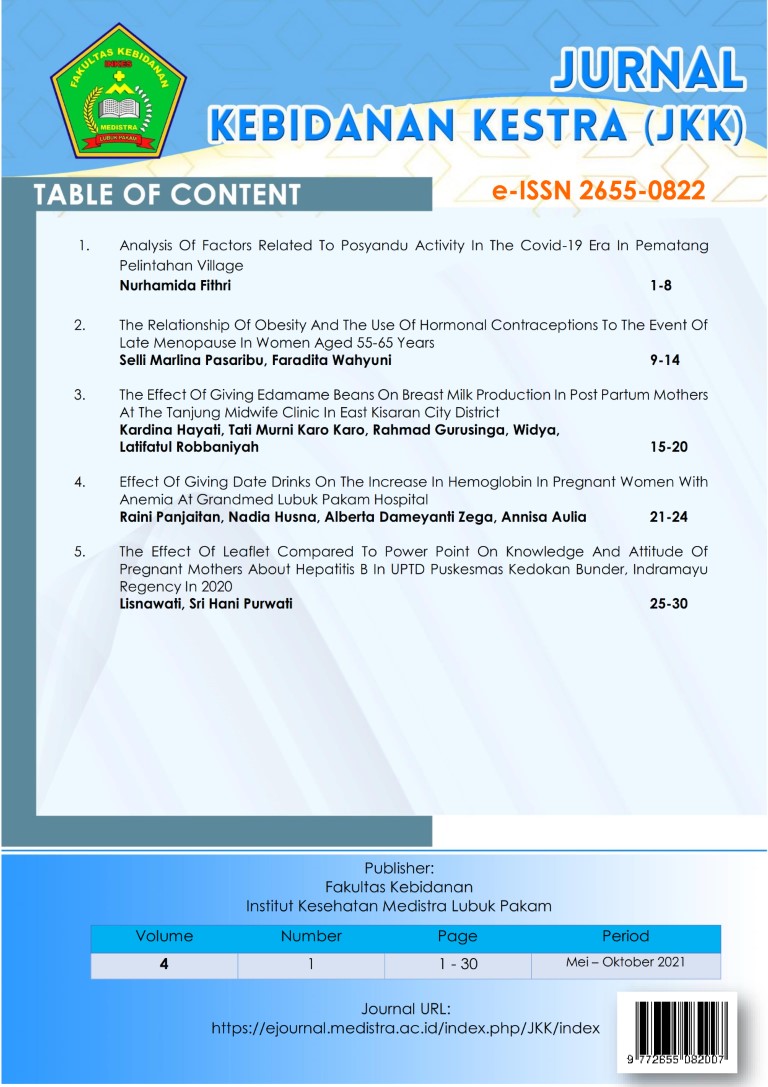 How to Cite
Pasaribu, S., & Wahyuni, F. (2021). The Relationship Of Obesity And The Use Of Hormonal Contraceptions To The Event Of Late Menopause In Women Aged 55-65 Years. JURNAL KEBIDANAN KESTRA (JKK), 4(1), 9-14. https://doi.org/10.35451/jkk.v4i1.797
Copyright (c) 2021 Selli Marlina Pasaribu
This work is licensed under a Creative Commons Attribution 4.0 International License.
Copyright in each article is the property of the Author.