The Effect Of Leaflet Compared To Power Point On Knowledge And Attitude Of Pregnant Mothers About Hepatitis B In UPTD Puskesmas Kedokan Bunder, Indramayu Regency In 2020
Lisnawati .

Poltekkes Kemenkes Tasikmalaya

Sri Hani Purwati

Poltekkes Kemenkes Tasikmalaya Prodi Kebidanan Cirebon
Keywords:
Leaflet, PowerPoint, knowledge, attitude, Hepatitis B
Abstract
Introduction: Every year Hepatitis B has experienced a very rapid increase from <1% up to now reaching 5%, it is estimated that worldwide has a history of Hepatitis B and has Hepatitis B up to 2 billion people. Pregnant women have a high risk of transmitting infections around 1.5 to 2.5% of pregnant women worldwide who have Hepatitis B. Areas with the highest risk include the Mediterranean, Middle East (Gulf countries, Saudi Arabia and Turkey), Pakistan, Central, and North Asia namely Japan, Taiwan, Greenland and Africa, the Amazon basin and certain regions of the Indonesia Pacific. This study aims to determine the effect of leaflets versus power points on the knowledge and attitudes of pregnant women about Hepatitis B.
Methods: analytical research with Quasi-experiment technique with pretest and posttest Two Group Design designs taken with accidental sampling technique obtained a sample of 20 people in the leaflet group and 20 people in the powerpoint group. The instrument used was a questionnaire created by researchers who had tested the validity and reliability. The analysis used in the knowledge variable uses the Wilcoxon test and in the attitude, variable use the Mcnemar test. To know the comparison of knowledge using the Independent t-test and the attitude using the Chi-square test.
Results: the results of the independent t-test were used to find out the comparison between the leaflet group and the PowerPoint group, the p-value was 0.206, and the chi-square test between the leaflet group and the PowerPoint group obtained a p-value of 1,000.
Conclusion: there was no difference in the effect of using leaflets compared to power points on the knowledge and attitudes of pregnant women about Hepatitis B in UPTD Puskesmas Kedokan Bunder Indramayu Regency in 2020.
Downloads
Download data is not yet available.
References
Devi Nurmalina (2012) Pengruh Program Mentoring Keperawatan TerhadapPenerapan Budaya Keselamatan Pasien Di Ruang Rawat Inap RS Islam Sultan Agung Semarang, Fmipa Ui.
Haryono, R. (2013) 'Pengaruh pendidikan kesehatan terhadap perubahan pengetahuan dan perilaku dalam penggunaan masker pada pekerja funiture disukoharjo'.
Hertanto, N. (2010) 'Perbedaan Pengaruh Pemberian Ceramah dan Leaflet Pada Perilaku Swamedikasi Diare Ibu-Ibu PKK di Dusun Nglawisan Desa Tamanagung Kecamatan Muntilan', Skripsi, pp. 47–49.
Mustika, S. and Hasanah, D. (2018a) 'Prevalensi Infeksi Hepatitis B pada Ibu Hamil di Malang', Jurnal Kedokteran Brawijaya. Brawijaya University, 30(1), p. 76. doi: 10.21776/ub.jkb.2018.030.01.1 3.
Notoatmodjo, S. (2012) Promosi Kesehatan dan Perilaku Kesehatan. Jakarta: Rineka Cipta.
Sugiyono, P. D. (2019) Metode Penelitian Kuantitatif Kualitatif. 2nd edn. Edited by M. Dr. Ir. Sutopo.S.Pd. bandung: Alfabeta.
Tjahjono, M. E. L. (2017) 'Hubungan Tingkat Pengetahuan dan Sikap Ibu Hamil Dengan Kepatuhan Melakukan Pemeriksaan Laboratorium Sewaktu Hamil Di Puskesmas Jenangan Kabupaten Ponorogo'.
Umaya, I. (2017) 'Pengembangan Media Pembelajaran Berbasis Leaflet Pada Materi Sistem Sirkulasi Kelas XI MAN 1 Makasar', Universitas Nusantara PGRI Kediri, 01, pp. 1–7. Available at: http://www.albayan.ae.
WHO (2015) 'Guidelines for the prevention, care and treatment of persons with chronic hepatitis B infection', Guidelines for the prevention, care and treatment of persons with chronic hepatitis b infection, (March), p. 166. doi: 10.1186/1471-2334-13-288.
Yulianasari, P., Nugraheni, S. A. and Kartini, A. (2019) 'Pengaruh Pendidikan Gizi Dengan Media Booklet Terhadap Perubahan Perilaku Remaja Terkait Pencegahan Kekurangan Energi Kronis (Studi Pada Kelas Xi Di SMA Negeri 14 Dan Sma Negeri 15 Kota Semarang) Jurnal Kesehatan Masyarakat (e- Journal), 7(4), pp. 420–428.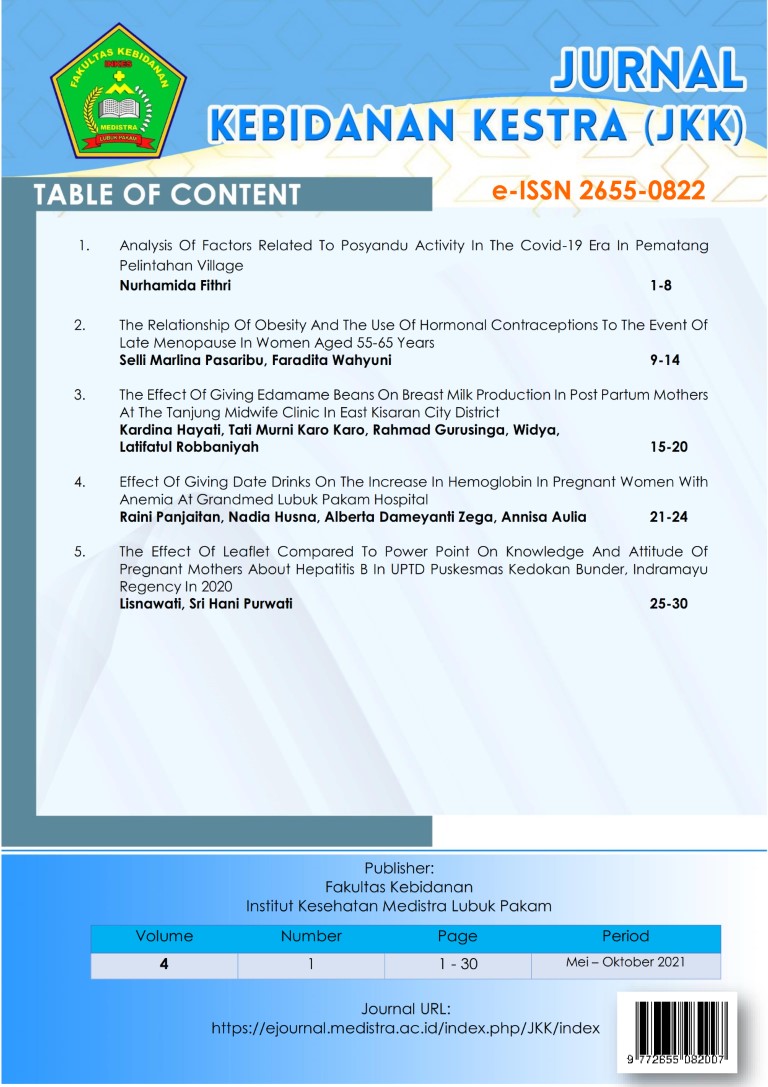 How to Cite
., L., & Purwati, S. H. (2021). The Effect Of Leaflet Compared To Power Point On Knowledge And Attitude Of Pregnant Mothers About Hepatitis B In UPTD Puskesmas Kedokan Bunder, Indramayu Regency In 2020. JURNAL KEBIDANAN KESTRA (JKK), 4(1), 25-30. https://doi.org/10.35451/jkk.v4i1.876
Copyright (c) 2021 Lisnawati ., Sri Hani Purwati
This work is licensed under a Creative Commons Attribution 4.0 International License.
Copyright in each article is the property of the Author.