Effects of Counseling on the Preparation of Labor For pain of Labor
Titin Novayanti Dey

Institut Kesehatan Medistra

Yurizki Telova

Institut Kesehatan Medistra Lubuk Pakam
Keywords:
primigravida, counseling, pain of labor
Abstract
Mothers who get additional information during pregnancy about how preparations and processes during labor later will greatly assist mothers in understanding kedaannya and reduce excessive anxiety. This study aims to analyze the influence of counseling on delivery preparation for labor pain in the intervention group and control group. This research is a kind of quasi experiment research, that is difference of mother primigravida given counseling about delivery preparation as intervention group and mother primigravida not given counseling about delivery preparation as control group. A sample of 15 people in the intervention group and 15 people in the control group. Then filled the questionnaire VAS (visual analogue scale) to assess pain after childbirth. Data were analyzed using mann-whitney test. The results showed that all control groups felt very severe pain level at the time of delivery of 15 people (60.0%) while the intervention group of pain level that was felt during the most labor was very heavy pain 10 people (40.0%), severe pain 4 people (100%) and moderate pain 1 person (100%).
Downloads
Download data is not yet available.
References
Eni K., Lestari P., & Diah D. (2012). Efektivitas tehnik relaksasi nafas dalam terhadap tingkat nyeri persalinan kala I di Wilayah Kerja Puskesmas Tlogosari Wetan Semarang. Jurnal Kebidanan, 4(02):93-100. http://ejurnal.stikeseub.ac.id/index.php/jkeb/article/view/104
Evelyn A. & Vera C. (2015). A Narrative inquiry into women's perception and experience of labour pain : A Study in The Western Region Of Ghana. International Journal Of Africa Nursing Scienc,3:86-93. https://www.sciencedirect.com/science/article/pii/S2214139115000268
Farihah I. (2014). Pengaruh pendamping persalinan dan paritas terhadap pengurangan rasa nyeri kala I fase aktif pada ibu bersalin normal (Tesis). Sukarta : Universitas Sebelas Maret.
Fujita W., Leshabari S., Mlay D.E., & Ohashi K. (2017). Tanzanian women's coping and understanding of labour: A qualitative study at the Amtulabhai Antenatal Clinic. International Journal of Africa Nursing Science, 7:4-10. https://www.sciencedirect.com/journal/international-journal-of-africa-nursing-sciences/vol/7/suppl/C
Nike S.O., Supriadi G., & Ieva B. (2013). Perbandingan efek musik klasik mozart dan musik tradisional gamelan jawa terhadap pengurangan nyeri persalinan kala I fase aktif pada nulipara. MBK, 45(4):218-225. http://journal.fk.unpad.ac.id/index.php/mkb/article/view/174
Yogi P. (2006). Efektivitas senam sebagai pelayanan prenatal dalam menurunkan kecemasan menghadapi persalinan pertama. INSAN, 8(2):136-145. https://www.researchgate.net/publication/338612098_Efektivitas_Senam_Hamil_sebagai_Pelayanan_Prenatal_dalam_Menurunkan_Kecemasan_Menghadapi_Persalinan_Pertama
Sumarah. (2009). Perawatan Ibu Bersalin : Asuhan Kebidanan Pada Ibu Bersalin. Yogyakarta : Fitramaya.
Yogyakarta : Fitramaya.
Titi A. & Mashaurani Y. (2013). Pengaruh posisi tegak (upright) terhadap rasa nyeri dan lamanya kala I persalinan ibu primipara. Jurnal Keperawatan, 9(1):87-94. https://ejurnal.poltekkes-tjk.ac.id/index.php/JKEP/article/view/276
Triani Y. & Novita N. (2013). Pendampingan suami dan skala nyeri pada pesalinan kala I fase aktif. Bidan Prada,4(1):1-14. https://onesearch.id/Record/IOS1299.article-26
Wilis S. & Prahesti A. (2016). Efektivitas endorphine massage terhadap tingkat kecemasan ibu bersalin primipara. Bidan Prada,7(1):53-62. https://ojs.stikesylpp.ac.id/index.php/Prada/article/view/141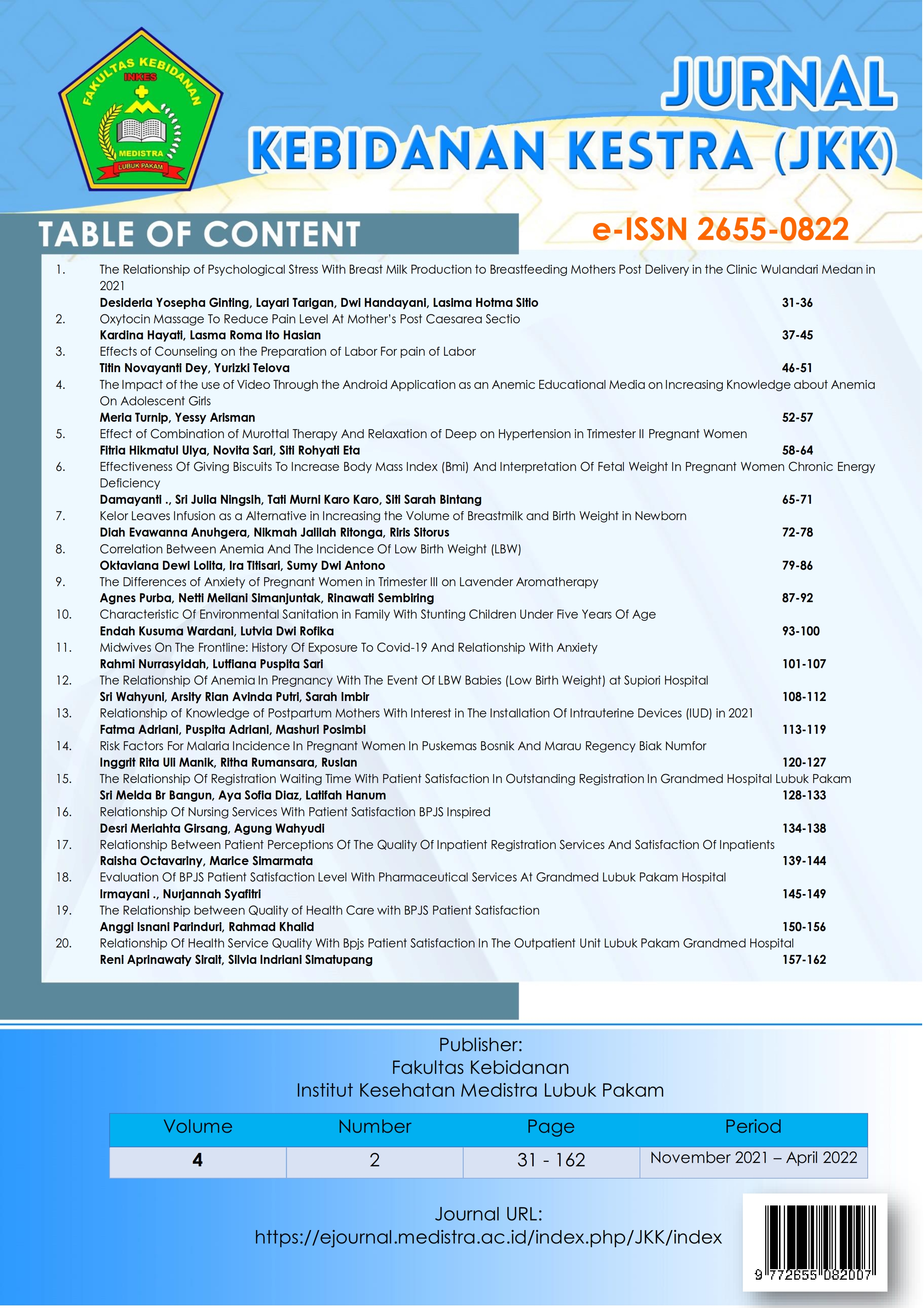 How to Cite
Dey, T., & Telova, Y. (2022). Effects of Counseling on the Preparation of Labor For pain of Labor. JURNAL KEBIDANAN KESTRA (JKK), 4(2), 46-51. https://doi.org/10.35451/jkk.v4i2.971
Copyright (c) 2022 Titin Novayanti Dey, Yurizki Telova
This work is licensed under a Creative Commons Attribution 4.0 International License.
Copyright in each article is the property of the Author.