PENGARUH TEKHNIK DISTRAKSI BERCERITA TERHADAP NYERI ANAK USIA PRASEKOLAH PADA SAAT PEMASANGAN INFUS DI RUMAH SAKIT GRANDMED LUBUK PAKAM TAHUN 2018
Kardina Hayati

Institut Kesehatan Medistra Lubuk Pakam

Syatriawati Syatriawati

Institut Kesehatan Medistra Lubuk Pakam

Arphyta Wahyuni

Institut Kesehatan Medistra Lubuk Pakam
Keywords:
distraction technic, pain scale preschoolers, blood sampling
Abstract
ABSTRACT
            The first crisis that often must be faced by child which  nursed was hospitalization. One of the frequently performed invasive procedure in children who experienced hospitalization and can result in pain is Blood sampling. Storytelling technic is one of distraction techniques to reduce pain in children is. This research is purpose to get an idea of whether there is the effect of distraction technic on the pain scale storytelling to preschoolers during blood sampling action in the inpatient unit in GrandMed Hospital. This study was experimental with the population of all preschool children aged six years. The samples of this study were eleven control groups and eleven intervention groups. With technique of sampling using purposive sampling technique and analysis used is the t independent. The result showed that there was a significant relationship between storytelling distraction technic against pain scale measure children during blood sampling (value : 0,001 ; 0,05). Further research was expected to do other models of distraction technic to reduce pain invasive measures such as blood sampling.
Downloads
Download data is not yet available.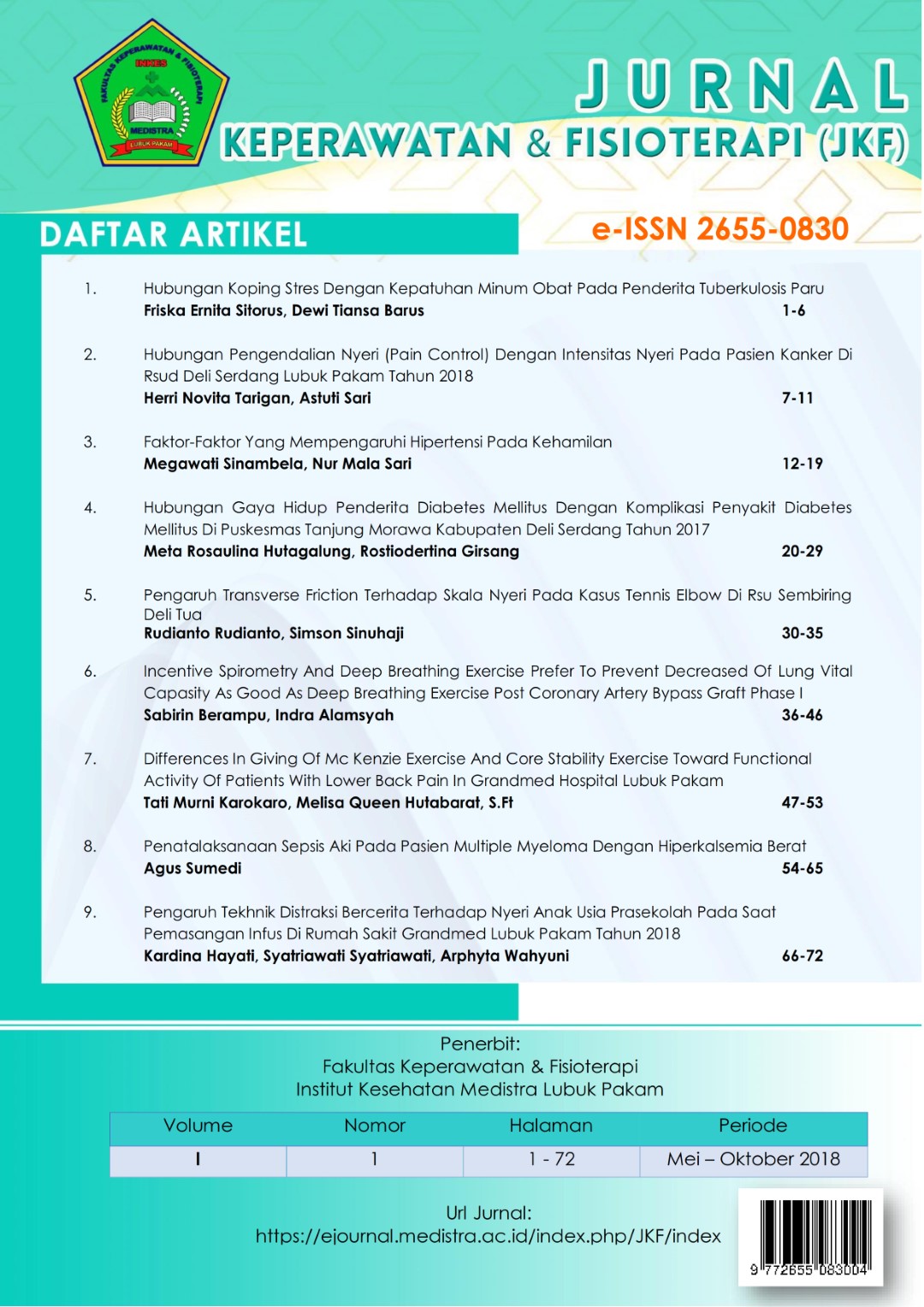 How to Cite
Hayati, K., Syatriawati, S., & Wahyuni, A. (2018). PENGARUH TEKHNIK DISTRAKSI BERCERITA TERHADAP NYERI ANAK USIA PRASEKOLAH PADA SAAT PEMASANGAN INFUS DI RUMAH SAKIT GRANDMED LUBUK PAKAM TAHUN 2018. JURNAL KEPERAWATAN DAN FISIOTERAPI (JKF), 1(1), 66-72. https://doi.org/10.35451/jkf.v1i1.103
Copyright in each article is the property of the Author.