PENGARUH TRANSVERSE FRICTION TERHADAP SKALA NYERI PADA KASUS TENNIS ELBOW DI RSU SEMBIRING DELI TUA
Rudianto Rudianto

Institut Kesehatan Medistra Lubuk Pakam

Simson Sinuhaji

Institut Kesehatan Medistra Lubuk Pakam
Keywords:
Transverse friction in tennis elbow
Abstract
Data were obtained from Sembiring Deli Tua Hospital in Medan indicates that the number of patients with tennis elbow in January – June 2015 as many as 30 people suffering from tennis elbow on the elbow as a result of uncontrolled movement that lead to pain in the elbow area. The purpose of this study was to determine the effect of the transverse friction due to tennis elbow pain scale of the Elisabeth Hospital in Medan. This type of research is descriptive with the entire patient population that numbered 30 people tennis elbow, samples 23 people, the received data is primary data obtained directly from the respondents. Data were analyzed descriptively by looking at the percentage of the collected data. From the result of this study showed that in the entire sample frequency distribution of respondents by sex that many have tennis elbow is the female gender with a number of  15 people (65.2%), while the distribution of the samples by age that many have tennis elbow is the age of 30-35 years old (43.5%), while the distribution of the samples based on the job that many have tennis elbow is a housewife with a number of 10 people (43.5%).Based on this study it can be concluded that there is  the influence of transverse friction in patients with tennis elbow.
Downloads
Download data is not yet available.
References
Aras, Djohan, "Manual Terapi pada Tennis Elbow", Makalah ini disampaikan pada TITAFI XII, Ujungpandang,1996. Diakses tanggal 20 Maret 2015

Arikunto, Suharsimi 2013"Prosedur Penelitian : Suatu pendekatan Praktik" Jakarta : Rineka Cipta.

Cyriax, James, "Textbook Of Orthopaedic Medicine", Ninth Edition, Baillrere Tindall, London, 2007.

Dorland, W.A. Newman. 2002. Kamus Kedokteran Dorland, alih bahasa Huriwati Hartanto, dkk., edisi 29. EGC, Jakarta.

Durall, C. 2011. Adhesiva Capsulitis. In: Brotzman, S.B., Manke, R.C., editors. Clinical Orthopedic Rehabilitation : an evidence - based.Second edition.Philadelphia :Elsevier.

Ehrlich, GE. 2003. Tennis Elbow. Bulletin of the World Health Organization ;81(9): 671-676.

Suharto. Fisioterapi pada Tennis Elbow tipe II. CDK. 2000; 129.

Taylor, M. P & Taylor, K. D. (2007). Mencegah Dan Mengatasi Cedera Olahraga. PT Rajagrafindo Persada. Jakarta

Wibowo Hardianto, Buku Kedokteran, EGC, Jakarta, 2010.

Wilson, Jacob. 2001. "Superficial Muscles of the Back Part II". Available at http://www.abcbodybuilding.com.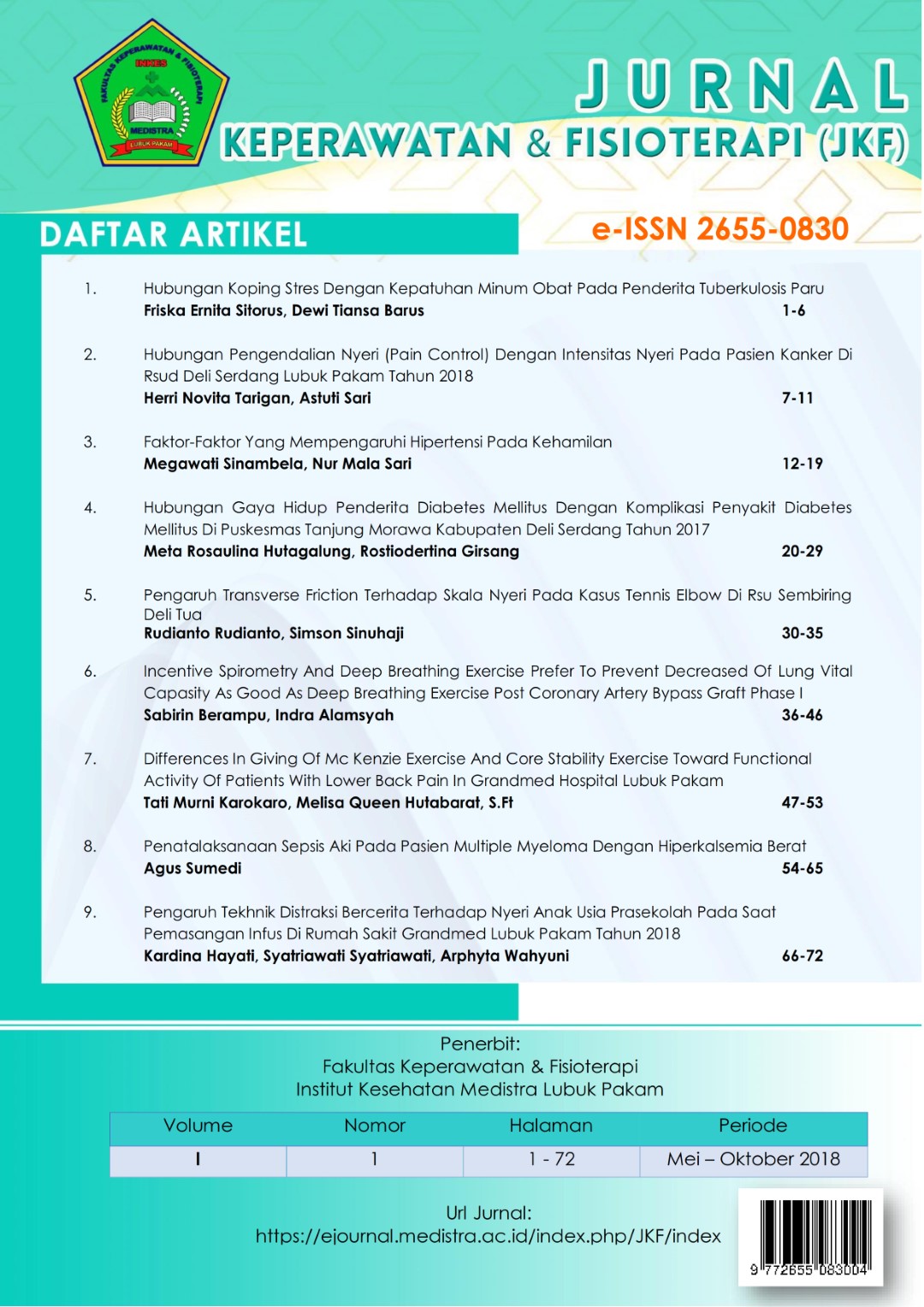 How to Cite
Rudianto, R., & Sinuhaji, S. (2018). PENGARUH TRANSVERSE FRICTION TERHADAP SKALA NYERI PADA KASUS TENNIS ELBOW DI RSU SEMBIRING DELI TUA. JURNAL KEPERAWATAN DAN FISIOTERAPI (JKF), 1(1), 30-35. https://doi.org/10.35451/jkf.v1i1.105
Copyright in each article is the property of the Author.