Factors Relating To Pregnant Mothers Not Taking Antenatal Care Visits During The Covid-19 Pandemic
Sri Wulan

INSTITUT KESEHATAN MEDISTRA LUBUK PAKAM

https://orcid.org/0000-0002-9730-0864

Novita Br Ginting Munthe

Institut Kesehatan Medistra Lubuk Pakam

Basyariah Lubis

Institut Kesehatan Medistra Lubuk Pakam
Keywords:
pregnant women, ANC visits.
Abstract
Covid 19 is a type of virus that is endemic and can be life-threatening, everyone can be exposed to the virus including pregnant women and pregnant women are one of the groups at risk from the virus, therefore there are pregnant women who do not come to check their pregnancy during this pandemic. Pregnancy check-ups are very important to monitor the condition of the mother and fetus. The sample used was pregnant women who visited for ANC at the Obgyn Clinic at Grandmed Lubuk Pakam Hospital. Sampling technique using accidental sampling technique. The data were analyzed using the chi square test (> 0.05). The results obtained indicate that there is a relationship between age factor and ANC visits (0.02), there is a relationship between education factors and ANC visits (0.00), there is no correlation between parity factors and ANC visits (0.75), there is a relationship between knowledge and visits. ANC (0.04), there is a relationship between husband's support and ANC visits (0.01) and there is no relationship between work and ANC visits (0.19). So it can be concluded that there are 4 factors related to pregnant women not having ANC visits and there are 2 factors that are not related. It is recommended for pregnant women to continue to make ANC visits even during a pandemic using health protocols
Downloads
Download data is not yet available.
References
Ike, Putri.H.T, dan Fujiana.F. (2021). Hubungan dukungan keluarga dengan tingkat Kecemasan ibu hamil dalam melakukan Kunjungan antenatal care (anc) Pada masa pandemi covid-19 Di Kelurahan Sagatani. Jurnal ProNers, Volume No 6,No.1.
Megawai. S dan Solina, E. (2021). Analisis faktor - faktor yang mempengaruhi ibu hamil Terhadap pemeriksaan antenatal care (ANC) Selama pandemi covid-19 di Puskesmas Talun Kenas. Jurnal Kebidanan Kestra (JKK), e-ISSN 2655- 0822. Vol. 3 No.2 Edisi https://ejournal.medistra.ac.id/ index.php/JKK
Rahmi.N, Safitri.F, Husna.A, Andika.F dan Yanti. S. (2021). analisis faktor yang berhubungan dengan kunjungan antenatal care (ANC) selama pandemi covid 19 di Wilayah Kerja Puskesmas Sialang Kabupaten Aceh Besar. Journal of Healthcare Technology and Medicine Vol. 7 No. 2 Universitas Ubudiyah Indonesia e-ISSN : 2615-109X.
Reni. F. (2021). Faktor-Faktor yang Berhubungan dengan Perilaku Ibu terhadap Kelengkapan Kunjungan Antenatal Care (ANC) di Masa Pandemi Covid- 19. Jurnal Ilmu Kesehatan Dharmas Indonesia Volume 01 Nomor 2. e-ISSN: 2807-8454.
Ruslinawati, Azizah, dan Wulandatika. D (2021). Factors Related To Frequency of Antenatal Care Visits In Pregnant Women During The Covid-19 Pandemic In Pekauman Health Center Banjarmasin. Journal Midwifery and Reproduction Vol. 5 No. 1.
Sari. I.D, Wahyuni, N dan Sucipto. D. C. (2021). Hubungan Pengetahuan, Paritas, Pekerjaan Ibu dengan Keteraturan Kunjungan Ibu Hamil untuk ANC selama Masa Pandemi Covid- 19. Jurnal Kesehatan Primer Vol 6, No 1 Mei, pp. 22-31 P-ISSN 2549-4880, E-ISSN 2614-1310.
Susanto.P.Y dan Aspar.H, (2021). Faktor Determinan Pada Cakupan Kunjungan Antenatal Care Di Masa Pandemi Covid-19 Di Puskesmas Kassi-Kassi Makassar. Jurnal Kesehatan Delima Pelamonia Vol.5 No.2, p- ISSN:2597-7989 e-ISSN:2684- 8821.
Sugiyono. (2015). Statistika Untuk Penelitian, Bandung: Penerbit Alfabeta.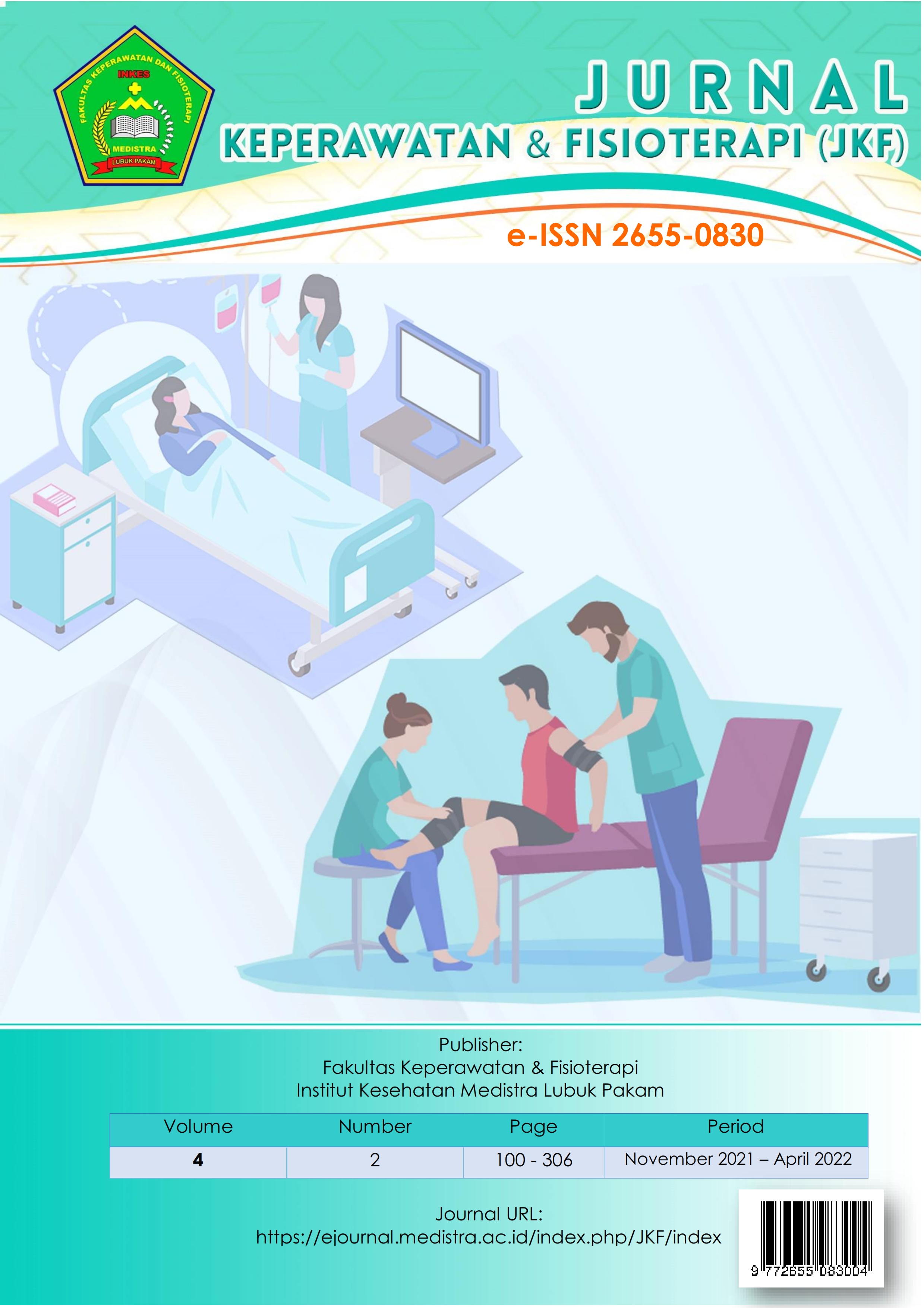 How to Cite
Wulan, S., Br Ginting Munthe, N., & Lubis, B. (2022). Factors Relating To Pregnant Mothers Not Taking Antenatal Care Visits During The Covid-19 Pandemic. JURNAL KEPERAWATAN DAN FISIOTERAPI (JKF), 4(2), 248-254. https://doi.org/10.35451/jkf.v4i2.1050
Copyright (c) 2022 Sri Wulan, Novita Br Ginting Munthe, Basyariah Lubis
This work is licensed under a Creative Commons Attribution 4.0 International License.
Copyright in each article is the property of the Author.