Factors Influencing Young Women's Self Concept In Facing Primary Dysmenorrhoea At Smp Negeri 8 Medan
Faradita Wahyuni

STIKes Senior Medan
Keywords:
The concept of self in the face of dysmenorrhoae and teeneger
Abstract
Preliminary study of 2018 in Ponorogo, about the effect of menstrual pain on daily activities, there were 11 people from 49 respondents or as much as 22,4% admitted his activity was disrupted due to menstrual pain and 3 people from 49 respondents or as much as 6,2% said experiencing pain weight during menstruation, Of the case studies are suspected that the concept of self plays a major role for adolescents in dealing with dysmenorrhea during menarche. This research use analytic research design with cross sectional approach. Sample taken by random sampling. The result showed that there is a significant influence between the independent variables of development, significant-other, self-perseptions studied with the dependent variable self-concept where optained R Value of 0,694 and R Square 0,482 which means the independent variable contributes influence on the dependent varible of 48,2%. Based on F test found that the results of the three independent variables strongly influence the dependent variable where obtained P = 0,000<0,05. But based on T test, it is found that the variables that influence only self perception with P = 0,000 < 0,05 whereas developmental variable with sig 0,175 and significant other to sig 0,234 are concidered have no effect to self concept variable. The conclution of this study is the adolescent self-perseption of himself most influential on the formation of adolescent self-concept. Good self-perception will shape good self concept and vice versa.
Downloads
Download data is not yet available.
References
Hastui, T. P., Widatiningsih, S., & Afifah, A. (2014). Hubungan Tingkat Pengetahuan Tentang Menstruasi Dengan Kesiapan Menghadapi Menarche Pada Siswi Kelas V Dan Vi Di Sd Negeri Dangkel Parakan Temanggung Tahun 2014. Jurnal Kebidanan, 3(7), 16–23.
KemenKes, R. I. (2016). Buku kesehatan ibu dan anak. Kementrian Kesehat RI Dan JICA Jakarta.
Lestyani, U., & Rokhanawati, D. (2015). Hubungan Tingkat Kecemasan dengan Sikap dalam Menghadapi Menarche pada Siswi Kelas V di SD Wilayah Kec. Karangnongko Kab. Sleman. STIKES'Aisyiyah Yogyakarta.
Muawanah, L. B. (2012). Kematangan emosi, konsep diri dan kenakalan remaja. Persona: Jurnal Psikologi Indonesia, 1(1).
Nindiya, D. C. (2016). PENGEMBANGAN MODEL BIMBINGAN SOSIAL YANG ADAPTIF DALAM PEMBINAAN KESEHATAN REPRODUKSI BAGI REMAJA DI BADAN PEMBERDAYAAN PEREMPUAN DAN KELUARGA BERENCANA KOTA KEDIRI. Journal of Nonformal Education and Community Empowerment, 5(1).
Notoatmodjo, S. (2010). Metodologi penelitian kesehatan. Jakarta: rineka cipta. Proverawati, A., & Misaroh, S. (2009). Menarche menstruasi pertama penuh makna. Yogyakarta: Nuha Medika, 144.
Sarlito, S. W. (2012). Psikologi Remaja (edisi revisi). Jakarta: PT. Raja Grafindo Persada.
Winarti, A., Fatimah, F. S., & Rizky, W. (2017). Pengaruh pendidikan kesehatan terhadap kecemasan tentang menarche pada siswi kelas V sekolah dasar. Jurnal Ners Dan Kebidanan Indonesia, 5(1), 51–57.
Juni Mariati Simarmata, dkk (2021). Faktor- Faktor Yang Berhubungan Dengan Pelaksanaan Asuhan Keperawatan Di Rs Grandmed Tahun 2020. ejournal.medistra.ac.id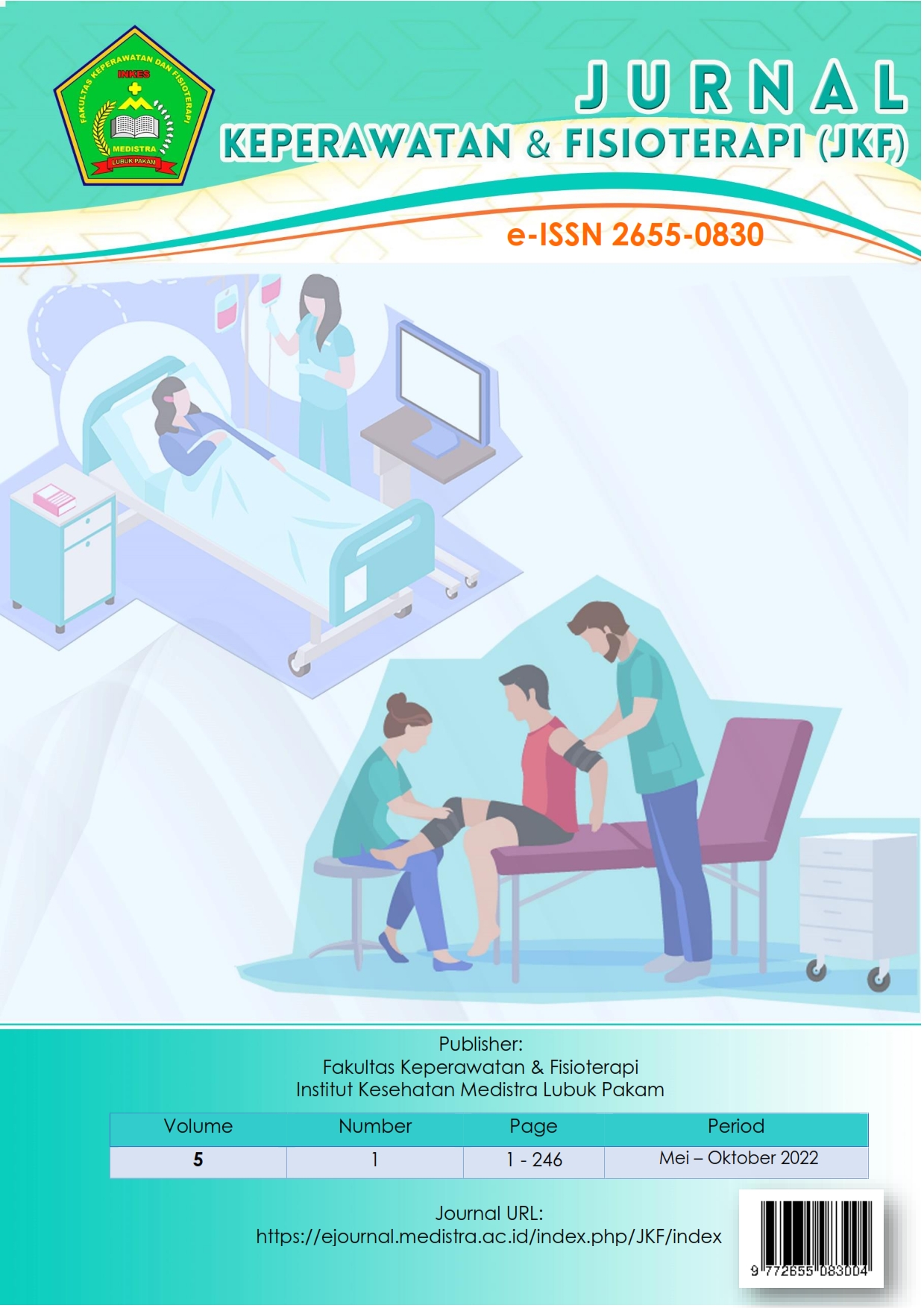 How to Cite
Wahyuni, F. (2022). Factors Influencing Young Women's Self Concept In Facing Primary Dysmenorrhoea At Smp Negeri 8 Medan. JURNAL KEPERAWATAN DAN FISIOTERAPI (JKF), 5(1), 75-79. https://doi.org/10.35451/jkf.v5i1.1273
Copyright (c) 2022 Faradita Wahyuni
This work is licensed under a Creative Commons Attribution 4.0 International License.
Copyright in each article is the property of the Author.