Relationship Husband Support With Cervic Cancer Prevention Behavior To Women Of Young Married Age In The Village Tuntungan I Pancur Batu In 2022
Friska Sri Handayani Br Ginting

STIKes Santa Elisabeth

Helinida Saragih

STIKes SANTA ELISABETH MEDAN

Henny T Simanjuntak

STIKes SANTA ELISABETH MEDAN
Keywords:
Characteristics, , prevention behavior
Abstract
Cervical cancer prevention behavior is an action taken to prevent cervical cancer by avoiding risk factors. The behavior of women in conducting the examination is influenced by the husband's support which shows the husband's understanding of his wife providing motivation, support, and increasing feelings of security in a relationship. This study aims to determine the relationship between husband's support and cervical cancer prevention behavior on young married women in Tuntungan Pancur Batu Village in 2022. The research design is a cross sectional population in this study as many as 85 people. The sampling technique is purposive sampling. The results of the study obtain bad husband support (95.3%) and bad cervical cancer prevention behavior as much as (84.7%). The results of the Chi Square statistical test obtain a P-value = 0.048 (p>0.05) so it is concluded that there is a significant relationship between husband's support and cervical cancer prevention behavior in young married women at Tuntungan Village I Pancur Batu. It is hoped that women can improve cervical cancer prevention behavior by increasing knowledge and self-awareness.
Downloads
Download data is not yet available.
References
Adesta, Regina Ona, and Emanuela Natalia Nua. 2020. "Pendidikan Kesehatan Melalui Media Online Terhadap Health Education Based on Media Online To Knowledge and Behavior of Cervical Cancer Prevention of Fertile Age Women in Sikka Regency." Jurnal Keperawatan Dan Kesehatan Masyarakat 7(2).
Mazarico, E. et al. 2015. "Relationship between Smoking, HPV Infection, and Risk of Cervical Cancer." European Journal of Gynaecological Oncology 36(6): 677–80.
Mukhlisiana Ahmad, SST., M.Kes. 2020. "Perilaku Pencegahan Kanker Serviks." Media Sains Indonesia 5(1): 110. https://www.google.co.id/books/edition/Perilaku_Pencegahan_Kanker_Serviks/jLASEAAAQBAJ?hl=id&gbpv=1&dq=pencegahan+terjadinya+ca+serviks&printsec=frontcover.
Mustikarani, Innez Karunia. 2020. "Hubungan Lama Penggunaan Alat Kontrasepsi Oral (Pil Kb) Dan Intrauterine Device (Iud) Terhadap Resiko Kanker Serviks Di Puskesmas Ngoresan Surakarta." Jurnal Keperawatan Malang 5(2): 72–79.
ovita, Yana, Nila Qurniasih, Nur Alfi Fauziah, and Amali Rica Pratiwi. 2020. "HUBUNGAN DUKUNGAN SUAMI DENGAN PEMILIHAN ALAT KONTRASEPSI DALAM RAHIM ( AKDR ) PADA WUS DI DESA WATES SELATAN KECAMATAN.
Sondang, Mei, and Ella Nurlaella Hadi. 2019. "Dukungan Suami Terhadap Perilaku WUS (30-50 Tahun) Dalam Melakukan Pemeriksaan IVA Di Wilayah Kerja Puskesmas Bondongan Tahun 2018." Gaster 17(2): 200.
Ayuningtyas, Istiyanah, and Ropitasari Ropitasari. 2018. "Hubungan Antara Dukungan Suami Dengan Sikap Istri Pada Deteksi Dini Kanker Leher Rahim Menggunakan Tes Iva Di Puskesmas Jaten Ii Kabupaten Karanganyar." PLACENTUM: Jurnal Ilmiah Kesehatan dan Aplikasinya 6(2): 33.
Hamdayani, Delvi, and Ulfa Suryani. 2021. "Faktor-Faktor Yang Berhubungan Dengan Kejadian Kanker Serviks Pada Pasien Dengan Masalah Gynekologi Di Poliklinik Kebidanan." Jurnal Keperawatan 13(2): 213–26.
Idris, Ikhwanul Muslimin et al. 2020. "Aktivitas Seksual Usia Dini Dan Paritas Tinggi Meningkatkan Risiko Kanker Serviks Early Sexual Activity and High Parity Increase The Risk for Cervical Cancer." Jurnal Keokteran Meditek 27(3): 306–16.
Purbosari, Ira, Asti Rahayu, Dewi Perwito Sari, and Indria Nuraini. 2021. "Upaya Mencegah Peningkatan Kejadian Kanker Servik Melalui Sosialisasi Cara Mencegah Kanker Serviks Pada Remaja." Etos : Jurnal Pengabdian Masyarakat 3(1): 14.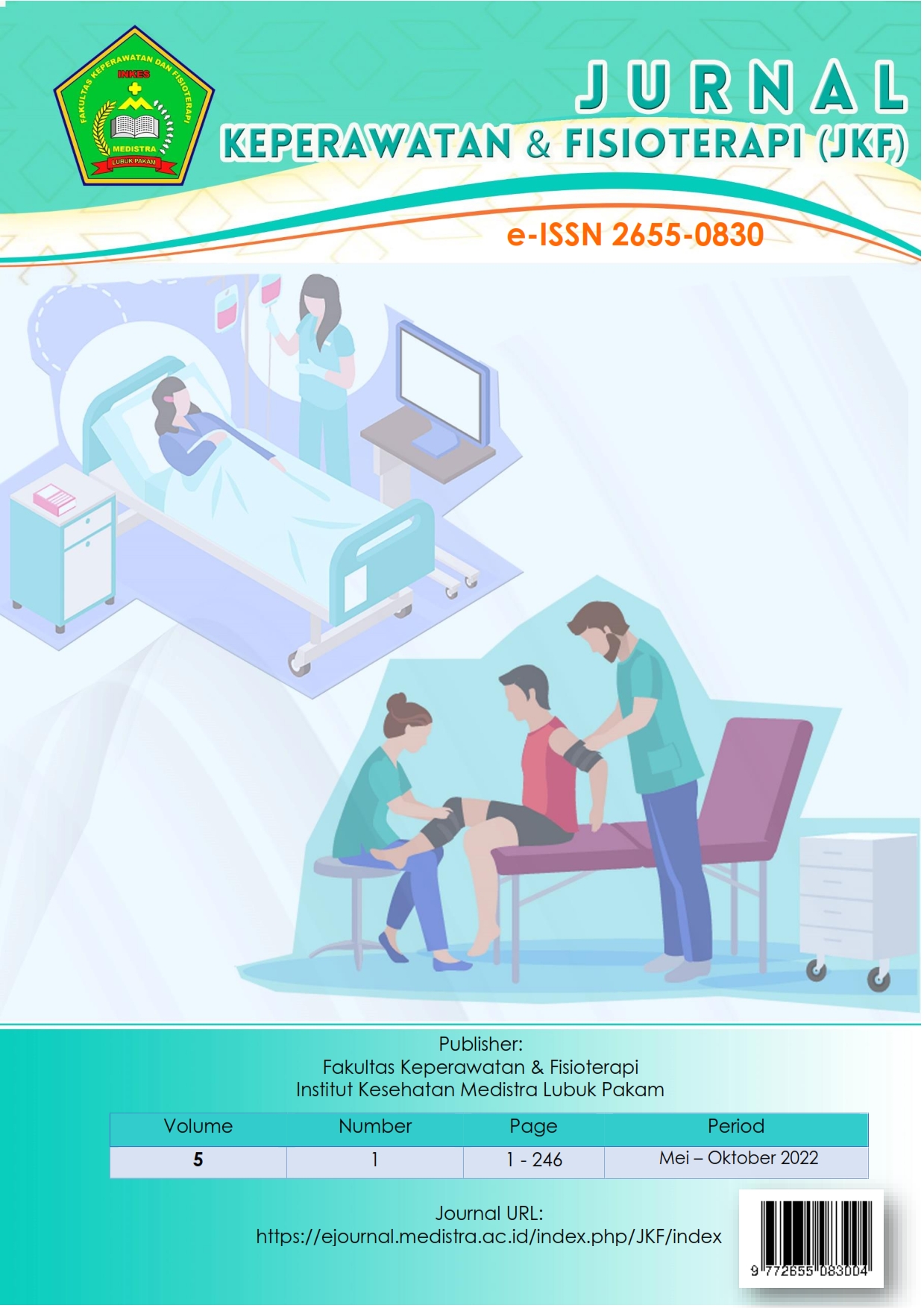 How to Cite
Br Ginting, F., Saragih, H., & Simanjuntak, H. T. (2022). Relationship Husband Support With Cervic Cancer Prevention Behavior To Women Of Young Married Age In The Village Tuntungan I Pancur Batu In 2022. JURNAL KEPERAWATAN DAN FISIOTERAPI (JKF), 5(1), 88-97. https://doi.org/10.35451/jkf.v5i1.1292
Copyright (c) 2022 friska Sri Handayani Br Ginting
This work is licensed under a Creative Commons Attribution 4.0 International License.
Copyright in each article is the property of the Author.