The Effect Of Early Weight-Bearing On Lower Extremity Fracture Cases: A Narrative Review
Sri Sunaringsih Ika Wardojo

UNIVERSITAS MUHAMMADIYAH MALANG

Salsabila Fernanda Djuliana

UNIVERSITAS MUHAMMADIYAH MALANG

Rakhmad Rosadi

UNIVERSITAS MUHAMMADIYAH MALANG
Keywords:
fracture, quality of life, activity
Abstract
Background: One of disorder that causes limitations is fracture. Fractures will affect the patient's activities and quality of life. In surgery treated fracture commonly suggest to do non-weight-bearing and immobilization for 6 weeks. However, in several years there's various study related to feasibility of early weight-bearing (EWB), EWB is performed by instructing the patient to apply load bearing according to the patient's tolerance. Research Methods: This study uses a narrative review method with the PICOS framework. The data search was obtain on the Pubmed and Google Scholar databases. The data used are international journals published in 2016-2022 that have through screening process. Research Results: The analysis outcome was 5 international journals that discuss the effectiveness of EWB. Based on these data, it shows that there is effect in the form of feasibility and minimal complications. Conclusion: The analysis based on the data obtained show that there was effect of EWB on lower extremity fracture.
Downloads
Download data is not yet available.
References
Consigliere, P., Iliopoulos, E., Ads, T., & Trompeter, A. (2019). Early versus delayed weight bearing after surgical fixation of distal femur fractures: a non-randomized comparative study. European Journal of Orthopaedic Surgery and Traumatology, 29(8), 1789–1794. https://doi.org/10.1007/s00590-019-02486-4
Dehghan, N., McKee, M. D., Jenkinson, R. J., Schemitsch, E. H., Stas, V., Nauth, A., Hall, J. A., Stephen, D. J., & Kreder, H. J. (2016). Early weightbearing and range of motion versus non-weightbearing and immobilization after open reduction and internal fixation of unstable ankle fractures: A randomized controlled trial. Journal of Orthopaedic Trauma, 30(7), 345–352. https://doi.org/10.1097/BOT.0000000000000572
Kalmet, P. H. S., Van Horn, Y. Y., Sanduleanu, S., Seelen, H. A. M., Brink, P. R. G., & Poeze, M. (2019). Patient-reported quality of life and pain after permissive weight bearing in surgically treated trauma patients with tibial plateau fractures: a retrospective cohort study. Archives of Orthopaedic and Trauma Surgery, 139(4), 483–488. https://doi.org/10.1007/s00402-018-3088-5
Kementrian Kesehatan RI. (2013). Riset Kesehatan Dasar (Riskesdas) 2013. Jakarta : Badan Penelitian Dan Pengembangan Kesehatan.
Meys, G., Kalmet, P. H. S., Sanduleanu, S., van Horn, Y. Y., Maas, G. J., Poeze, M., Brink, P. R. G., & Seelen, H. A. M. (2019). A protocol for permissive weight-bearing during allied health therapy in surgically treated fractures of the pelvis and lower extremities. Journal of Rehabilitation Medicine, 51(4), 290–297. https://doi.org/10.2340/16501977-2532
Platini, H., Chaidir, R., & Rahayu, U. (2020). Karakteristik Pasien Fraktur Ekstermitas Bawah. Jurnal Keperawatan 'Aisyiyah, 7(1), 49–53. https://doi.org/10.33867/jka.v7i1.166Sagaran, V. C., Manjas, M., & Rasyid, R. (2018). Distribusi Fraktur Femur Yang Dirawat Di Rumah Sakit Dr.M.Djamil, Padang (2010-2012). Jurnal Kesehatan Andalas, 6(3), 586. https://doi.org/10.25077/jka.v6i3.742Silva, A. M. Da. (2019). Workshop on Writing a Review of Relevant Literature in a Research Report for English Teachers in Bogor. MITRA: Jurnal Pemberdayaan Masyarakat, 3(2), 97–107. https://doi.org/10.25170/mitra.v3i2.314
Smeeing, D. P. J., Houwert, R. M., Briet, J. P., Groenwold, R. H. H., Lansink, K. W. W., Leenen, L. P. H., van der Zwaal, P., Hoogendoorn, J. M., van Heijl, M., Verleisdonk, E. J., Segers, M. J. M., & Hietbrink, F. (2018). Weight-bearing or non-weight-bearing after surgical treatment of ankle fractures: a multicenter randomized controlled trial. European Journal of Trauma and Emergency Surgery, 46(1), 121–130. https://doi.org/10.1007/s00068-018-1016-6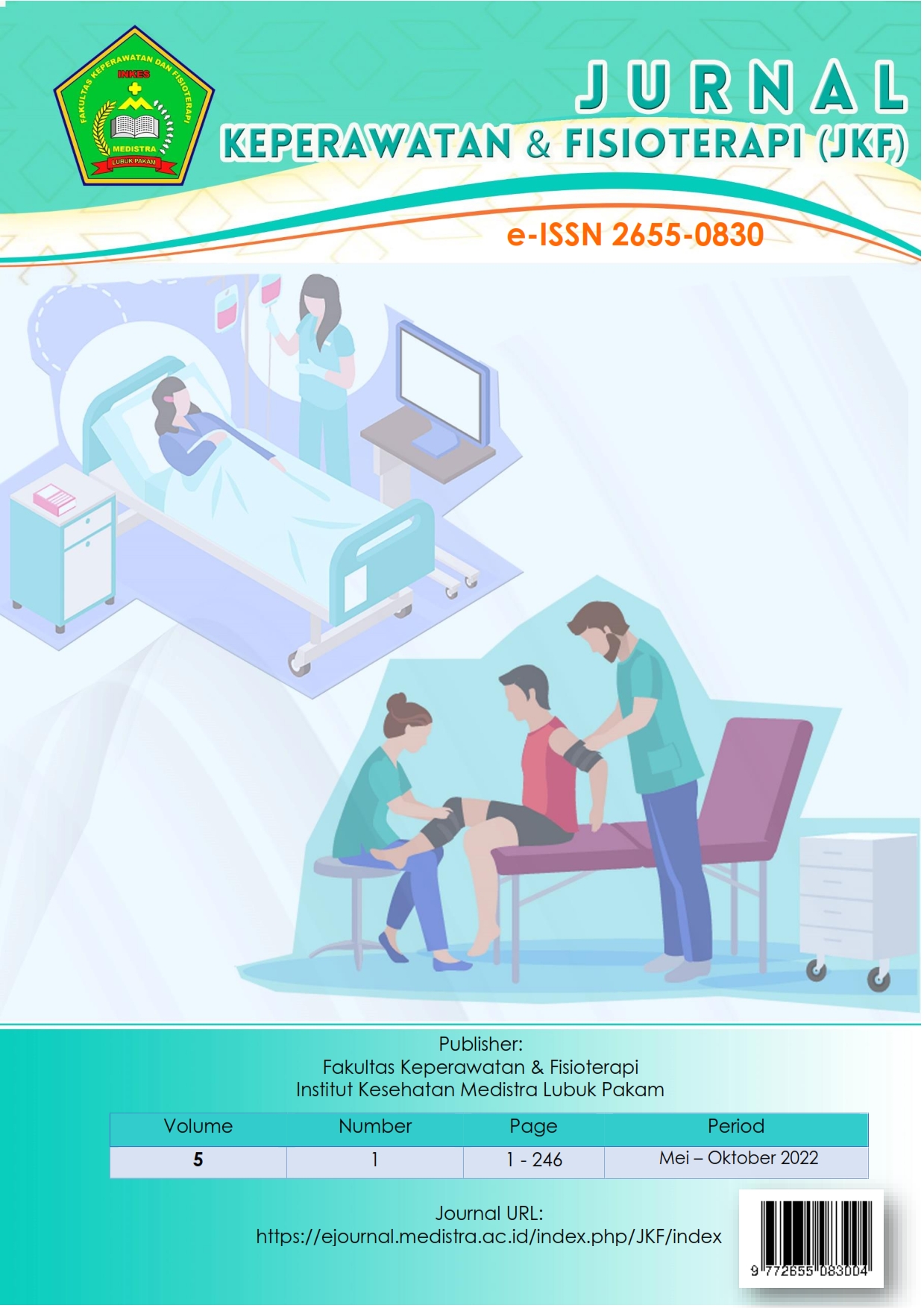 How to Cite
Wardojo, S. S. I., Djuliana, S. F., & Rosadi, R. (2022). The Effect Of Early Weight-Bearing On Lower Extremity Fracture Cases: A Narrative Review. JURNAL KEPERAWATAN DAN FISIOTERAPI (JKF), 5(1), 110-114. https://doi.org/10.35451/jkf.v5i1.1330
Copyright (c) 2022 rakhmad rosadi
This work is licensed under a Creative Commons Attribution 4.0 International License.
Copyright in each article is the property of the Author.