The Relationship Between Physical Activity and Student Depression Throughout Online Learning During The Covid-19 Pandemic
Berliana Yogiyanti

Universitas Aisyiyah Yogyakarta

Tri Laksono

Universitas Aisyiyah Yogyakarta

Dika Rizki Imania

Universitas Aisyiyah Yogyakarta
Keywords:
physical activity, depression, physiotherapy students of Universitas 'Aisyiyah Yogyakarta
Abstract
WHO declared the start of the Covid-19 pandemic on March 12, 2020. To combat Covid-19, the Indonesian government implemented a Large-Scale Social Restriction (PSBB) policy that prohibited the public from engaging in outdoor activities. As a result of limitations in doing outside activities, limitations in socializing, and increasing work demands, there is a decrease in physical activity as more daily activities are spent at home. As a result, the emotional state of physiotherapy students at the University of Aisyiyah Yogyakarta becomes unstable, resulting in depression. Many people who experience depression do not have the motivation to do other activities or activities because of the onset of depression. This study aims to determine the relationship between physical activity and student depression throughout online learning during the Covid-19 pandemic. This research employed observational analytic with a cross sectional design. The research sample was taken by purposive sampling technique with a total sample of 154 respondents. The research instrument used the International Physical Activity Questionnaire (IPAQ) and the Depression Anxiety Stress Scales (DASS 21) questionnaire. The data was analyszed using univariate analysis and bivariate analysis, specifically the Spearman Rank correlation test. The results  of the Spearman Rank correlation test showed that there was a significant relationship between physical activity and depression (r = -0.340, p = 0.000). There was also a significant relationship between physical activity and anxiety  (r = -0.269, p = 0.001). There was also a significant relationship between physical activity and stress (r = -0.271, p = 0.001).
Downloads
Download data is not yet available.
References
Amana, D. R., Wilson, W., & Hermawati, E. (2021). Hubungan tingkat aktivitas fisik dengan tingkat depresi pada mahasiswa tahun kedua Program Studi Kedokteran Fakultas Kedokteran Universitas Tanjungpura. Jurnal Cerebellum, 6(4), 94. https://doi.org/10.26418/jc.v6i4.47800
Ariyanto, A., Puspitasari, N., Utami, D. N., & Yogyakarta, U. A. (2020). Aktivitas Fisik Terhadap Kualitas Hidup Pada Lansia. Kesehatan Al-Irsyad, XIII(2), 145–151. https://e-jurnal.stikesalirsyadclp.ac.id/index.php/jka/article/view/112
Azri, A., & Sinaga, R. (2019). Hubungan Menopause Dengan Timbulnya Gangguan Depresi dan Kecemasan di Pimpinan Daerah Aisyiyah Kota Medan. Jurnal Ilmiah Simantek, 3(2). http://www.tjyybjb.ac.cn/CN/article/downloadArticleFile.do?attachType=PDF&id=9987
Brailovskaia, J., & Margraf, J. (2020). Relationship between Depression Symptoms, Physical Activity, and Addictive Social Media Use. Cyberpsychology, Behavior, and Social Networking, 23(12), 818–822. https://doi.org/10.1089/cyber.2020.0255
de Almeida Mendes, M., da Silva, I., Ramires, V., Reichert, F., Martins, R., Ferreira, R., & Tomasi, E. (2018). Metabolic equivalent of task (METs) thresholds as an indicator of physical activity intensity. PLoS ONE, 13(7), 1–10. https://doi.org/10.1371/journal.pone.0200701
Fatmawati, A., & Gartika, N. (2021). The Hubungan Kondisi Psikososial Dan Paritas Dengan Kejadian Depresi Postpartum Pada Ibu Remaja. Faletehan Health Journal, 8(01), 36–41. https://doi.org/10.33746/fhj.v8i01.145
Fitriah, A., & Hariyono, D. S. (2019). Hubungan Self Esteem terhadap Kecenderungan Depresi pada Mahasiswa. Psycho Holistic, 1(1), 8–17.
Hadi, I., Wijayanti, F., Devianti, R., & Rosyanti, L. (2017). Gangguan Depresi Mayor (Mayor Depressive Disorder) Mini Review. Health Information : Jurnal Penelitian, 9(1), 25–40. https://doi.org/10.36990/hijp.v9i1.102
Kurnia, A. D., & Sholikhah, N. (2020). Hubungan Antara Tingkat Aktivitas Fisik Dengan Tingkat Depresi Pada Penderita Penyakit Jantung. Jurnal Kesehatan Mesencephalon, 6(1). https://doi.org/10.36053/mesencephalon.v6i1.188
Miadinar, M. G., & Supriyanto, C. (2021). Tingkat Kesehatan Mental Di Tim Atletik Tulungagung Selama Pada Atlet Dan Non-Atlet. Jurnal Kesehatan Olahraga, 09(03), 31–40.
Mumulati, S. B., Niman, S., Indriarini, M. Y., Tinggi, S., Kesehatan, I., Borromeus, S., Parahyangan, K. B., Barat, K. B., & Barat, J. (2020). Hubungan pendidikan, usia, jenis kelamin, status pernikahan dan lama tinggal di panti werdha dengan kejadian depresi pada lansia. Jurnal Keperawatan Jiwa, 8(3), 329–336.
Nurmidin, M. F., Fatimawali, & Posangi, J. (2020). Pengaruh Pandemi Covid-19 Terhadap Aktivitas Fisik dan Penerapan Prinsip Gizi Seimbang Pada Mahasiswa Pascasarjana. Journal of Public Health and Community Medicine, 1, 28–32.
Pusat Data dan Informasi Kementerian Kesehatan RI. (2019). Situasi Kesehatan Jiwa Di Indonesia. In InfoDATIN (p. 12).
Putri Rosida Hasana, & Nindya Susila Triska. (2019). Hubungan Kecenderungan Depresi Dengan Status Gizi Pada Lansia Di UPTD Griya Werdha Surabaya. Media Gizi Indonesia, 14(1), 87–94. https://doi.org/10.204736/mgi.v14i1.87-94
Riskesdas. (2013). Riset Kesehatan Dasar. Badan Penelitian Dan Pengembangan Kesehatan Kementrian Kesehatan RI. https://doi.org/10.1517/13543784.7.5.803
Salsabila, S., Narwanto, M. I., & Wulandari, P. (2022). Hubungan Aktivitas Fisik dan Indeks Massa Tubuh dengan Gangguan Muskuloskeletal pada Mahasiswa Kedokteran Universitas Jember di Masa Pandemi Covid-19. Jurnal Ilmiah Kesehatan, 21(1).
Setiawan, H., Munawwarah, M., Wibowo, E., & Covid-, W. H. O. (2021). Hubungan aktivitas fisik dengan kebugaran dan tingkat stres pada karyawan back office rumah sakit omni Alam Sutera di masa pandemi Covid-19. Physiotherapy Health Scoience, 3(21), 1–10.
Setiawan, Z. (2021). Strategi kebijakan pemerintah indonesia dalam mengatasi pandemi global covid 19. September, 1–7.
Sulistyorini, W., & Sabarisman, M. (2017). Depresi : Suatu Tinjauan Psikologis. Sosio Informa, 3(2), 153–164. https://doi.org/10.33007/inf.v3i2.939
Viatiningsih, W., & Rumana, N. A. (2018). Hubungan Antara Body Mass Index (BMI) Dengan Depresi. Forum Ilmiah, 15(3), 514–520.
WHO. (2020). Physical Activity. Www.Who.Int. https://www.who.int/news-room/fact-sheets/detail/physical-activity
WHO. (2021). Depression. Www.Who.Int. https://www.who.int/news-room/fact-sheets/detail/depression
Xiang, M. Q., Tan, X. M., Sun, J., Yang, H. Y., Zhao, X. P., Liu, L., Hou, X. H., & Hu, M. (2020). Relationship of Physical Activity With Anxiety and Depression Symptoms in Chinese College Students During the COVID-19 Outbreak. Frontiers in Psychology, 11, 1–7. https://doi.org/10.3389/fpsyg.2020.582436
Xie, Y., Wu, Z., Sun, L., Zhou, L., Wang, G., Xiao, L., & Wang, H. (2021). The Effects and Mechanisms of Exercise on the Treatment of Depression. Frontiers in Psychiatry, 12(November). https://doi.org/10.3389/fpsyt.2021.705559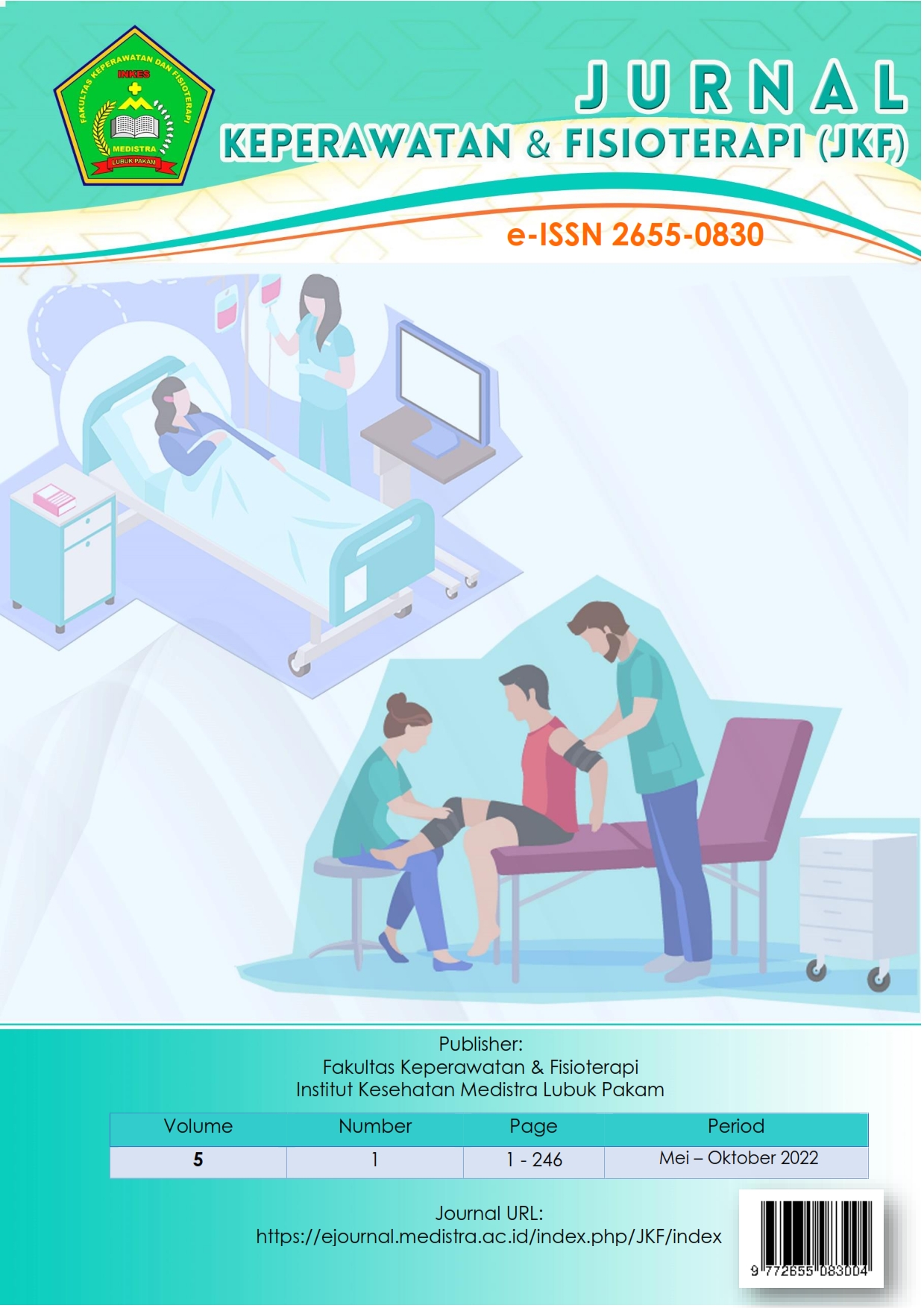 How to Cite
Yogiyanti, B., Laksono, T., & Imania, D. (2022). The Relationship Between Physical Activity and Student Depression Throughout Online Learning During The Covid-19 Pandemic. JURNAL KEPERAWATAN DAN FISIOTERAPI (JKF), 5(1), 198-207. https://doi.org/10.35451/jkf.v5i1.1354
Copyright (c) 2022 Berliana Yogiyanti, Tri Laksono, Dika Rizki Imania
This work is licensed under a Creative Commons Attribution 4.0 International License.
Copyright in each article is the property of the Author.